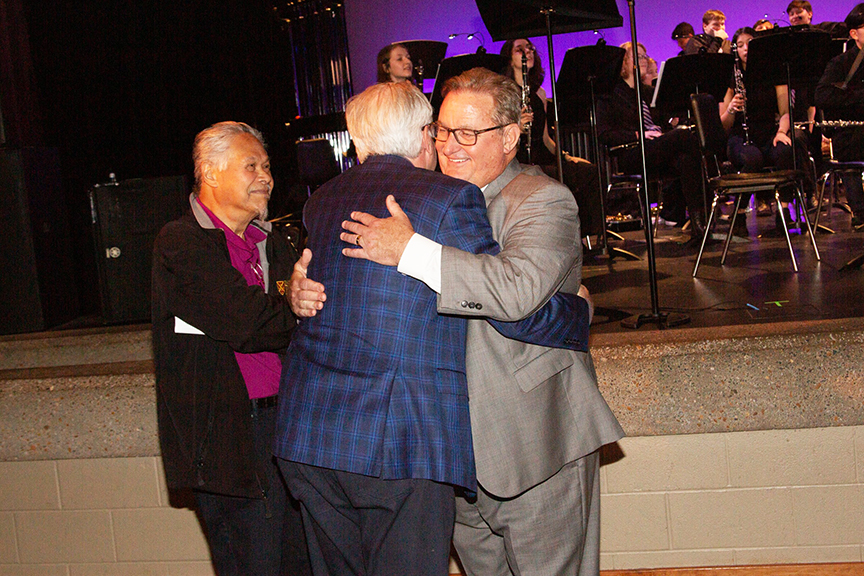 When diocesan music teacher Jeff Schletzer was a high school student, his own band teacher, Mike Barton, instilled a love for music in him.
"He just made music fun, and it sparked an interest in me," he said.
For the past 45 years, Schletzer has sought to do the same with his own students, teaching at Father Ryan High School, Christ the King, St. Edward, St. Henry, St. Matthew, St. Patrick, and Holy Rosary. He is now retiring from teaching at the end of the school year.
Schletzer's own high school had its summer band camps on Austin Peay State University's campus. He would eventually become a student there himself, earning his Bachelor of Science and Master of Music Education degrees.
"I'm from Indiana originally, but I told my parents I wanted to go to school at Austin Peay. And I did," he said.
His first four years of teaching were at McEwen High School in McEwen, Tennessee.
"From there, I also started teaching at St. Patrick School in McEwen. There was a man named Bob Boaz who serviced our equipment. He kept trying to get me to leave McEwen to teach at Father Ryan. Opportunities to teach music there kept opening up, and I actually turned them down about four times before I finally gave in," he said. "I felt like God was calling me to go there, and I eventually started teaching there in 1981."
In his early years at Father Ryan, Schletzer taught band and choir at the high school and through the years would start band programs at Christ the King, Holy Rosary, St. Edward and St. Matthew.
He has also garnered many accolades for himself and for the Father Ryan marching band and winter drumline. He has secured many wins at the Bands of America marching band competitions and WGI winter drumline competitions.
He had the immense honor of having the marching band perform in the 2012 Macy's Thanksgiving Day Parade.
Schletzer was the first educator in the diocese of Nashville to receive the Christ the Teacher Award, recognizing outstanding teaching in the diocesan school system. And most recently, he was named to the Southeastern Color Guard Circuit Hall of Fame.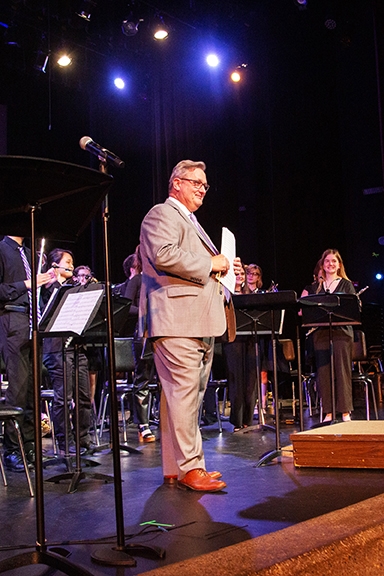 Above all, his goal was to incorporate his Catholic faith into everything he did.
"I was fortunate enough to be educated in Catholic elementary schools and learn good morals there," he said. "I've tried to pass on what I have learned to my students. It's about being a good person, appreciating God, and being thankful to Him for what you have."
Father Ryan alumus and English teacher Randy Lancaster '83 had the privilege of knowing Schletzer as one of his students and later as a coworker.
"I was in one of his first chorus classes, which was scheduled during lunch time in the chapel on the Elliston Place campus, where we'd sing right after wolfing down our lunches," Lancaster said.
"We met almost daily there to prepare for the spring concert, and despite knowing that I played mostly by ear and chord charts, Mr. Schletzer gave me a chance to be the pianist for the chorus. This was a colossal confidence booster for me," he said.
"Twelve years later, I could not have predicted my good fortune in being hired as Father Ryan's Director of Theater, which also afforded me the privilege to work with Mr. Schletzer and his band program on the spring musicals each year," he added.
"Neither could I have foreseen that his legacy of encouragement and character would extend far into my own family," Lancaster said. "For years after Mr. Schletzer taught me, his own daughters, Kristin and Courtney, would follow in their father's footsteps as most excellent teachers of my own son and daughter at Holy Rosary Academy."
Schletzer will miss teaching very much. "I will especially miss my students, their parents, and the people I work with," he said. "I genuinely love my students and my coworkers. I've been in school ever since I started kindergarten at 5 years old. More than 60 years later, I'm leaving the classroom. It'll be a big adjustment."
But in his retirement, he is looking forward to fishing, golfing, and spending more time with his grandchildren. "And when my wife Sheree retires from her job as a nurse, I want us to travel more together," he added.
Father Ryan has not hired his replacement yet, but Band Director Jeremy Frey is still in charge. "Jeremy and I have been working together for the past 23 years," he said. "I know it's in good hands with him."