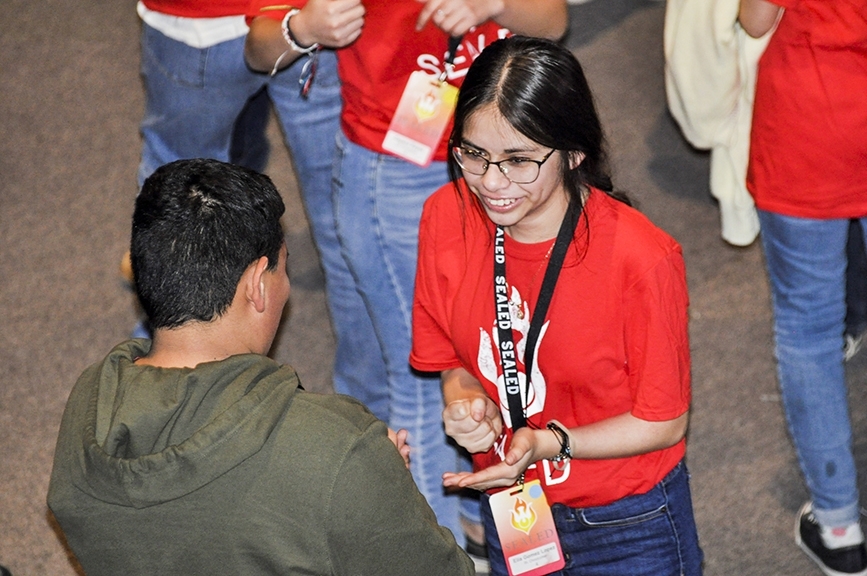 As confirmandi from around the Diocese of Nashville move ever closer to their upcoming confirmations, the Diocese of Nashville Office of Faith Formation is helping them prepare for this new step in their faith journey with the annual SEALED Retreat on Saturday, March 4, at the Catholic Pastoral Center in Nashville.
From 8:30 a.m. to 5:30 p.m. attendees will hear from a speaker, enjoy worship music led by Dana Catherine, play games, participate in small groups, attend adoration, and partake in the sacraments of Reconciliation and the Eucharist.
The event will be MC'd by Father Nonso Ohanaka, chaplain of youth ministry, and one of the sisters of the Dominican Sisters of St. Cecilia Congregation.
"The SEALED Confirmation retreat gives our parishes an opportunity for their confirmandi and catechists to gather with others from around the diocese for an exciting day of spiritual growth, sacramental preparation, and fellowship," said Shelby Conner, assistant director of youth and young adult ministry.
The highlight of the retreat will be talks from Felix Caro, a youth minister at Blessed Sacrament Church in Seminole, Florida. Caro's morning address, "Why Am I Here," will discuss Christian living and baptism, and his afternoon address, "Being Sent Out," will discuss confirmation, the Holy Spirit, and Pentecost.
The event will end with Mass celebrated by Bishop J. Mark Spalding.
"We hope that at SEALED, our parish confirmation students will be enveloped by the Holy Spirit, so that they recognize and acknowledge the importance of the sealing of their baptism at the moment of their confirmation," said Jordan Montenegro, coordinator of youth and young adult ministry.
To register, visit soundscatholic.com/sealed and choose "SEALED Participant Registration."
The cost per person varies by their individual parish, but lunch is included.
As of Friday, Feb. 3, 15 parishes and youth groups have registered to take participants including Church of the Holy Rosary in Nashville, St. Matthew Church and St. Philip the Apostle Church in Franklin, St. John Vianney Church in Gallatin, Mother Teresa Church in Nolensville, St. Christopher Church in Dickson, St. Martha Church in Ashland City, Our Lady of the Lake Church and Pope John Paul II Preparatory School in Hendersonville, St. Francis Cabrini Church in Lebanon, St. Gregory Church in Smithville, Sacred Heart Church in Loretto, Good Shepherd Church in Decherd, St. Ignatius of Antioch Church in Antioch, and Immaculate Conception Church in Clarksville.
Individual parishes or youth groups must be registered before participants can sign up. Registration closes at 4:30 p.m. Monday, Feb. 27.
For more information, email Conner at shelby.conner@dioceseofnashville.com or Montenegro at jordan.montenegro@dioceseofnashville.com.