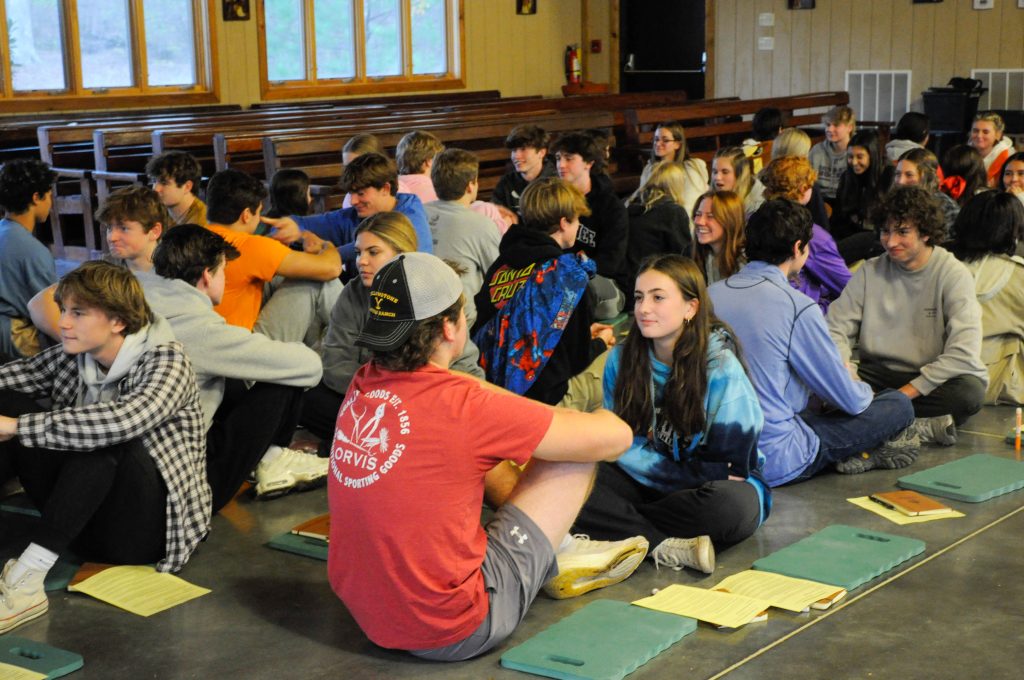 The "mountaintop" experience of SEARCH was revealed to nearly 40 high school juniors and seniors from throughout the Diocese of Nashville as they completed SEARCH 375 the weekend of Dec. 2-4 at Camp Marymount in Fairview.
Participants experienced faith talks, worked together in small groups, participated in adoration, made the sacrament of reconciliation, attended Mass, and more as they completed the retreat for teens led by teens.
"SEARCH makes SEARCH what it is because it is peer led," said Shelby Conner, assistant director of youth and young adult ministry of the Office of Faith Formation. "The teen leaders are the ones that give the majority of the talks through the weekend, enabling teens to experience the faith and experience the stories in ways that may be more relatable to them in their daily lives."
But it's not simply a retreat for teens, led by teens. SEARCH is a growing experience for all. And it all begins with their first retreat, where they're affectionately known as "SEARCHers."
Level One: SEARCHers
For the nearly 40 SEARCHers, the weekend was a chance to grow in their faith, develop their relationships with their peers, and, ultimately, their personal relationships with Christ. And different aspects of the weekend helped them do that.
Hearing the different experiences of the teen leaders is what helped Luke Wathen, a Father Ryan High School senior and parishioner of St. Stephen Catholic Community in Old Hickory, grow in his faith.
"People's personal faith stories were really good examples for me because they came off as truer compared to just hearing a story from a stranger," Wathen said. And the small group time, he said, helped him learn more about his peers.
"I had made a lot of assumptions about the people that were coming to SEARCH, particularly the people I know at Father Ryan, because I didn't really talk to them. I only saw them a little bit and saw what they did," Wathen said. "But, especially during the small group time, I learned what they are actually like, and I really appreciate that, and I've made new friends because of it."
Chelsea Herauf, a junior at Pope John Paul II Preparatory School and parishioner of Our Lady of the Lake Church, both in Hendersonville, said while she, too, made new friends through the experience, the focus on adoration and the Mass are what helped her grow the most.
"I have learned to appreciate what's going on in the Mass. I was born into a Catholic family, so I've always been going to Mass and just going through the motions, waiting to leave. But I think this weekend really made me think about why I should be appreciating the Mass more," Herauf said. "My favorite part was adoration because I could sit by myself in my own thoughts and talk to God."
After the weekend, "I definitely feel closer to Christ," she continued. "Even though I go to a Catholic school, when I'm at school it feels like you're so separated from, not necessarily the chapel, but God himself." That's why, she said, she hopes to bring back what she's learned to her peers at school.
"They talked about how the way you pray here together is the way you should pray everywhere," Herauf said. "At school, you don't want to participate in Mass because no one else is and, if you do, you feel like you're sticking out. But when you're here (at SEARCH), you're praying together like one big family. I want to bring that to my school."
The experience of the weekend will help Wathen deepen his prayer life as he transitions back into day-to-day life, he said.
"I learned that I don't pray enough, and I need to take more time to pray and also pray different prayers," Wathen said, "and pray more sincerely; not just praying to ask for things but also pray in thanksgiving for my blessings."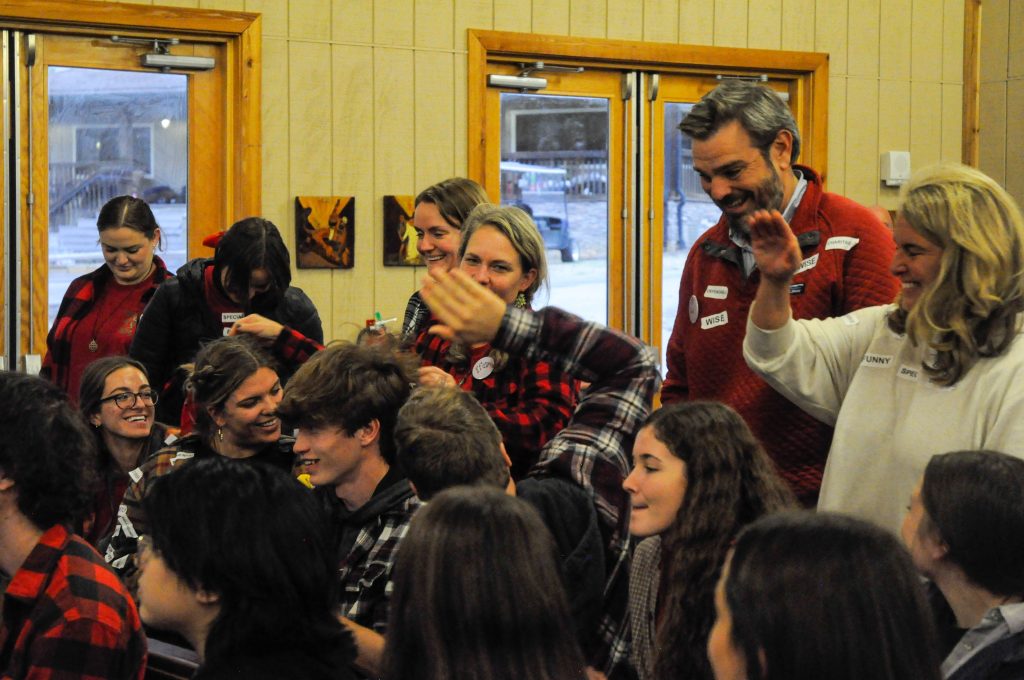 With plans for how the weekend will help them continue to deepen their faith lives outside of SEARCH, Wathen and Herauf agreed that one day they'd like to come back to SEARCH as leaders so others can do the same.
"I have a few friends that really thought this was a bad idea. They thought it was going to just be fake and another dumb retreat," Wathen said. "I want to prove them wrong, bring them here and lead them in their faith journeys."
"I want to lead other peers that haven't been (to SEARCH)," Herauf added. "I want to lead them in growing in their faith and help them the way these people have helped me."
Level Two: Leadership Team
Whether they're a small group leader or part of service crew, the 14 teens who came back to help lead the retreat have already begun to take those steps, fulfilling the same goals Wathen and Herauf have now.
"I've always thought of myself as a leader, and I've always wanted to just help other people," said Grace Holland, who completed SEARCH 368 in November 2021 before coming back to be one of the 10 small group leaders. "I knew that, because I had such a good time at my first SEARCH retreat, I really wanted everyone else to have the same experience that I had with my group leaders."
It's a mission she felt was accomplished.
"Our group really connected from the get-go, and it was a really cool feeling," said Holland, who is a senior at Father Ryan and a parishioner of Christ the King Church. "I was nervous at the beginning, but everything just fell into place."
Being a group leader also gave her a chance to share her own faith experience, giving the "Church and You" talk to her peers on Saturday afternoon.
"I was really able to connect with that topic because I've always grown up as a cradle Catholic and going to church all the time, and I've gone to Catholic school since kindergarten," Holland said, "so it was very easy for me to pour out everything that I've known my whole life and be able to share that with everybody.
"I just really hope that the SEARCHers have gotten something out of this weekend. Not everyone's journey started this weekend, but recognizing it is the first step," she said. "If people can take just one little piece from everything that's happened this weekend and learn more about themselves, their relationship with God or even just getting more involved in their churches and school, that's all we want for them."
Holland said she hopes she can come back a third time as a co-director, the highest level teens can reach on the SEARCH journey.
Level Three: Co-director
SEARCH co-director is the height that Madeline Barnett and Stephen Peck reached during the December retreat, having completed SEARCH 368 and SEARCH 367 respectively as SEARCHers, and then serving as group leaders for SEARCH 370.
Going into it, they knew they had a big responsibility.
"We had to set the attitude," said Barnett, a senior at Father Ryan and a parishioner of St. Henry Church. "We just wanted to be goofy and crazy and have a good time so the SEARCHers could be comfortable doing the same."
"We wanted to be a light and an influence to the SEARCHers, too," added Peck, a senior at Franklin High School and a member of the Episcopal Church of the Resurrection in Franklin.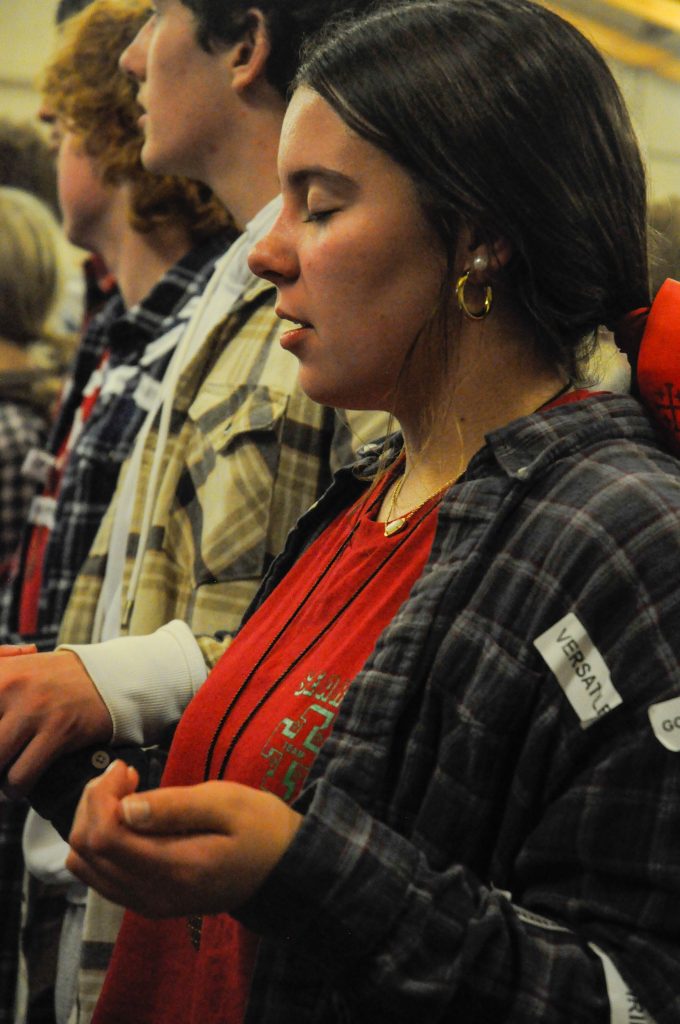 Peck's journey through SEARCH has been an "eye-opening" one, he said, being that he isn't Catholic.
"I have a bunch of Catholic friends at Franklin High, and one of my friends invited me and a few others from Franklin to SEARCH," he explained. "I was clueless when I got here the first time, and I didn't know what it was going to be like at all.
"Adoration my first time … was very eye-opening and very fulfilling," Peck said. "My whole first SEARCH was very eye-opening … . I feel like I really reevaluated my life in that moment. I'm more aware now of when I'm falling into sin and of holding my friends accountable for things that they're doing."
And his experience, even as a non-Catholic, he said, proves that SEARCH "is very welcoming because we're all on the same level," and is why he would encourage all the new completed class to consider taking the next step of leadership.
Being a leader, "brings you back to this SEARCH community and allows you to be that person that your leader was to you."
"Especially if you loved SEARCH when you made SEARCH, being a leader, you get a whole new SEARCH family," Barnett added. "I hope the SEARCHers and leaders bring more people, and I also hope that they keep this feeling and all of these memories with them for a long time."
Alumni
Even after SEARCH is over, whether teens have reached every level, they become SEARCHers for life. The closing Mass drew alumni who returned to witness each SEARCHer receive their SEARCH cross. It's the Jerusalem cross, representing the five wounds of Christ.
The crosses are a reminder "that even in our woundedness, Christ gave it all for us because he wants to be with us," said Father Nonso Ohanaka, chaplain of Pope Prep and chaplain of Youth and Young Adult Ministry. "You all wear these crosses, and on the days when you're struggling, in the times that you feel alone or overwhelmed, remember, through it all, Christ is with you. You are not alone."
The final SEARCH Retreats for the 2022-2023 school year are March 24-26 and April 28-30. Cost is $165 per teen. To register, visit soundscatholic.com/searcher.
Former "SEARCHers" can apply to be leaders at soundscatholic.com/leader-application.