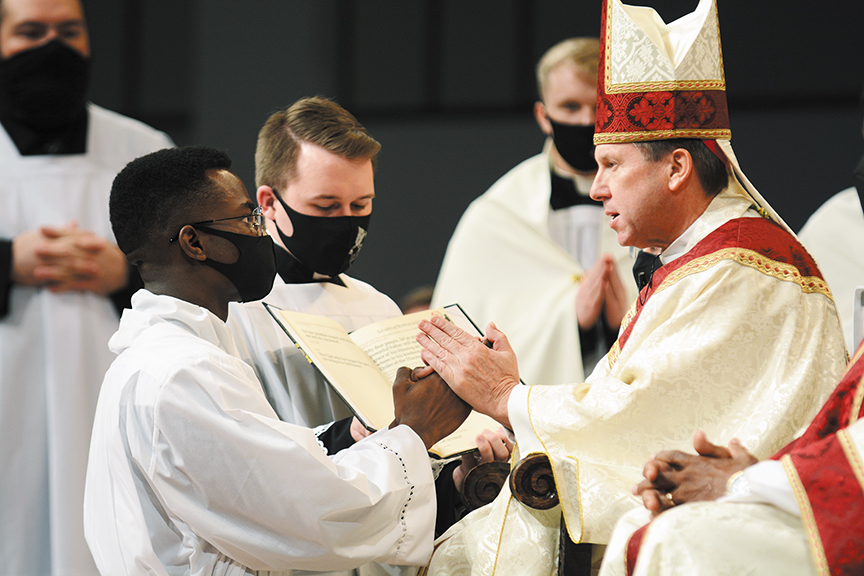 This year's Seminarian Education Event and Auction will once again be virtual, but it will still be an opportunity for the people of the Diocese of Nashville to meet and get to know the future priests of the diocese.
One of the features of this year's fundraising event will be videos of the seminarians giving virtual tours of their seminaries, said Ashley Linville, director of development for the diocese.
The videos will give people a peek into the rhythm of their daily lives, Linville said. "I am excited with what we'll be able to share through the event," he added. "It will be fun for people to see the seminarians and the seminaries."
The virtual fundraiser will begin at 6 p.m. on Tuesday, May 25. The money raised will help pay for the education and formation of the diocese's 20 seminarians, who are studying at the North American College in Rome, St. Meinrad Seminary in St. Meinrad, Indiana, St. Joseph Seminary in St. Benedict, Louisiana, Holy Trinity Seminary in Irving, Texas, and Notre Dame Seminary in New Orleans.
The goal for this year's event is $275,000, the same as last year, which raised about $280,000. The total cost of educating the seminarians for the diocese is about $1.4 million annually, Linville noted.
At last year's event, the seminarians were at the Catholic Pastoral Center taking calls from people making donations. "It allowed me the opportunity to really get to know these young men," Linville said. "After meeting them, I was very much impressed with the quality of their character.
"It made me excited about what our future priests will look like," Linville added. "Already here in Nashville, we have such a great group of priests. Meeting the seminarians, I'm certain we'll have great priests into the future."
The event will also feature recorded messages from Bishop J. Mark Spalding, Director of Vocations Father Austin Gilstrap and Associate Director of Vocations Father Luke Wilgenbusch.
"We're planning on it being brief," Linville said.
He thanked the Serra Clubs of Williamson County and Nashville and the Tennessee Knights of Columbus for their ongoing support for the event.
People can visit www.dioceseofnashville.com/SEDA to view the event and to make a donation. People don't have to wait until May 25 to make a donation, Linville said, they can do it at any time.
Auction items will be posted on the website closer to the date of the event.
Anyone interested in helping to sponsor the event can contact Linville at ashley.linville@dioceseofnashville.com or 615-645-9768.