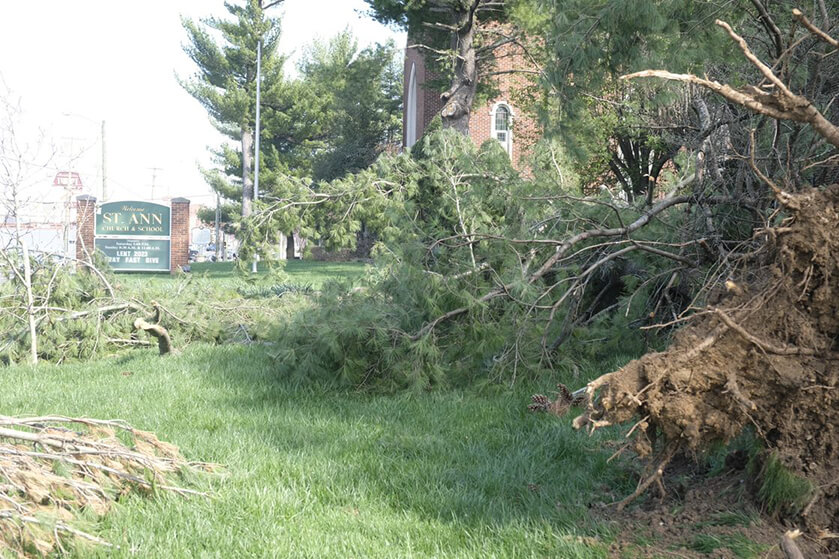 Thanks to a power outage caused by severely high winds that hit Middle Tennessee on Friday, March 3, the Knights of Columbus Council 9132 at Our Lady of the Lake Church in Hendersonville lost nearly 500 pounds of fish set aside for its first Lenten fish fry since 2021.
"We had sold more than 390 tickets" to the March 3 fish fry, said Grand Knight Mike Baricevich. "It was looking to be a record crowd, so it was a huge disappointment. … The whole parish was very disappointed."
At first, when the power went out in the afternoon, it seemed as though it could be postponed until March 4; however, the fish filets, which had already been fully defrosted and ready to be cooked when the electricity went out, were beyond the limit of being safe for consumption, Baricevich said.
"We're doing the math now, but we're probably in the range of $4,000 to $5,000 worth of losses," he said. "Thankfully, everyone has been very understanding and very gracious, and we're looking into getting some chest freezers in place to be sure we have a backup plan in case this should ever happen again."
In the meantime, the council is shopping for fish for the fish fry scheduled for 4:30-7 p.m. Friday, March 24, in the parish's St. Joseph Hall. Cost is $10 per ticket or $40 for families of five. All tickets bought for the March 3 fish fry will be honored on March 24, Baricevich said.
Three years to the day since a deadly and destructive tornado blew through Middle Tennessee in 2020, high winds threatened the area yet again causing damage to multiple homes and public structures on Friday, March 3.
The storm brought winds estimated at 60-80 miles per hour, causing multiple homes and businesses to lose power for several hours and even days, trees to be uprooted, and many roofs and structures to be damaged including multiple churches throughout the Diocese of Nashville, according to Deacon Mike Hume, loss prevention coordinator for the diocese.
Along with the loss of power resulting in the canceling of the fish fry, Our Lady of the Lake also experienced some roof damage at the church and the nearby seminarian house.
Additionally, roof damage has been reported at the Cathedral of the Incarnation, St. Christopher Church in Dickson, and Our Lady of Lourdes Church in Springfield.
"Some shingles blew off and some of the siding trim blew away, and the roof is exposed," said Mandee Johnson, Our Lady of Lourdes parish secretary. "It should be easy to repair, but we'll see."
Additionally, Johnson said a tree fell in the cemetery near their mission church, St. Michael, but no damage was done to any of the headstones. Although the power was still out by time the weekend Masses rolled around, "Mass still carried on," Johnson said.
While it's unclear yet if any roof damage was done to Holy Name Church in East Nashville, Renee Szefcyk, the parish secretary, said that part of the new gutter was ripped off and is now just hanging from the side of the building.
"The wind took that and ran with it," said Szefcyk. "As far as any other damage, if there was any, we don't know it yet."
Holy Trinity Church in Hohenwald received some damage to the siding of the church, and several buildings at Camp Marymount in Fairview were also damaged, Deacon Hume said.
For many churches, downed power lines and trees caused the most problems.
St. John Vianney Church and School in Gallatin is still dealing with the effects.
"Friday winds took out the transformers and electric pole that fed electricity to the school and social hall. This will not be fully functional until next week," said Belinda Myers, the parish office manager for St. John Vianney. "Trees also fell between the small church and rectory causing loss of electricity in the buildings" until noon on Monday, March 6.
"Currently, crews are cleaning up the debris and cutting up the fallen trees as well as the three trees that were still leaning," she said. "So far, we have no idea if there was roof damage, but the insurance company is coming at the end of this week to inspect the grounds and buildings."
St. Ann Church and School had several trees come down, including into the school playground off of 52nd Street, as well as a downed phone line. Thankfully, the buildings received no damage.
Sacred Heart Church in Loretto also had a large tree come down, knocking over a lamppost and crushing the handrail leading up to the church.
Although Stations of Cross had to be canceled on Friday, everything was cleaned up by parishioners by Masses on Saturday, according to Amy Brown, church secretary and bookkeeper.
St. Henry Church had the safety glass busted out of the windows on the north side of the church, said Father Mark Beckman, pastor of St. Henry. "None of the new stained-glass windows were damaged."
According to a social media post by Nashville Electric Service at noon on Monday, March 6, "approximately 6,500 NES customers are without power due to Friday's storm. … Roughly 139 NES crews continue to work around the clock in every part of our service area to restore power to all."
The heavy windstorms resulted in three deaths on Friday, including a 62-year-old man that was killed by a tree that struck the car he was riding in near the intersection of Blue Creek Road and East Blue Creek Road; an elderly woman in Hendersonville who was walking to her home when a tree fell and struck her, and a 15-year-old girl from Sumner County who was helping clear debris when she was struck by a falling tree.
Gallery photos by Katie Peterson and submitted photos from St. John Vianney Church and Holy Name Church