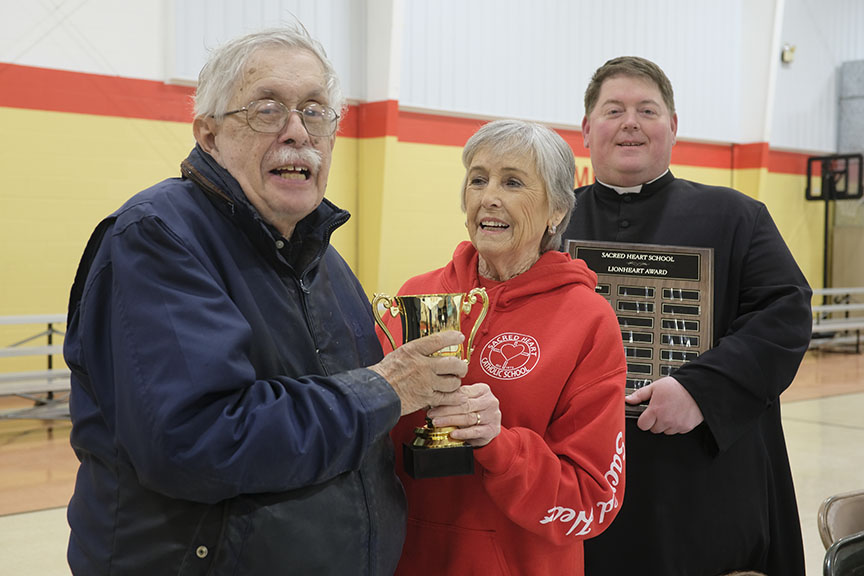 Sacred Heart School in Lawrenceburg recognized the heart of its truest lion as the year-long celebration of its 150th anniversary kicked off on Saturday, Feb. 4.
The recipient of the first annual Sacred Heart Lionheart Award "is someone that you all know and if you've been at Sacred Heart very long, you have seen this person at every ball game we've had, every soccer game, every play, every fundraiser," said Marian Pickett, principal of Sacred Heart School. "He has probably attended more events at Sacred Heart School and been a bigger supporter of Sacred Heart School than most of the alumni put together."
When Father Andrew Forsythe, pastor of Sacred Heart Church in Lawrenceburg, first brought up the idea of the award, "it was not difficult to decide who deserves this first Lionheart Award because he is probably the most dedicated lion we have," Pickett said.
With that, James Binkley, a 1961 graduate of Sacred Heart, was presented with the Lionheart trophy. His name is also already engraved on the plaque that is to be hung in the school.
"God told me I was going to get it, but I didn't think so," Binkley said, as he clutched the trophy. "There are a lot of people that could have had it besides me, so I really do appreciate it and enjoy it."
The presentation of the Lionheart Award was one of many events that accompanied the celebration. In the afternoon, alumni of the school came together for a basketball tournament, and, after Mass, 20 chili recipes faced off in a chili cookoff to raise money for the eighth-grade trip to St. Louis, Missouri, in the spring.
Mark Harris, who has been a parishioner of Sacred Heart for more than 45 years, won out with his recipe, "Mark's Green Hatch Chili," earning 52 votes.
He was surprised that he won. "I borrowed the recipe and only made the first trial run yesterday," Harris said. "It feels good to win. I've never won anything before."
150 years of history
Sacred Heart School in Lawrenceburg was founded in 1873 by the sisters of the Handmaids of the Precious Blood, and is the second oldest, continuously operated school in the diocese following St. Patrick School in McEwen, which opened in 1856.
"Although the first years were difficult and precarious, success was achieved through the determination of these women, the clergy, and faithful families committed to the Catholic education of their children," according to the school's website. "The school soon became an integral and valued segment of parish life."
The Precious Blood Sisters continued their leadership of the school for its first 44 years until the order was transferred and the school was left in the hands of the Sisters of Mercy of Nashville, who continued the work for the next 80 years. From 1997-1998, the Sisters of the Most Sacred Heart of Jesus of India taught at the school, as well as Sacred Heart School in Loretto just a few miles down the road.
By the early 2000s, the staff, administration, and faculty were all laity, but none-the-less dedicated to the mission of providing a Catholic education to those families in Lawrence County who desired it.
"It's the dedication of the parishioners" that's kept the school open, Pickett said. "They wanted to have a Catholic education for their children, so we've just persevered all these years."
The school's 150-year history has brought about generations of families who have attended and graduated from the school as well as notable figures in the history of the Diocese of Nashville, including Bishop James Niedergeses, ninth bishop of Nashville, who graduated in 1932, and Sister Juliana Beuerlein of the Daughters of Charity, a 1935 graduate who was the director of Saint Thomas Hospital and was instrumental in establishing the practice of performing open heart surgeries at the facility.
"We're very proud of our heritage," Pickett said. "We're very proud that we can claim these two outstanding alumni that have been so instrumental not only in Lawrence County, but in the diocese."
The feel of family
In recent years, the school has not only attracted the Catholic families in the area but also non-Catholic families.
"I think it's because of our closeness, and they feel so welcome here," Pickett said. "Everybody is just real close knit, and it's a welcoming atmosphere not just for the faculty and staff, but for the parents and students."
"I think that people are looking for that difference that Catholic schools bring, that family feel," added Rosemary Harris, who previously served as principal of the school from 2007 to 2018. "The fact that the kids are talked to, cared for, and they're given those manners, and that respect for teachers" has always been highlighted.
"One of the things the high school teachers used to tell me is that they could always tell our children when they came to the high school because they knew how to respect adults, how to listen, how to study on their own, and how to help other students," she said, referring to the public Lawrence County High School.
The feeling of having an extended family made the difference for one former teacher, Beverly Murrey, who is currently going through RCIA and will come into the Church at the Easter Vigil.
Pickett recruited Murrey in 2020 to come and teach at the school, having previously worked with her in another district. At the time, Murrey had several family members who were sick, including her husband, John, who eventually passed away.
She was inspired to join the Catholic Church after experiencing the love and support of Father Forsythe, the staff, parents, and students of Sacred Heart, during the time of her husband's illness and death.
"They were there," Murrey said. "I got messages from parents saying, 'My child told me about your husband and you're in our prayers,' and the child would leave a message, too.
"I love Marian and the staff and Father Forsythe and the people are always so friendly and kind to me, and that's why I want to be part of their family because they've made me feel so welcome," Murrey said. "I'm looking forward to the day that I become a full-fledged member."
The family feel has extended beyond just Sacred Heart in Lawrenceburg, with several parishioners and families from Sacred Heart Church and School in Loretto, attending the celebration, too.
"We try to support each other as much as we can," said Coral Potts, administrative assistant at Sacred Heart School in Loretto. "It says a lot when we can come together, regardless of which school we attend. We're still supporting not only the Christian faith, but we're supporting each other, and we're encouraging each other."
"It's a good community," added Terry Bottoms, who graduated from Sacred Heart School in Loretto in 1978, and has been a parishioner of all three Lawrence County Churches including St. Joseph Church in St. Joseph. "You know everybody, and it's a comfortable feeling."
'God's will that we're here'
Reflecting back on the school's first 150 years, many agreed, is a reason to thank God for his blessings.
"I really and truly think it's God's will that we're here," said Harris, who is a 1968 graduate of the school, and whose four children have graduated from the school and four grandchildren currently attend the school. "I always felt like God put us in this place for this time to serve the people of the community because I think we bring something to the community that's not found anywhere else.
"The original families that came here were very strong in their belief, and they built everything from the ground up," she said. "If we can keep that foundation and build on it … it will serve us well for the future of our parish and our school."
"One hundred fifty years is a small sign of the great many years that we have had given to us through our Lord and his Church in this world, and we get to experience that in a unique way here in southern Middle Tennessee with its own flavor, with its own heritage, with its own charisms," added Father Forsythe. "But it also reminds us that we're part of something bigger, part of a legacy, part of people who've come before us, part of people who follow after us, and so we hope to remain faithful to that beautiful gift that comes to us from Christ."