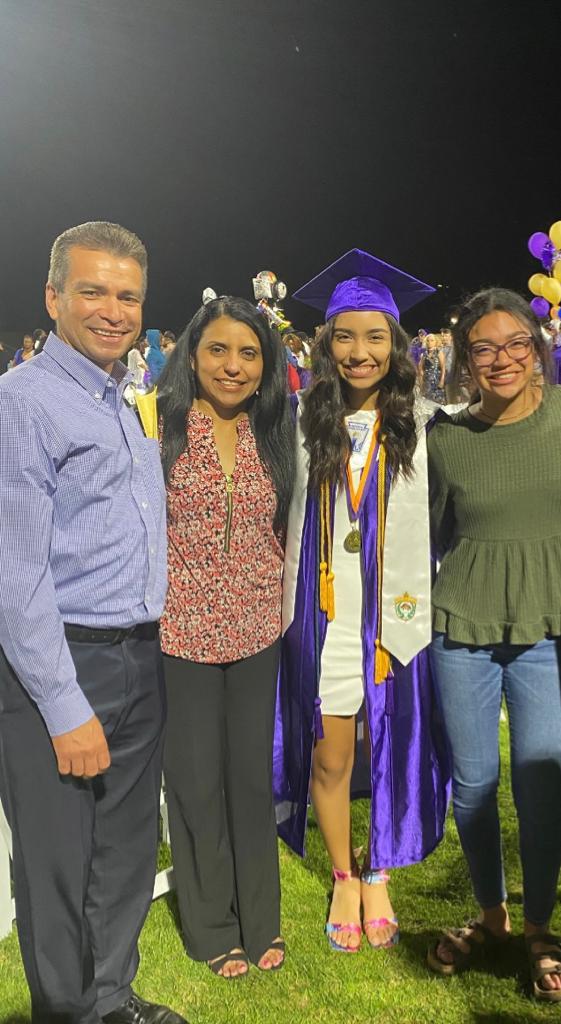 Sydney Castillo, a parishioner of St. Catherine Church in Columbia, credits hard work, determination, and a strong immune system for her most recent accomplishment – being recognized for her perfect attendance from kindergarten through 12th grade at her graduation from Columbia Central High School in May.
"No one knew it was going to happen," Castillo said, noting that she only found out about the award while looking through the program two hours before the start of the graduation ceremony. Castillo was also honored as a member of the Top 25 in the class, Student Council, National Honor Society, Beta Club, Collegiate Academy and more during the graduation.
Her perfect attendance at Columbia Central was preceded by perfect attendance at Highland Park Elementary School and Whitthorne Middle School also in Columbia. And she plans to continue her streak this fall as she heads to the University of North Alabama in Florence, Alabama, to study chemical engineering.
"There are so many things you can get out of just going to school. You get to meet so many people," Castillo said. "(Columbia) Central being the biggest high school in this area … each year I met a lot of different people just by taking classes and being part of different organizations.
"As we progress in school, the better you do in school, the more rewards you have and the more opportunities you have," she said, "so, I hope (this recognition) inspires students to just want to go to school."
Castillo's accomplishment has certainly inspired one person – her younger sister, Brianna Castillo, who is quickly following in her sister's footsteps, discovering that she also has achieved perfect attendance thus far from kindergarten through eighth grade at Highland Park and Whitthorne.
"Watching Sydney, I realized how important (education) was, how important school was, and how much it can affect you in the future," Brianna Castillo said, as she hopes to continue her streak at Columbia Central this year. That streak just doesn't include perfect attendance either as she has continued to maintain a high-grade point average, finishing middle school with all A's and being honored with Whitthorne's Mathematics Award.
At school, "I just like being around my friends," Brianna Castillo said. "That really makes learning fun to me to be with other people that are doing the same things that I'm doing."
And perfect attendance isn't their only accomplishment as they both have maintained high grade point averages while also participating in various sports and clubs while at school as well as volunteering and working at St. Catherine on the weekends. Plus, there was the added luck of any illnesses falling on weekends or breaks from school.
"Good health played a big part of it," Sydney Castillo said.
Rossana and Donald Castillo agreed that they couldn't be prouder of their daughters and their accomplishment.
"It's a big responsibility as a parent because we have to motivate them to go to school," Rossana Castillo said. "The same as we did with Sydney, we're doing with Brianna, and I hope Brianna understands that this is important not for me, but for her, as it was for Sydney," Rossana Castillo said. "We just took it day-by-day.
"As a parent, it's a responsibility to keep them healthy, keep them motivated to go to school. For us, it's easy to keep them motivated because they like to go to school, they like to be around their friends and even the teachers," she said. "We're blessed that they have so many great teachers that we still keep in contact with. I feel like I can go to school and talk to them like I've known them forever, and I think it's key to keep communication with all the people around your children. We're certainly happy with the results."
Donald Castillo, who is a member of the Knights of Columbus Council 7447 Council at St. Catherine and the District Deputy for the other councils in District 7, believes the key is being sure he and his wife are involved in every aspect of their daughters' lives.
"This is a journey where we're enjoying really seeing them growing and having fun at school," Donald Castillo said. "Parents need to be involved in everything related with the education of their children. We've been there, always supporting whether it's a sport or club."
Coming from Venezuela, "this is our American Dream, seeing them growing happy. And this is the result of this great journey so far," he said. "This is the good news that we have, and we want everyone to know it and celebrate with us."