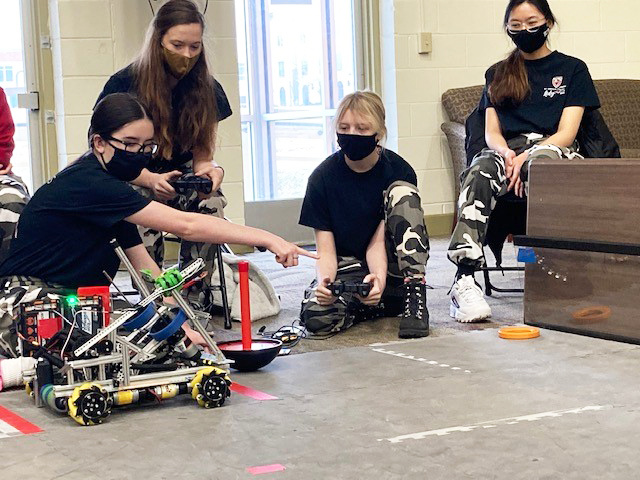 At St. Cecilia Academy, the robotics program is about more than teaching students at the all-girls school how to be engineers and programmers. It's also about fostering a collaborative spirit within a larger community.
That's why it was so important for the St. Cecilia Ladybots robotics team to host its second annual in-person scrimmage earlier this year, despite the obstacles of the COVID-19 pandemic.
With COVID protocols in place, the Ladybots hosted six other teams in person and one virtually, offering an opportunity for students to share ideas and connect personally after a year of isolation for many teens. It was the only in-person First Tech Challenge robotics event held in Tennessee this season.
"Community is a big part of robotics," said Ava Thienel, the LadyBots lead robot builder. "It is more than metal, motors, and hardware. Being around people who appreciate your work and share your interests creates empowerment. The scrimmage served as a reminder that we are all going through hurdles to make this year possible, but we are stronger together."
St. Cecilia's robotics program is in its sixth year, and last year saw a lot of success for the Ladybots as they competed in Tennessee in Kentucky. Before the pandemic shut down the season, St. Cecilia's team captured several top awards, including the First Alliance winner, first in the Connect Award, third in the Control Award, and second in the Inspire Award. That placed them on a path to qualify for the World Championship in Houston, which ultimately was cancelled due to the pandemic.
This year's Ladybots team is competing in the TNFIRST Tennessee FTC Championship, a weeklong remote event April 12-17.
Robotics is a great fit for St. Cecilia girls interested in math, science and creative problem-solving, combining the competitive spirit of team sports with the "gracious professionalism" emphasized by the First Tech Challenge community, said Ladybots coach Ashley George.
"That 'gracious professionalism' is just normal for us because it is part of being a St. Cecilia girl," George said.
The Ladybots team wants to do more with their skills than simply win. In addition to senior Ladybot members mentoring new members in building and coding, the team wanted to impart their enthusiasm for robotics to middle school students. Last year they developed a mentoring relationship with St Henry School's First Lego League team, which has continued even during COVID. In 2020 the St. Cecilia team mentored the St. Henry rookie team all the way to the state competition where they placed third.
"I am very proud of this team," George said. "They understand this program is more than just about building and programming a robot. They do all they can to help not just their teammates but other teams along the way to be successful."
Nineteen girls are currently part of the St. Cecilia Robotics team, but many more students have expressed an interest in robotics, engineering, and coding, according to George, who also teaches physics at St. Cecilia and has a background as an engineer for General Electric.
To serve those students interested in STEM-related fields, St. Cecilia will introduce an engineering and coding class for the 2021-2022 academic year. The class will be lab-based and designed to develop skills in both mechanical engineering and basic coding and programming. Students will also explore the world of 3D design with CAD (computer-aided design) and 3D printing.
This newest class will have the same emphasis on providing a dynamic and hands-on environment where St. Cecilia students can flourish in a collaborative, community-centered environment.