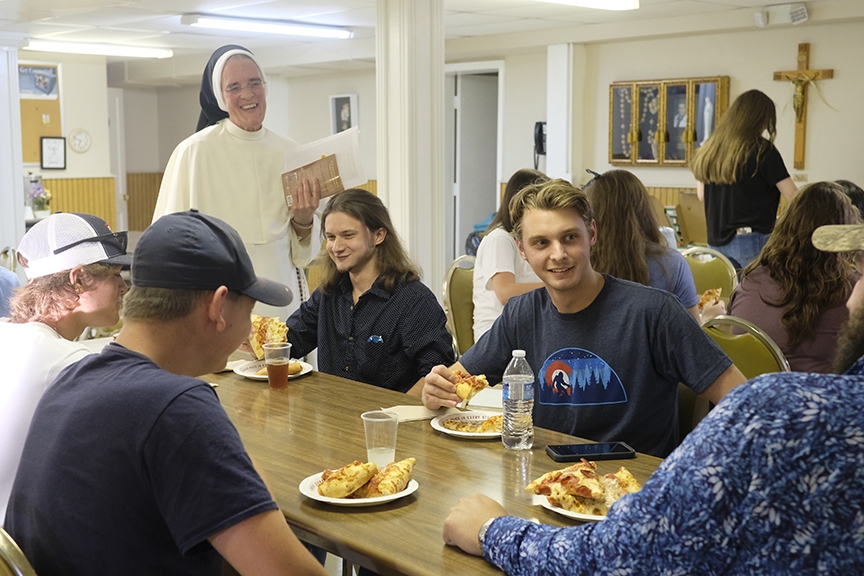 Catholic young adults in Dickson, Tennessee, are learning that holiness is found in community and fellowship as a new Young Adult Ministry Group is underway.
More than a dozen young adults ranging in age from 16 to 32 gathered at St. Christopher Church in Dickson on Tuesday, July 12, for the first monthly supper, which featured food, fellowship, and a talk from Sister Perpetua, OP.
The official non-profit organization was put together by St. Christopher parishioners Nick Fouche and Chrissy Cesario.
"Chrissy wanted to start a young adult group, but she didn't know how to get it started; however, she knew a lot of people who would be interested," Fouche explained. "I knew how to get it started, but I didn't know anyone here, so we kind of complemented each other."
"It's something that has been on my heart for years," Cesario added. "I just never had the ability or the resources to do so, and then I met Nick," who is the former president of University Catholic at Tennessee Technological University in Cookeville.
Fouche said his time at University Catholic taught him what it takes to lead such a group.
"I learned what worked and what didn't work," Fouche explained. "What worked were guest speakers and having basic catechesis. Young adults, whether they're in college or not, aren't usually interested in child's games, which I think a lot of church groups fall into the trap of doing, treating people like they're younger than they really are.
"I think people appreciate being treated like adults and hearing topics that pertain to them as an adult," he continued, noting some planned topics of discussion such as growing in holiness and why Catholics have confession. "People enjoy that catechesis and bringing the true authentic Christian faith to Catholics and non-Catholics alike, I think that's what works and was proven to work for University Catholic, so that's what we hope to bring here."
"I hope to be able to reach young adults in a way that many are not able to be reached," Cesario added. "I feel like the ages of 18-30, college age kids, that's when most people leave the Church. I want to give them a reason to stay and a reason to want to stay."
Young adults traveled from all over Middle Tennessee to come to the first session.
Charmaine Citro, a parishioner of St. Patrick Church in McEwen and an upcoming sophomore at Nashville State Community College, said she's glad to have such a group for young adults her age nearby since her parish doesn't have one.
"The stage of life that I'm in right now, the girls I'm sitting with are around my age, and they experience society in the same way I do," Citro explained. "We have a similar mindset, and I don't feel afraid to say how I feel around them.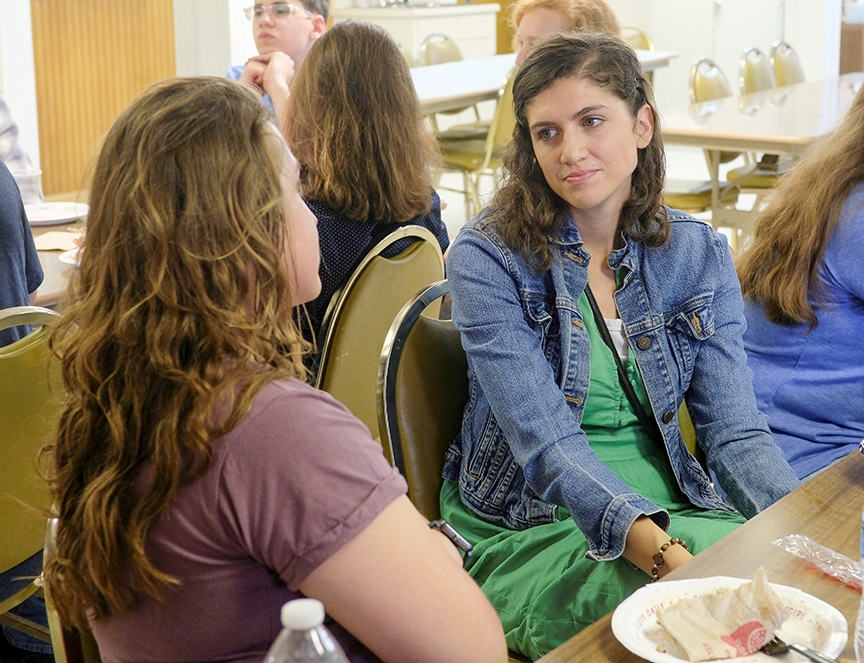 "I want to strengthen my relationship with God, especially now that I'm becoming an adult," she added. "I think it's one of the most important things in my life, and I think this group can help with that."
Mary Clare Lally, a parishioner of the Cathedral of the Incarnation, said she wanted to make the hour-long drive for the group because she enjoys meeting new people in these types of settings.
"It's important to me because these young adult groups are very needed," Lally explained. "There are enough people who are in between being in school and being settled down, and we need something to catch them in that stage of life.
"You become a reflection of the five people you spend the most time with. If you hang out with holy people, you're going to become holy," she added. "I've witnessed various times in my life where people do not have a good group of Catholic people that they hang out with regularly, and I've seen the side effects of that. Nobody is an island. We're made for community, and we need good community."
For Tyler Moorehead, a parishioner of St. John the Evangelist Church in Lewisburg, he's already come to learn just how important finding that peer community is as a recent convert to the Catholic faith.
Moorehead was an upcoming senior at Tennessee Tech when he first started looking into the Catholic faith, having realized that there were a lot of issues being viewed by the Presbyterian church, which he spent most of his life in, that he didn't feel was true Christianity.
"I wanted to study church history and find out what the traditional teachings were as handed down from the apostles to the early Christians. I knew from a history class back in high school that the Catholic Church pre-dated Protestantism, but, at the time, I didn't think anything of it," Moorehead said. "The more I looked into history, the more I decided that since the Catholic Church and the Eastern Orthodox Church both predated Protestantism, one of those was going to be the true Church that Christ founded.
"I came to a crossroads, and I had to choose between them. I was initially swung toward Orthodoxy because I liked a lot of what Catholicism had to offer, but I just couldn't square the pope with what I learned from scripture," he continued. "But the more I looked at the arguments for it, and especially when I realized the Catholics consider him to be the successor of Peter, that's when it all started to make sense."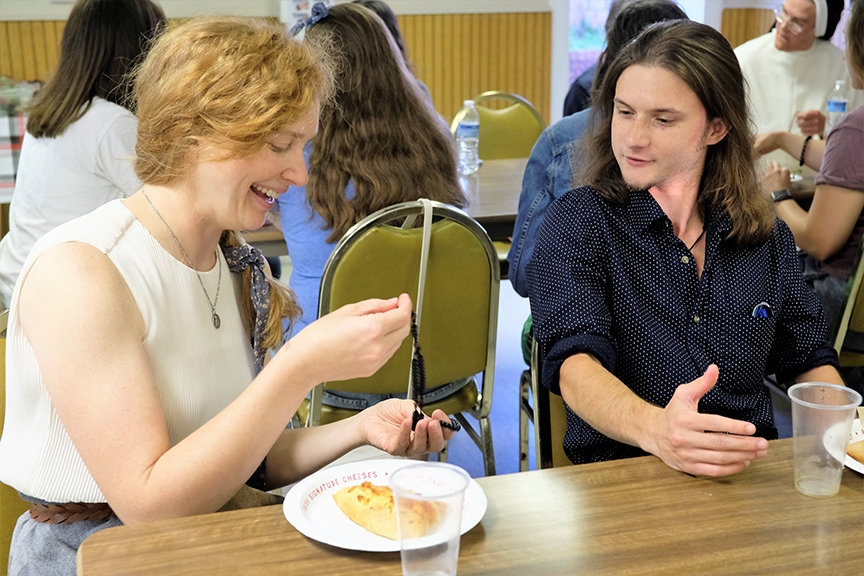 After making peace with that conflict, Moorehead said he bought a copy of the Catechism of the Catholic Church, spent the summer of 2021 reading through it, and eventually started RCIA (the Rite of Christian Initiation of Adults) at St. Thomas Aquinas Church in Cookeville. Upon his graduation from Tennessee Tech, he finished his classes at St. John the Evangelist and came into the Church at the 2022 Easter Vigil.
As he went through his classes, he also started going to the Aquinas House where University Catholic students at Tennessee Tech would gather, and he found something that he didn't have before while in the Presbyterian church.
"The population of the Presbyterian Church is starting to get old and there's not a whole lot of young blood to replace it. That's not the case for the Catholic Church," Moorehead said. "Being around my fellow students at University Catholic, I made a lot of connections with people that had a similar mindset of my own, and it was nice being able to learn the faith that I had not grown up with from people who had."
That's why, when Fouche told him about this new group that was forming, Moorehead said he didn't hesitate to come.
"Take the opportunity to come to one of these young adult groups if you can find one because it's important to stay connected to a community, especially one that's comprised of your peers because those are the people that are going to be there for you," he said. "Them and your family are the ones that are going to be your pillar of support in the faith."
The Dickson Young Adult Catholic Ministry will host a supper every second Tuesday of the month at 6:30 p.m. The next session is on Tuesday, Aug. 8, and will also feature a talk from Sister Perpetua.
On Saturday, July 29, the group will also meet at Montgomery Bell Academy in Nashville, for a hike.
For more information, email yaministry.st.christopher@gmail.com