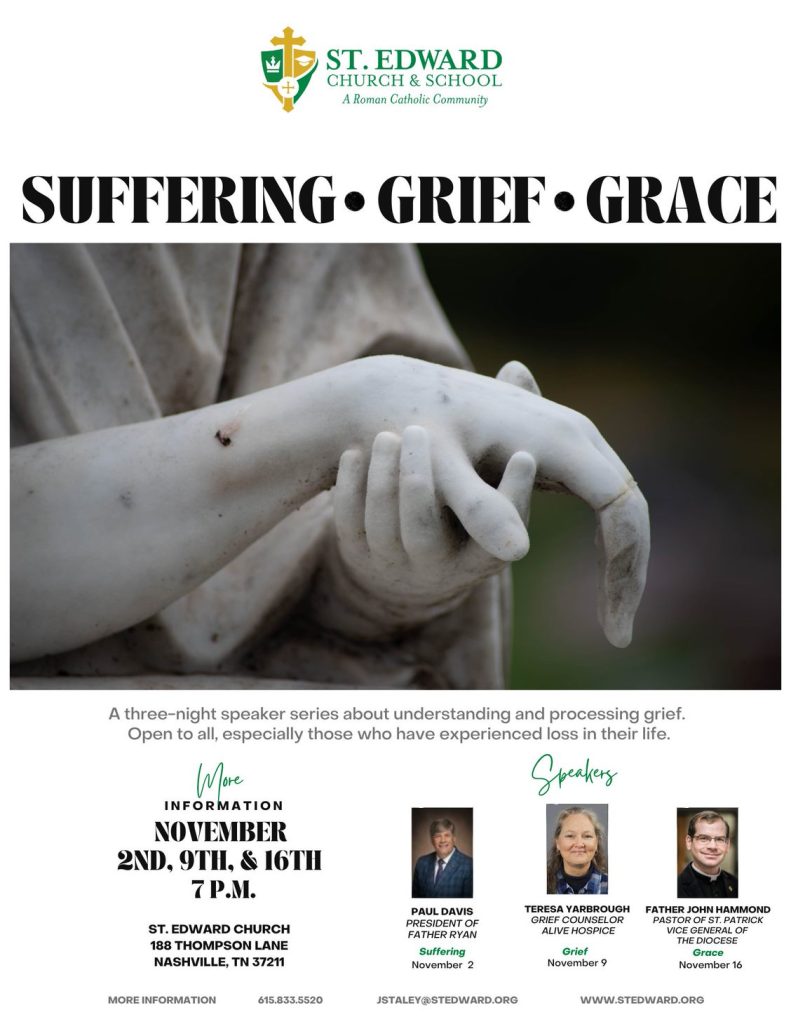 Grief is a natural part of life; every person has their turn to experience the loss of a loved one. Thankfully, the Church offers resources to help deal with the pain of loss in healthy ways.
St. Edward Church is establishing a grief ministry to provide some of those resources, beginning with a three-part speaker series this November.
"One of the things that we encounter frequently as a Church is funerals and, as the Church, we have this beautiful funeral liturgy to offer after someone's death," said Father Andy Bulso, pastor of St. Edward. "But it seemed like there was more that we could do, especially because oftentimes, the funeral is just the beginning for the families. We wanted to continue to support people as they go through the grieving process, which can last a really long time.
"You never stop grieving," he added. "It just changes over time and goes through periods of more intensity."
The three-part speaker series "Suffering, Grief, Grace" is at 7 p.m. Nov. 2, 9, and 16, at the church. The first evening features Paul Davis, president of Father Ryan High School, who will share his personal story of suffering. The second evening will feature Teresa Yarbrough, a grief counselor with Alive Hospice, who will speak on the process of grief. The final evening will feature Father John Hammond, judicial vicar and vicar general of the Diocese of Nashville and pastor of St. Patrick Church in South Nashville, who will speak on the grace that comes with suffering.
"We're really trusting the Holy Spirit, and where he's going to lead us on this one. I don't know fully what to expect and it's going to be different for every person," Father Bulso said. "Oftentimes, we don't know what to say to support people or how to support them through loss and suffering, so I'm hoping this speaker series will be able to enlighten people in that situation as well."
Preparing for the ministry
To prepare for this ministry, Father Bulso sent Julianne Staley, director of faith formation at St. Edward, to a Grief and Bereavement Conference Sept. 11-15 in Denver.
"We knew that because it is such a sensitive area that it wasn't something we could just sit down and do," Father Bulso said. "That's why I proposed to Julianne that we send her off to a conference for her own development to know how to start and guide one of these ministries."
Staley learned a lot from the conference, she said, including the difference between grief and mourning, what suffering truly means and that the grief process is not progressive and is different for everybody.
She first approached Father Bulso about the idea of the grief ministry as she continued to walk through her own personal grief journey following the loss of her two brothers, Rick in 2013 and Michael in 2019.
"I've known for a long time that this is something that has been needed for the diocese," Staley said. "When I first came to St. Edward, I expressed that.
"I think our diocese and every individual Catholic church does a beautiful job … in the funeral liturgy," she said. "Then, there are bereavement ministries at each church, but there are not many efforts that are put forth to help those in the weeks, months and even years after to support them in their grief and mourning."
Finally, after a few months and upon attending the conference, Father Bulso and Staley worked together to create the speaker series just in time for the holidays.
"The holidays are often a very difficult time for people who have experienced significant losses in their lives because it's one of those occasions that especially cause you to think about the loved ones you've lost and you miss them in a way that you wouldn't necessarily in day-to-day life," Father Bulso said. "So we knew that it was an especially meaningful and significant time to offer something like this.
"Then, to start it on All Souls Day, the day we liturgically pray for the souls in purgatory, it seemed like perfect timing to tap into a liturgical event and at the same time be preparing for the holiday season," he added.
"My hope is to offer support to offer comfort, and to offer hope because the No. 1 question people are going to ask is, 'is it ever going to get better' because it hurts so much when you lose a loved one," Staley said. "Everyone just wants that hope to know that it will be manageable one day, the pain of loss while we continue to live on earth and to live and honor that loved one until you meet again."
What is grief?
Just as Staley learned at the conference, Yarbrough said there is a difference between grief and mourning.
"Grief is the internal expression or experience of loss – the emotional, physical, mental, occupational and/or spiritual response we have to our loss," Yarbrough explained. "Traditionally, mourning would describe our outward expression of our grief or loss, i.e., wearing black for some period of time, having a wreath on our door or mailbox indicating we are in mourning, or remaining withdrawn from social engagements for a prescribed time length.
"Our Western culture, however, is not only a death-denying society, we also prefer to deny the reality of our need to mourn and grieve our losses," she added. "As a result, many former habits of social customs about mourning are no longer recognized or observed."
But it's still important to find healthy ways to deal with grief, she said, "so that we can progress through our grief journey intentionally and attentively the first time around instead of our emotions, mental challenges and spiritual questions returning at any point in time in our lives going forward and 'coming out sideways' or in unhealthy ways.
"When we purposefully or reflexively push away our grief or deny its existence, our grief will often insert itself back in less welcomed ways or times," Yarbrough said.
Events such as the grief series at St. Edward are an example of a healthy way to deal with grief, Yarbrough said.
"Giving ourselves permission to acknowledge our grief and recognize one another's grief is a way of honoring our person(s) who have died as well as honoring those who are in mourning and grieving those deaths and life-changing events," Yarbrough said. "I believe strongly that we are better able to heal in community, such as at St. Edward, and offering safe and sacred spaces for conversations about difficult life matters opens opportunities for that healing to take place within the community of St. Edward and additionally in our greater neighborhood and city communities."
Yarbrough has been with ALIVE Hospice for more than 20 years. She began her career as a registered nurse in the Inpatient Hospice Unit in Nashville in August 2000 and became involved with grief counseling two years later. She began her grief counseling career by co-facilitating grief groups and participating in summer camps for grieving children. She has been working full-time as a grief counselor at the Alive Hospice Grief Center for the last few years.
Yarbrough has a Bachelor of Science degree in biology from Baylor University in Waco, Texas, and a Bachelor of Science degree in nursing from the University of Texas at Arlington. She also holds a master's degree in biblical counseling from Colorado Christian University in Morrison, Colorado.
Teaching of the Church
Unlike the Western culture that Yarbrough described as a "death-denying society," the Church does not shy away from the reality of grief, Father Hammond said.
"Grief, sorrow, pain, loss, these things are a part of life," Father Hammond said. "It's not for nothing that the central image and icon of our faith is a cross. It's a painful experience of suffering and there's a reason that it is front and center in our iconography and it's the center of every church and hangs in every Christian home.
"The cross is a reminder of the reality that life is difficult. It involves pain and suffering and grief and hardship. But we're not only people of the cross. We're also people of the resurrection," he added. "While we acknowledge the reality of sorrow and loss, we also know that those things never get the last word.
"To be sad and sorrowful and feel pain and loss about somebody that you loved and shared life with not being with you anymore is perfectly reasonable and perfectly Christian," Father Hammond continued, noting St. Paul's words in the First Letter to the Thessalonians, which says: "We don't want you to grieve like those who have no hope."
"Our grief is always infused with hope also because we know this isn't the end of the story," Father Hammond said. "For the faithful life is changed, not ended," he said, citing the funeral liturgy.
But more than anything, the Church teaches that no one is alone in their grief, Father Hammond said.
"Nobody can understand a particular person's experience of grief because everyone experiences grief uniquely, and every experience of loss is different," Father Hammond said. "Everybody deals with and manifests and experiences their grief in different ways, which is why I always avoid saying, 'I know how you feel' because only you know how you feel.
"What I can say is 'you're not alone.' And that's one of the things people need to know most profoundly in those moments. They're not alone and that somebody is standing with them," he said. "Someone who has had a similar kind of experience and that we are here for each other in those moments, so I think this ministry is a wonderful thing that a parish can do to help people to have that support, solidarity and sense of community, a sense of they're not isolated and they're not alone."
Following the speaker series, Staley said, St. Edward hopes to begin a private grief support group in 2023.
For more information about the speaker series or the support group, email Staley at jstaley@stedward.org.