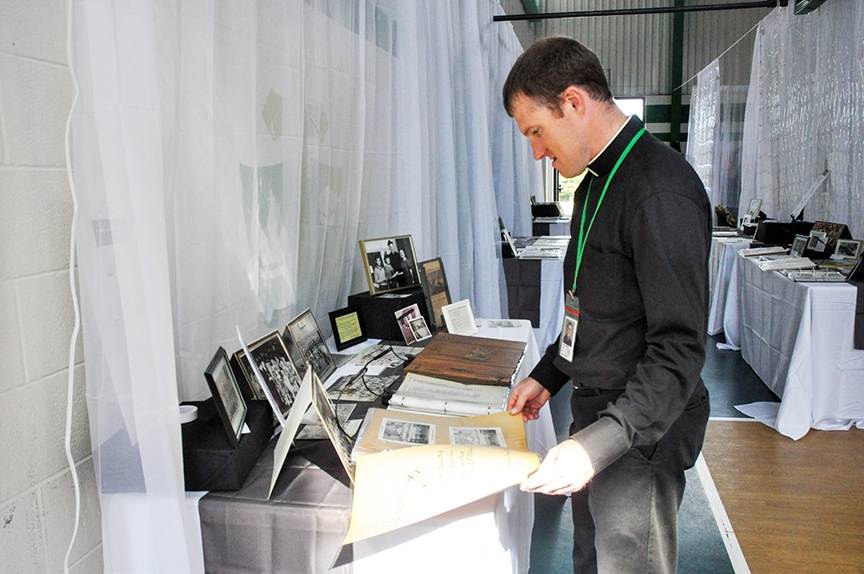 As the community of St. Edward Church and School came together for its three-day 70th anniversary celebration Oct. 13-15, the theme of family and love shined through.
Over the course of the festivities, decades-long parishioners reflected on how St. Edward has played such an integral part in their lives, and newer parishioners, particularly those of the thriving Nigerian and Burmese communities, talked of how St. Edward has provided a home away from home.
The celebration began with Mass celebrated by Bishop J. Mark Spalding on Thursday, Oct. 13, the Feast of St. Edward the Confessor.
"As we celebrate 70 years, it is with great joy that we gather to give thanks for our parishioners, to honor our patron St. Edward, and to marvel at what God has done for these 70 years and is still planning to do in the future," said Father Andy Bulso, pastor of St. Edward, as he welcomed parishioners to the Mass.
A history of family and growth
Father Bulso, who became pastor in late 2020, is the 10th pastor in St. Edward's 70-year history, which began in 1951, when Elizabeth, Molly and Katie Glennon donated $135,000 in memory of their brother Edward A. Glennon, to build a church to accommodate the growing South Nashville community, said Robin Carroll, St. Edward volunteer historian. The congregation grew out of the nearby St. Patrick Church and Holy Name Church communities, she noted.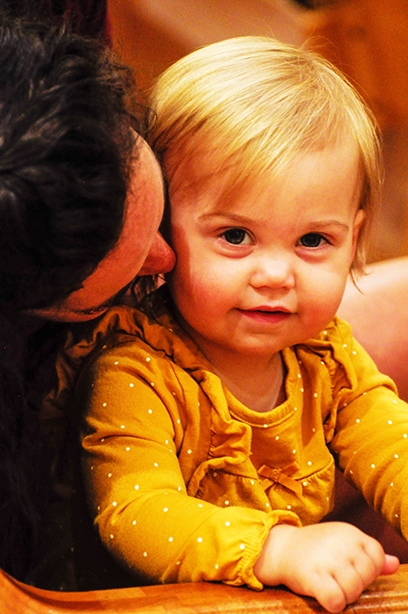 With the money donated in 1950 and a ground-breaking soon following in 1951, the church and school officially opened a year later in 1952, and was marked by a dedication ceremony on June 21, 1952, celebrated by Bishop William Adrian. Father Aaron Gildea was installed as the first pastor, and the Sisters of Mercy ran the school, which opened with 150 students in first through eighth grade. The first faculty included one principal and three teachers, Carroll said.
One of the school's earliest graduates, Therese Doyle Luken, who came for her eighth-grade year in 1955 and graduated in 1956, said she'll never forget the lessons learned from the Sisters of Mercy, particularly the principal at the time, Sister Serena, RSM.
"Sister Serena decided that there weren't enough manners at all in the classroom, so she had a little pamphlet for us," Luken recalled, "and we had a short period every afternoon to go over manners and how to treat each other way back then, and it really helped out."
Luken was born and raised in Nashville, having originally attended Christ the King Church with her family. But when she was in second grade, her father was transferred to Biloxi, Mississippi, for work where the family stayed until the summer before her eighth-grade year.
"We were so happy to be back in Nashville where family was," Luken said. They soon found an extended family at St. Edward, which was then under the leadership of its second pastor, Father Paul Caldwell, who was installed in 1953. "I made so many wonderful friends that I still have today, and I just saw the love of everybody for each other."
It's a love that Luken said she made sure to pass down to her own children who all graduated from the school. And her family's ties continue today with her grandchildren Hunter Shacklett, who graduated in 2019, and Tanner Shacklett, who is in second grade. Her daughter, and their mom, Briana Shacklett, a 1991 graduate of the school, has served on the faculty for the last 23 years, first as a third-grade teacher and now as a kindergarten teacher.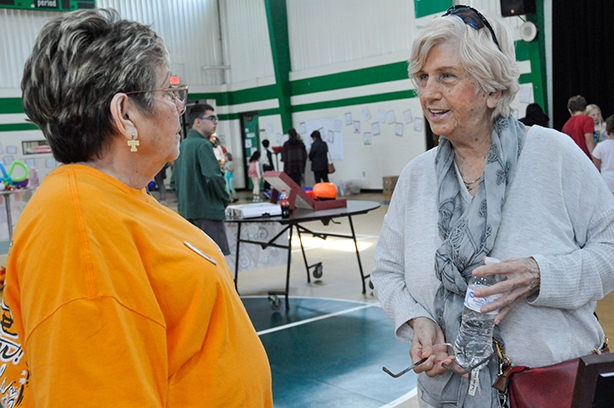 "Why wouldn't you pass it on?" Luken asked. "The friendships and the memories they obtain will last a lifetime."
"I love being part of St. Edward," Briana Shacklett added. "When I got the opportunity to come back here (and teach), I was so excited because this is home for me. This is like my family."
As St. Edward continued to grow in subsequent years, registering more than 500 families within the first decade, regular pastoral changes continued with Father Edward Elliott in 1961, Father Paul Hostettler in 1969, Father John Cain in 1971, and Father Patrick Connor in 1978.
In 1967, the school expanded to include a middle school wing, and in 1973, the Parish Activity House and the Church Sanctuary were remodeled. The changes included the removal of the altar rails and the addition of wood paneling in the sanctuary. In 1984, the Family Life Center opened, which serves as the school gymnasium today.
But the largest changes came in 1991 under the leadership of Father Joe Pat Breen, who was the church's longest serving pastor from 1984-2014.
The renovation in 1991 included a reorientation of the church from facing north to facing east. This updated the seating capacity of the church from 400 to 650. The next major project came in 1994 when a pavilion by the playground was built. Following a rainstorm that caused the school roof to collapse in 1999, the school building was renovated and expanded to include parish offices and the rectory.
During Father Breen's tenure, the community grew more and more diverse until it had a thriving Hispanic community. It grew to be so large that in 2008, Our Lady of Guadalupe Church was established, first as a mission of St. Edward until it became its own independent parish.
Father Breen's legacy at the parish was highlighted during the Mass, and by several longtime parishioners.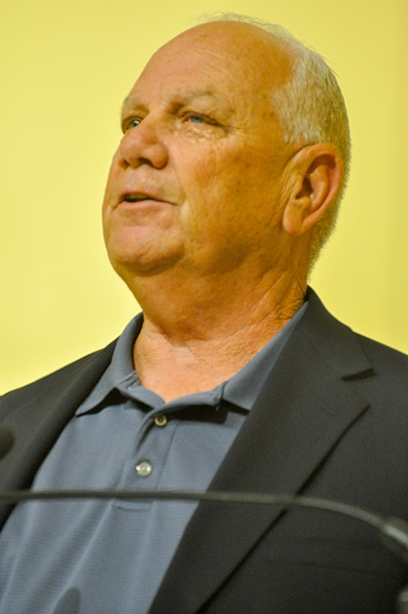 "(Father Breen) arrived in 1984 and brought great energy to the parish and the school," said Chuck Curran, who has been part of the parish since his baptism 63 years ago and is a graduate of the St. Edward School. "He had friends of all denominations, and he was looked at as the religious leader to go to when you needed advice. He welcomed all to come to St. Edward to experience the love of Christ. He was very welcoming to all, and they felt his expression of love when they encountered him."
Love is the word Curran said best described Father Breen, who died earlier this year.
"He loved everyone, and they loved him. He preached about love every day. His homilies were almost always about love," Curran said. "He accepted everyone, no matter the differences that you may have had. You didn't have to agree with him to love him and for him to love you. If you had a different belief, he still accepted you and loved you. He was a friend to all, and he strengthened the faith of so many. He prayed with us and made our faith stronger."
Luken also recalled Father Breen.
"There was always a feeling of striving for Godliness, and of just bringing us all together and doing our best every day, whatever it took, and that's still here today," Luken said.
And the next generation of St. Edward families is only extending that effort.
Into the future
During the Mass, Father Bulso included a highlight of the youngest generation at St. Edward, as two of the school's eighth-grade students read reflection essays they wrote about the church and school.
Aidan Harper noted the tradition of both the church and school.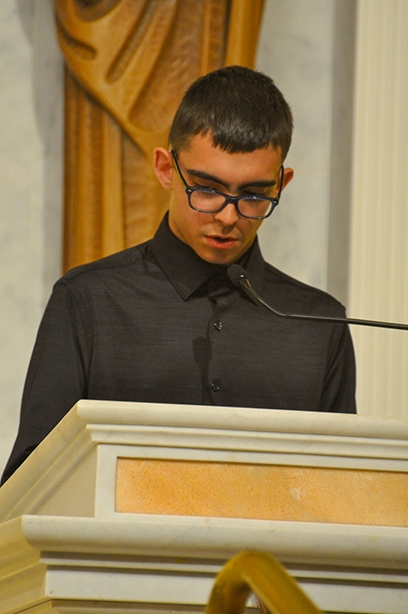 "Traditions follow us everywhere. … In the Catholic Church, so much of our worship comes from the tradition established after Jesus's resurrection. That includes the foundation of church communities," Harper said. "Seventy years ago, St. Edward Church joined the long list of Catholic churches in the Diocese of Nashville. St. Edward began some of their own traditions" including the opening of the school.
"When St. Edward School opened, my papa, Jim Harper, started going to St. Edward when he was 4 years old. … It makes me proud to know I am going to the same school as my Papa, knowing we shared the same walls," he added. "I think of the priests who meant a lot to me like Father Mark (Nolte, who was installed in 2014) and Father Dan (Reehill, who served as associate pastor under Father Nolte until his elevation to pastor in 2016), who took my first confession and gave me my First Communion. Now, I look forward to the 70th anniversary, receiving my Confirmation and graduating from St. Edward."
Lily Farris said she'll never forget the memories she has made while attending St. Edward Church and School.
"Being a part of St. Edward is so much more than being just another student. … Everybody is comfortable with each other, no matter if you are new or have been here since pre-kindergarten," Farris said. "That is probably my favorite part of St. Edward, not the activities, but the community that is always giving.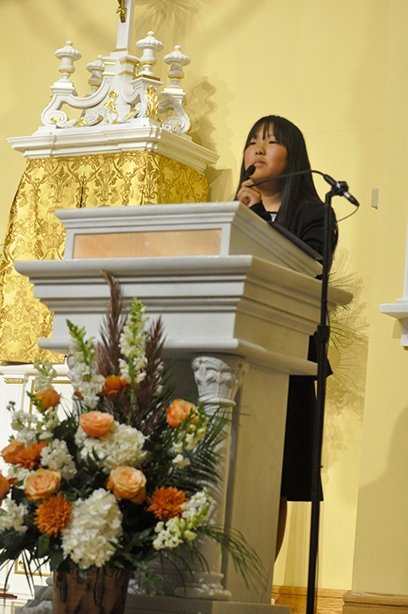 "When you are at St. Edward, you are a part of a community, so … St. Edward is more than I could have asked for and more. Though there were times I expressed my dislike for the school, it was probably just me trying to be rebellious and failing miserably. I love St. Edward, and if I had another 50 lives, I would always choose St. Edward."
The sense of community at St. Edward has extended beyond the parishioners as a whole. The diversity of the parish has and continues to grow and thrive not just with the Hispanic community but with both the Nigerian and Burmese communities.
The Nigerian Catholic Community in Nashville comes together at St. Edward once a month to celebrate Mass, have fellowship and enjoy Nigerian food.
Austin and Justine Obilor, who immigrated from Nigeria in 2015, said they knew it was where God was leading them after experiencing several personal struggles both in Nigeria and in their lives.
"Over time, we found ourselves in a pull to come, and generally we found out the ugly things that happened to us in the past, God used them as beautifying situations to cause us to come here," Justine Obilor said. "When you're new and you're Black, everyone tells you about white supremacy and racism. … But when we came here to St. Edward, we found out that it's a community of friends and family, the people that have been the best to use, that opened their arms of friendship, that took us in and loved us like their own."
"St. Edward is like my home away from home," Austin Obilor added. "God brought us here, and the people have become like family to us."
Justine Obilor noted the sense of family and community within the school, too.
"It's a community where even the teachers, human as they may be with their flaws, with their weakness, you're sure they are people that love your children and make everyone feel special," she continued.
"My children have thrived at St. Edward," she said of her son Chibudom Obilor, who is in sixth grade, and her daughter, Sochi Obilor, who is in third grade.
"At St. Edward, there is always someone to listen to you, and I guess mostly because there is a church community, you have the opportunity to translate your Christianity, your faith into works because there is an intermarriage between the church and the community," she concluded. "The church makes the community, so the glue is God for all of us. … Everyone is very conscious that we're supposed to be spreading the light."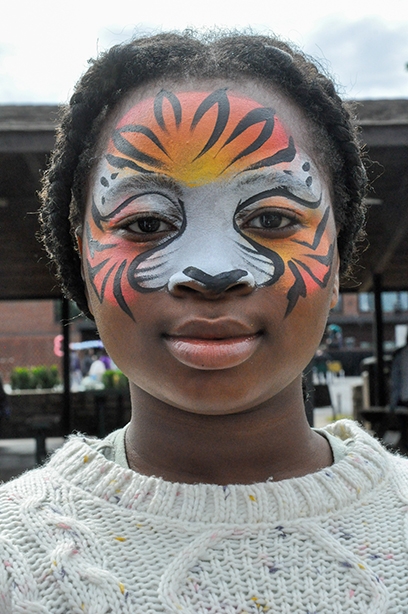 And Justine Obilor loves the opportunity to expose her children to their roots through the Nigerian community, because they were young children when the family came to Nashville and have hardly any memories.
"One of the reasons why we are still part of the Nigerian community is so our children understand that they also have roots, so they understand they're unique and they can blend both communities," she explained. "When you leave a place and go to another place to settle, your children take that new place as their own, but it doesn't erase where you're from. You're supposed to bring that diversity. You're supposed to bring that richness of your culture to weave into this place.
"God had a reason why he made all of us. We all bring something to the table," she said. "You don't miss that opportunity that God has given to you."
St. Edward also has a thriving Burmese Catholic Community, known as St. Mary Zomi Catholic Community of Tennessee, which includes about 45 families. They meet three times a month for Mass at St. Edward, and often come together to celebrate milestones such as a new baby or the purchase of a new home.
"We celebrate as a community. It gives us a sense of identity, belonging with your people, having a common tongue, culture, a religion, a common belief and just a strong bond of loving God overall," said Thang Muang, a freshman studying computer science at Trevecca Nazarene University. Muang came to Nashville as a refugee eight years ago with his family, following his father Francis Kham, who came as a refugee 10 years ago.
"St. Edward provides a good example for all the other churches. It shows how it doesn't matter if you're from another country, as long as we all have a common core belief and a love for God," Muang said. "It just brings everyone together, and we should look into what St. Edward does and some people should consider accepting other people even though they're minorities in the world."
And Muang said this mark of 70 years is just a start of what's to come for St. Edward.
"All the families here, they believe that St. Edward will give them a brighter future, give them stronger faith, and overall have a common faith for all the community," he said.
'Get ready everybody'
During his homily at the Mass, Bishop Spalding noted how the 70th anniversary is simply anticipatory of the 75th and even the 100th anniversaries.
"Get ready everybody. We build up from here to there, and the great thing we understand as we gather here at St. Edward is this," Bishop Spalding said. "There is such a great foundation to continue to build on of faith, hope and love. We're so thankful for all the generations before us.
"We have the blessings of those of our parents and our grandparents and other people of faith that have given us examples of how to live that in our life," he said. "As we gather here, mindful that God first of all has blessed us and that we receive so much from our God, God now anticipates something from us.
"From the legacy we have received, now we take that Good News to others, and it's a constant effort to live our life in Christ with others," Bishop Spalding said. "As we celebrate 70 wonderful years of coming together as parishioners of St. Edward, let us remember our responsibility to each other.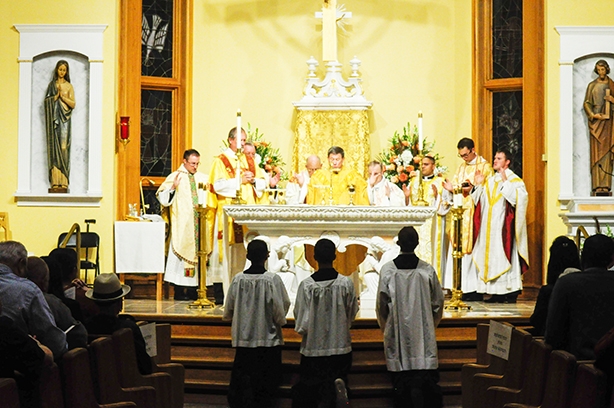 "I'm coming back in five years, and here is what I'd love for us to be sharing when we come back for that 75th anniversary," he concluded. "'Bishop, I'd like you to meet this parishioner. She was lost and now she's found. She thought she was headed down a path of death and destruction, and now she knows life and its abundance. Bishop, meet him. He was going down a path of addiction, crime and difficulty and because of me and this parish, he's now here sitting beside me.'
"May God continue to bless us and be with us into the future of St. Edward. May he give us all the courage to wear our faith well," Bishop Spalding said. "There will be those moments of rejection. The Lord himself had them, so in those moments know you bring yourself even more near and dear to Christ the Savior himself, but by far you will have the experience of someone knowing the love and mercy of Jesus."
Along with the celebratory Mass, which was followed by a reception and toasts to the Holy Father, St. Edward the Confessor, and the parishioners of St. Edward, the community also celebrated the 70th anniversary with a golf tournament and trivia night Friday, Oct. 14, and concluded with a community festival on Saturday, Oct. 15.