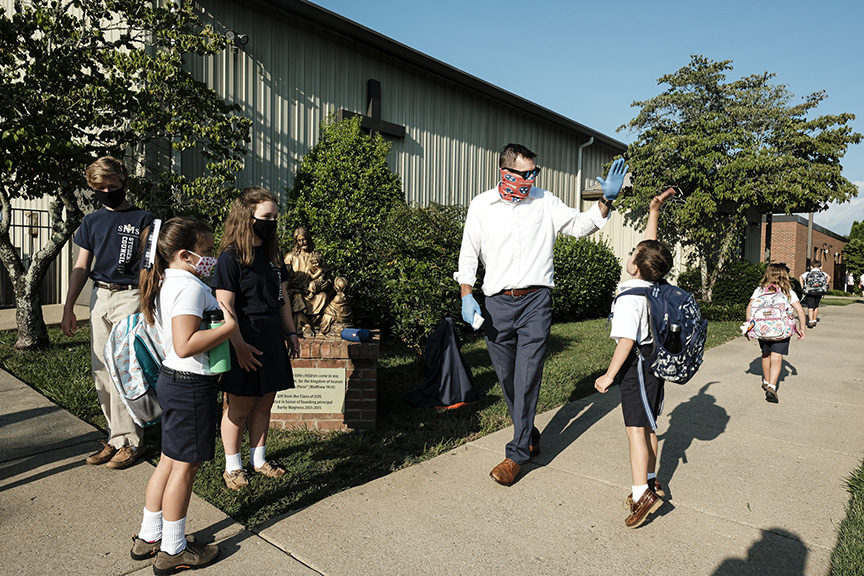 The readers of the Williamson Home Page website love St. Matthew School and Church.
In the recent inaugural Williamson's Best Readers' Choice Awards, sponsored by Williamson Home Page, St. Matthew School was voted tops in the categories of Best Pre-school, Best Private Elementary School, Best Private Middle School and Best Music Teacher for Laura Holderman.
St. Matthew Church was recognized as the winner in the category Best Youth Group and was a finalist for Best Church along with the winner, Brentwood United Methodist Church and Church of the City.
Father Ryan High School, which draws many of its students from Williamson County even though it is located in neighboring Davidson County, was a finalist for Best Private High School along with the winner, Battle Ground Academy and Brentwood Academy.
"There are a number of great private and independent schools in Williamson County," noted St. Matthew School Principal Tim Forbes. "We felt great about receiving the awards given the options that are available in Wiliamson County."
St. Matthew welcomed the attention from its showing in the contest. "It's an opportunity for members of our community to hear of St. Matthew, whether they are Catholic or non-Catholic," Forbes said. "It's one more opportunity for the people to know the quality of education at St. Matthew."
The school asked parents to vote in the contest, and the results show the parents' satisfaction and support for the school, Forbes said.
"Their children are the greatest gift God will ever give them. … This award is a validation of that partnership and that trust that parents have in the school," Forbes said. "It's humbling."
St. Matthew has 417 students in grades kindergarten through eight and an additional 47 students in its pre-kindergarten program. The school was named a National Blue Ribbon School by the U.S. Department of Education in 2017.
To see more of the winners in the Williamson's Best contest, visit www.williamsonhomepage.com/williamsons_best/readers_choice/.