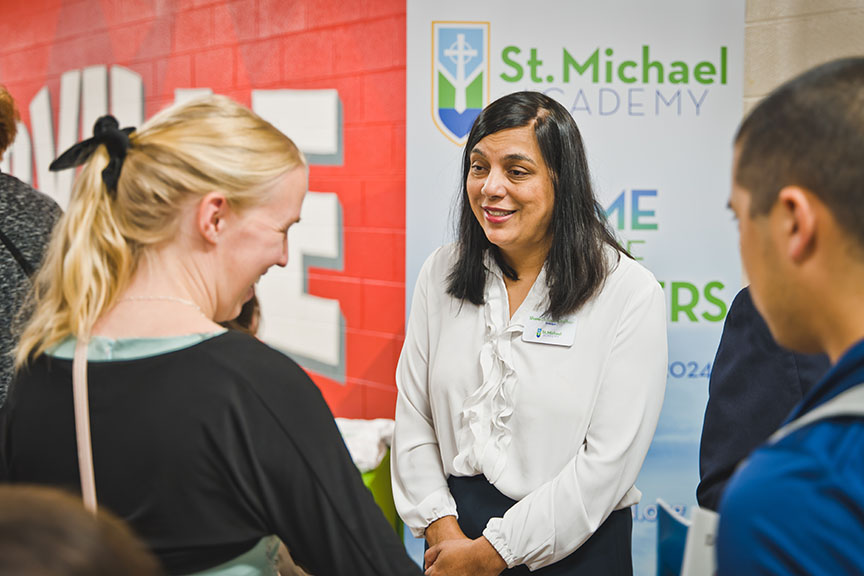 St. Michael Academy Principal Shana Druffner has started meeting with Williamson County residents to introduce the community to the new Catholic school under construction in Nolensville.
Druffner attended Masses at the Church of the Nativity in Thompsons Station on Saturday, April 15, and at Mother Teresa Church in Nolensville and Holy Family Church in Brentwood, on Sunday, April 16, to meet parishioners and answer questions about the building, give updates on construction progress, and discuss the application process, which will begin this fall. Dozens of families stayed after Mass at each church to visit with the school's inaugural principal.
"The response at each parish was strong, with families expressing their excitement about having St. Michael's in the community," Druffner said. "I was humbled by their words, honored to become the inaugural principal of St. Michael Academy, and looking forward to spending more time in Williamson County."
Druffner will officially assume her position on July 1, 2023. When the school opens in August 2024, St. Michael Academy plans to welcome students in pre-K3 through the third grade, with another grade level added each successive year. The plans call for the school eventually to be pre-kindergarten through high school.
Enrollment applications will be accepted beginning in the fall of 2023.
For more information about St. Michael Academy, visit StMichaelTN.org or contact Jo Lind Weaver, director of development, at jweaver@StMichaelTN.org.