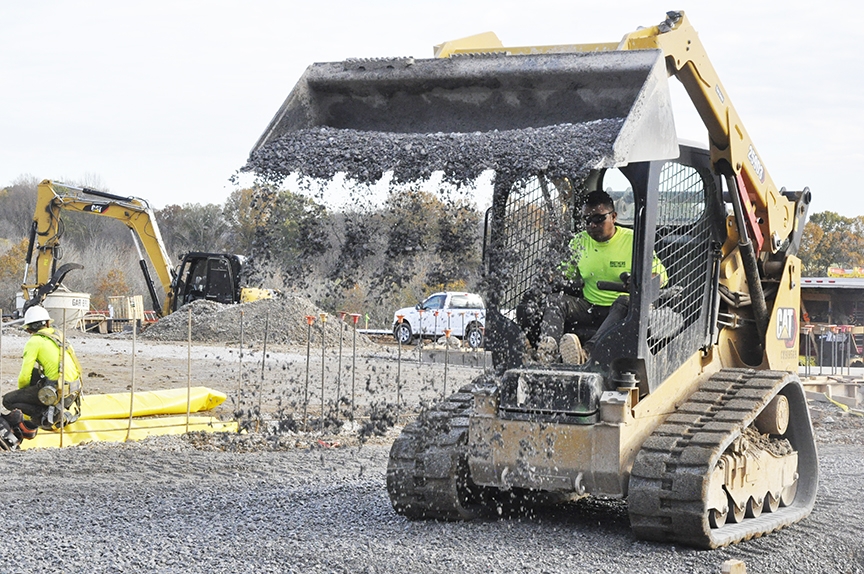 The dream of a new Catholic elementary school in Nolensville is getting closer to reality as construction progress points to a fall 2023 completion date for St. Michael Academy.
Since the groundbreaking ceremony on May 31, Carter Group LLC, the general contractor, and its multiple subcontractors have been making strides as the walls begin to go up.
"We are on schedule to the day," said Somer Olmstead, assistant project manager with Carter Group. "I'm extremely happy."
As of Monday, Nov. 7, the steel has started to go up, with roughly 40 percent complete, and all concrete will be poured by early December, Olmstead said. Geothermal wells are also currently being drilled for more energy efficient heating, and installation of a gas line, telecommunication lines, and a water line will begin in December.
Additionally, it's expected that the roof will be on by early 2023 with a move into the interior work of the building by the end of February, added Caleb Williams, senior project manager with Carter Group.
"We're extremely pleased with where we are to date on the progress," Williams said. "It was a good, dry summer, which has let us make a lot of progress on the overall site and on the school building itself.
"Weather is key early on in construction," he added.
As construction has gone on over the last six months, Dr. Rebecca Hammel, superintendent of schools, has received regular updates and photos of the progress, which she agrees is going nicely.
"Each week, I receive photos of the week's activity and can see the different areas of the building taking shape," she said. "I am starting to envision the children in the pre-kindergarten wing, for example, playing in their common space, or the middle schoolers collaborating on a project in one of their small group rooms.
"One of the distinct features of the building's exterior is the roof line of the chapel and media center," Dr. Hammel said. "I enjoy thinking about the beautiful sounds of song and delight that will come from children singing together in worship or enjoying a good book in the library. It is absolutely heartwarming.
"God has blessed us with incredible weather, allowing the Carter Group and sub-contractors to accomplish a great deal thus far," she added.
On Wednesday, Nov. 9, Dr. Hammel, along with staff from the Catholic Schools Office and consultants from Carney Sandoe and Associates, which is leading the search for St. Michael's principal, took their first tour of the campus since the groundbreaking.
"This is a dream," Dr. Hammel said as she walked around the campus.
Greg Sandfort, president of the St. Michael Academy Board of Trustees, said the board is also pleased with the process, as he and others attend construction meetings on site every two weeks.
"I'm very pleased with the progress so far. We're still on time, and we don't anticipate any real delays unless we have some terrifically harsh winter weather. But hopefully we'll be under roof by the time that happens," Sandfort said. "Working with Carter Group has been great. They're very good, very buttoned up so even though we've had a few delays with materials, they have been able to work the schedule to keep us still on time.
"What's exciting is as you see the building coming out of the ground, you're now starting to see what it's actually going to look like as it wraps around the lake, and it's going to be a pretty spectacular site," he added. "The learning environment will be so different for this school than what you normally have. You've got the grounds themselves that are very conducive to teaching students about agriculture, about horticulture, about renewable energy … all kinds of things that are available to the outside classroom format that we wouldn't have at a normal school. … The property is going to be unique in that way.
"As it's coming out of the ground, it really makes you feel proud knowing this is going to be something special."
The 102,000 square foot elementary school, a multi-million dollar project, sits on 166 acres of land on Nolensville Pike, and will be able to serve approximately 525 students in pre-kindergarten through eighth grade.
Expected to open in August 2024, the building of the elementary school is the first of three phases as the Nolensville Catholic Campus continues to develop. Phase two will address the need to build a home for Mother Teresa Catholic Church, which will start meeting for Mass in the school once construction is complete, Sandfort said. Phase three will focus on the construction of a high school. The timing, design and cost of the second and third phases of the project are yet to be determined.
As construction continues toward completion, Sandfort said, the hope is to have a principal hired by summer of 2023 with an enrollment process beginning in fall 2023 for the August 2024 opening.
The Nolensville Catholic Campus is one of several projects the Diocese of Nashville and Carter Group have collaborated on over the years, including the building of Church of the Nativity in Thompson's Station, and renovations of St. Philip Church in Franklin, St. Ignatius Church in Antioch, and most recently, the Cathedral of the Incarnation.
"We've had a good relationship even since before I got here of doing work for the diocese," Williams said. "It's been collaborative on those efforts and understanding the diocese's needs and expectations for that type of work."
"Anytime you have a repeat client, it's usually good on both ends," Olmstead added. "We've enjoyed working with them, and they've enjoyed working with us."
For more information about St. Michael Academy, visit stmichael-academy.com.