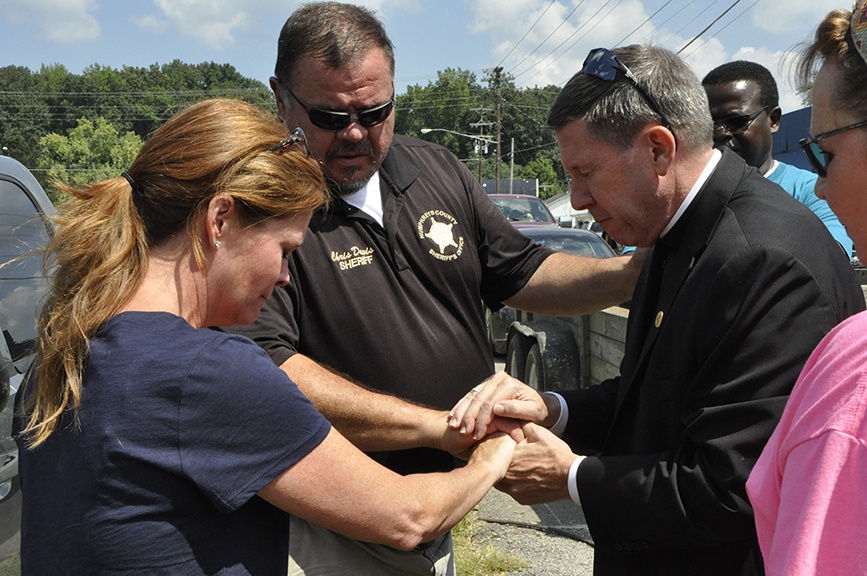 Henry Kersten was pacing back and forth inside his family's home on 202 Sunset Drive in Waverly on Saturday, Aug. 21, when he saw the backyard shed being carried off by the flood waters. His wife Leslie was trapped inside.
"It was amazingly fast," Kersten said. "She was trying to save some things (in the shed). We never knew the extent that was going to come because we were going by the last flood that we had two years ago.
"It started to seep into the shed and then it came so fast that she didn't feel safe coming out," he recalled. "She called me on the phone, and she told me that she loved me and our children.
"As I was pacing, I saw the shed get washed away and watched her go by," he continued. "It took about five hours, but by God's blessing, a former neighbor … was able to find her."
Leslie Kersten, who with her family was a parishioner at St. Patrick Church in McEwen, was one of 19 confirmed deaths from the flooding that washed through Humphreys County on Saturday, Aug. 21, after up to 18 inches of rain fell in the area in less than 24 hours, breaking the Tennessee record for one-day rainfall.
When planning for Leslie's funeral the morning of Aug. 24, Henry Kersten said they chose a quote from the Gospel of Mark for the program cover: "Love the Lord your God with all your heart and with all your soul and with all your mind and with all your strength. The second is this: Love your neighbor as yourself." (Mark 12:29-31)
"That's Leslie's life in a Bible verse. She loved the Church. … The Church has been so important in our life," Kersten said. "She was the epitome of God's greatest commandment."
In the darkness of tragedy, Kersten still finds the light of God's grace.
"God sends his toughest challenges for his strongest soldiers," Kersten told Bishop J. Mark Spalding, who visited victims of the Waverly flood on Tuesday, Aug. 24.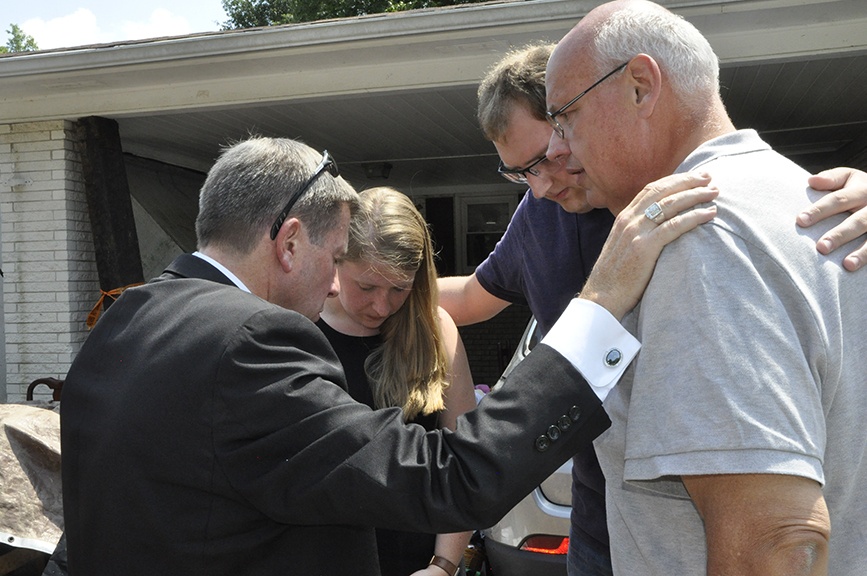 As Bishop Spalding visited flood victims at relief shelters and their destroyed homes, he brought with him a message: "You're not alone."
"In times of profound tragedy, presence is the most important thing," Bishop Spalding said. "No matter what crisis we face in life, just knowing another is there with you and for you, especially in our context of faith, to know that God is with us and for us as well is what people need to know."
On Friday, Aug. 20, downpours of rain reaching more than 18 inches hit Humphreys County, about 60 miles west of Nashville. By 8:30 a.m. Saturday, the rapidly rising flood waters were crashing through Waverly, wreaking havoc on homes and businesses alike.
Hundreds of homes were affected, everything from sustaining minor damage to being completely destroyed.
"Our damage is ranging from the city limits of McEwen to Highway 70 West almost into New Johnsonville," said Humphreys County Sherriff Chris Davis. "Businesses, homes, everything."
"It just came in as an influx," added Grey Collier, public information officer for the Humphreys County Emergency Management Agency. "Within just 10 to 30 minutes, people went from dry floors to having to climb in their attics."
Barbara Hooper, flood relief coordinator for the St. Vincent de Paul Society at St. Patrick Church and conference vice president, said this was the worst flood the community has ever experienced.
"This is like a tsunami in a foreign city, and we're in a little town in Tennessee," Hooper said. "Now, we're seeing what they go through all the time."
St. Patrick School teachers Jackie Tate, middle school language arts teacher, and Christa Curtis, third grade teacher, were both affected by the flood.
Tate said the morning of the flood, she and her family were at their home on East Main Street in Waverly where they had their bags packed and ready to go. They were keeping an eye on the back door where they expected to see the waters rise. But after her husband Christian took their dog out in the front yard and saw the rising water headed their way from that direction instead, he rushed inside to warn them to evacuate.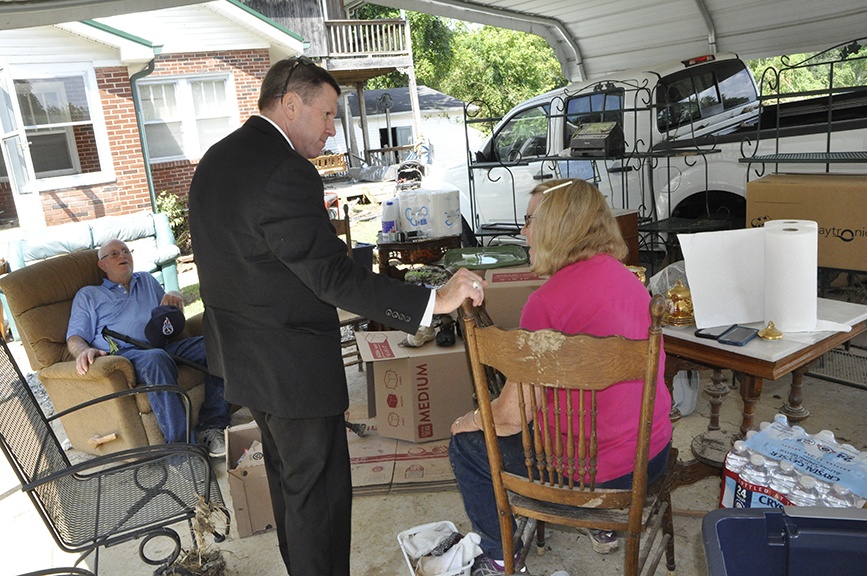 The Tate family was unable to leave in their truck, so they sought shelter at their neighbor's home on higher ground.
"We knew we might get into the flooding area, but I've never seen anything like that," Tate said.
The St. Vincent de Paul Society at St. Patrick helped Tate and her family secure a rental property while they wait for government aid.
"They have been an absolute godsend," Tate said. "They're my people," she said of the St. Patrick community.
Teresa Curtis, mother of Christa Curtis, said their family had a similar experience at their home on Browntown Road in Waverly.
"It was early morning, and our neighbor came and knocked on our door and said, 'Get out, get out now,'" Teresa Curtis recalled.
She said she hollered for Christa to get her father, Gary, who is disabled, prepared to evacuate.
"As I came out, the water started rushing and so I went and got in the truck to try to get it up where we could get in it and get away … but the water rushed in the truck," she said. "I went back to get Christa and Gary, and she was hollering for me to come help rescue him, so I grabbed him by the other arm. We were trying to grab him because he can't walk well."
She said when she yelled for help, neighbors came immediately to help get them out safely.
"We appreciate any help we can get at this time," Curtis said. "We just found out we have no flood insurance. … It's been 47 years that we lived here."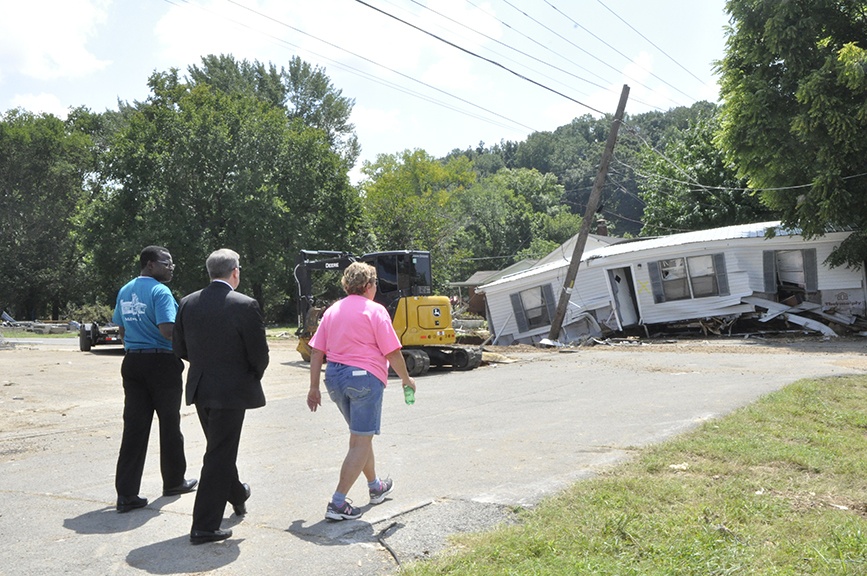 Despite the devastation experienced, victims and volunteers alike said the way the community has come together with the clothing and food collections is overwhelming, with supplies available at newly designated Unification Centers in McEwen and Waverly.
"The outpouring of support has been phenomenal," Collier said.
"This is what humanity is," said Margaret Loose, family friend of St. Patrick parishioners James and Patsy Bradley, who also lost their home located at the corner of Main Street and Simpson in Waverly.
"This is what the Volunteer State truly means," added Waverly Vice Mayor Mike Goodman.
Tate's family has already benefitted from the collections of food, clothing and supplies that the Waverly and McEwen communities have been taking up.
"It is really amazing to watch, but I'm not surprised," Tate said. "(This community) will give you the shirt off their back."
Surrounding churches are also helping with the relief effort including St. Christopher Church in Dickson, which began collecting donations on Saturday, Aug. 21.
"When the flood happened, we sent out through our church Flock Note that we're going to accept donations and get them to McEwen (High School) gym because that was where the closest point was," said Chip Fye, president of the St. Vincent de Paul Society for Dickson County. "Within an hour and a half, donations started pouring in. By 6 Saturday evening, we had four pickup truck loads of stuff."
Fye said that first load was delivered to the then empty gymnasium at McEwen High School, but by Sunday it was a different story.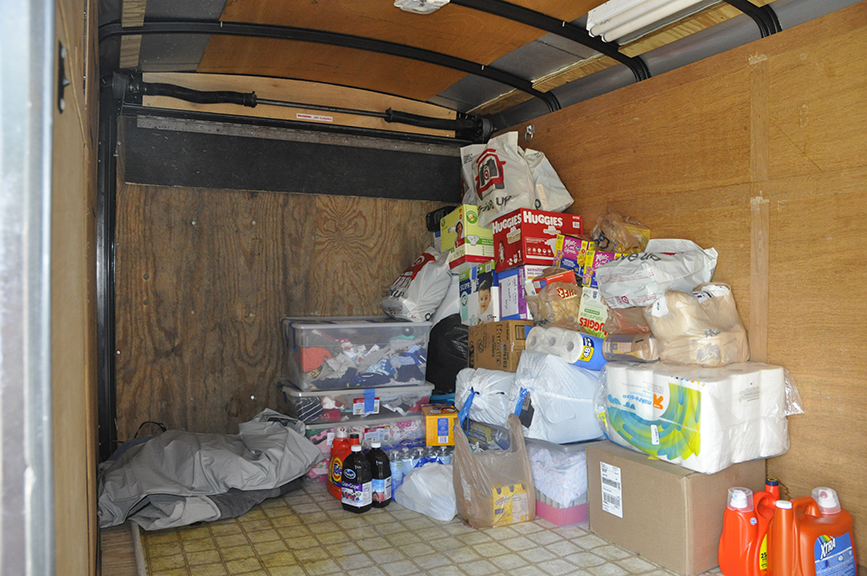 "When I walked into the gym, I almost started crying," he said. "It was packed.
"It's overwhelming, it's humbling. It's gratifying to see," he added.
St. Christopher parishioners have continued to send donations to McEwen, with the help of the Dickson County Sheriff's Office, which provided a trailer that is taken to McEwen every evening by a deputy sheriff, Fye said.
Dickson County Sheriff Tim Eads "personally came out and helped load the trailer," Fye said.
Additionally, Fye said, he has collected a list of families who are willing to take displaced individuals and families into their homes and has been in contact with the national St. Vincent de Paul Society chief executive officer and with the crisis management team in Dickson County, which will help with a special donation made Aug. 25 by St. Christopher parishioner Scott Lochbihler – a 2002 Mazda Tribute.
"I was watching the news and I saw all the cars piled up," Lochbihler said. "I've been very fortunate. I'm walking upright, I'm living in America, and I can only imagine how tough it would be to lose everything and not even have a car to get around in.
"This car was just sitting there and I don't use it, so I thought, 'Why not?' I figured that would make such an impact on somebody," he said.
Lochbihler said he hopes the car can go directly to someone who needs it.
"If this goes directly into the hands of the person that needs it, it is maximum impact," Lochbihler said.
The Tennessee Knights of Columbus are also organizing help for the flood victims.
"I put together an emergency response team," said State Deputy Fred Laufenberg of Fairfield Glade, the highest officer for the Knights in the state. The team will coordinate donations of money and labor to help with relief efforts.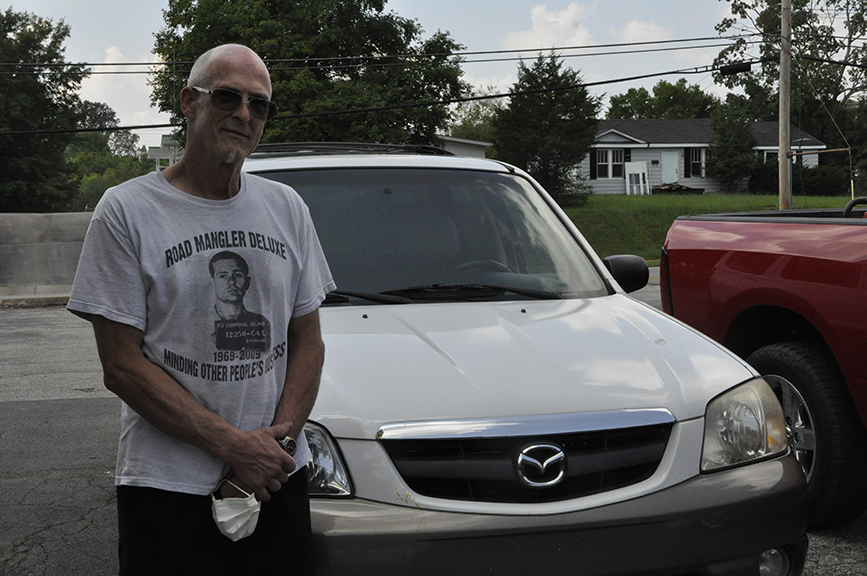 "They need everything," Laufenberg said of the flood victims. "They need pots and pans, furniture, just everything."
Laufenberg asked all the councils to donate money for the relief, as well as the Knights of Columbus' other state deputies.
"We are going to coordinate the distribution of the funds through the St. Vincent de Paul Societies at St. Patrick and St. Christopher," Laufenberg said. "They can determine the needs of the families" and distribute the money as needed, he added.
Dave Johnson, the state program director and a member of Council 544 at the Cathedral of the Incarnation in Nashville who is a member of the emergency response team, is in charge of coordinating efforts to help repair homes damaged by the flood, Laufenberg said. He is coordinating those efforts with the Tennessee Emergency Management Agency and other organizations, Laufenberg added.
Other members of the Knights' emergency response team are: General Insurance Agent Dan Schachle, who lives in Dickson; Steve Freund, district deputy for the councils in the area hit by the floods and also a resident of Dickson County; Jimmy Dee of Knoxville, the state's communications director, and Justin LaGrange of Council 544, who is coordinating the social media outreach.
For more information about the Knights' relief efforts, visit www.kofc-tn.org.
For more information about donating to relief efforts through the St. Vincent de Paul Society at St. Patrick Church, call 931-582-8454 or email svdp.mcewen@yahoo.com.
St. Christopher Church is collecting donations between 8 a.m. and 5 p.m. Monday through Friday.
"Until we're told 'stop,' we'll keep taking donations," Fye said.
Andy Telli contributed to this report.