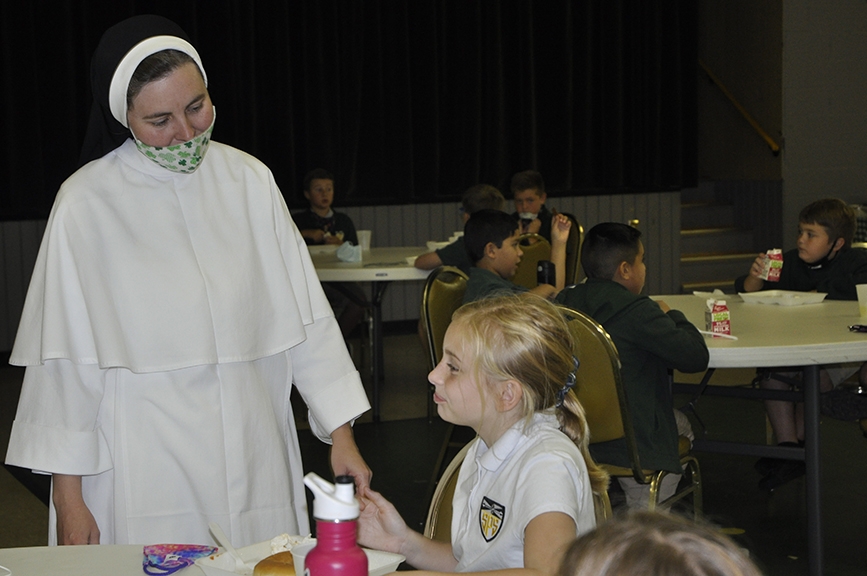 When flash floods hit Humphreys County in August, homes were not the only buildings that were destroyed. Several feet of water also rushed through Waverly Elementary School causing severe damage and leaving a question of how its students would be able to continue their education.
To help, schools in McEwen and New Johnsonville stepped in, including St. Patrick School in McEwen, which has welcomed 15 new students as of Monday, Oct. 11.
"It has been a great privilege to be in a position to help and to provide some stability for these children during this year," said Dominican Sister Veronica Marie Buckmaster, principal of St. Patrick. "We have to help these families that are coming to us, we have to help them because that's Christ at our door."
Father Zack Kirangu, pastor of St. Patrick Church and School, agreed.
"We opened the doors for them not because they are Catholics, as many of them are not, but we opened the doors because we are Catholics," Father Kirangu said. "We want to help, and we want to be there for the community.
"Despite even the flood, the pain, the suffering, there is a light of bringing the Catholic faith to Waverly right now," he added.
Realizing the bigger picture
Sister Veronica Marie said the school started accepting students by Monday, Aug. 30. The process included bringing in inquiring parents and their students for interviews and tours of the school; an event that she found extremely poignant.
"For me, that was such a moment of realizing the devastation of the flood because if it had happened on a Friday instead of a Saturday …these children I was now interviewing would not have survived. It would've been a much bigger tragedy," Sister Veronica Marie said. "God's mercy was there, and by just showing these children around, that really hit home.
"These are the kids that it would've affected in an even more profound way," she added. "Praise God that they're here, so the next thought was, 'Let's do what we can to give them a Catholic education.'
"What is the answer in all this trauma? You're not going to get healing without the Lord, and here the kids can really encounter Him."
The practical transition
Transitioning from a public school to a private school includes significant differences, including cost and curriculum, two things that Sister Buckmaster and the rest of the staff anticipated.
Through donations from a fundraiser at the Bishop's Cup football game between Father Ryan High School in Nashville and Pope John Paul II Preparatory School in Hendersonville, United Way, area churches and even out-of-state donors, "we've been very blessed to be able to offer significant scholarships to those who need it," Sister Veronica Marie said.
"It's been an incredible opportunity for the Catholic community to really help people carry their crosses," she said. "It has given us a chance to really live the Gospel."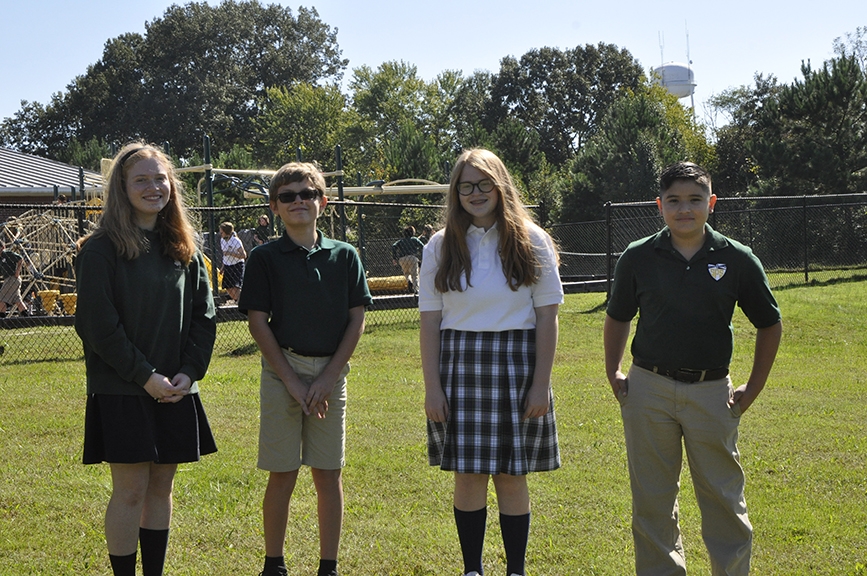 Because the flooding followed a COVID-19 centered learning environment, Sister Veronica Marie said teachers were prepared for different learning levels.
"With the last year and a half of COVID, education has been interrupted in a significant way, period. That is something teachers around the country are dealing with, having students in different places academically, and our teachers were aware of that," she explained. "We have had some test screening done for our new students to see where they are, and their parents have also let us know what their personal concerns are."
Sister Veronica Marie said the school has also recently hired a learning specialist to assist students.
"We're hoping that between that extra help and our faculty, who are so dedicated, that we can help close those gaps," she said.
Meghan Gunn, St. Patrick fourth grade teacher, who has welcomed three new students into her class, said, so far, the adjustment has gone well.
"The curriculum is fast-paced, but in a public school they're used to a fast pace, so all three girls have caught up really well," Gunn said. "They have also fit in well with everybody and have made fast friends.
"We just want to be welcoming and let them know we're here for them, and open-minded to the fact that they have been through a traumatic event in their life," she added. "And I hope that they continue to receive the education that they set out to get."
Making new friends
With the practical side of the transition addressed, it was all about making new friends, something that old and new students alike have found.
Margaret Haensler, fourth grade student in Gunn's class, said she was happy to have three new girls to even out the previously boy-dominated class.
"It's exciting when a new girl comes because we've always been outnumbered by boys," Haensler said. "It's always fun to get a new kid because you get new friends, but it's a little more fun when girls come in because you can talk about more things."
Sisters Natalie Cunningham, seventh grade, and Hayley Cunningham, eighth grade, were also excited to have new students in their classes.
"I'm so glad to have them this year," Natalie Cunningham said. "They're all now some of my very good friends, and I just hope they're able to stay."
"It's been a blessing," Hayley Cunningham added. "They're all very nice, and we're happy to have them here at St. Patrick."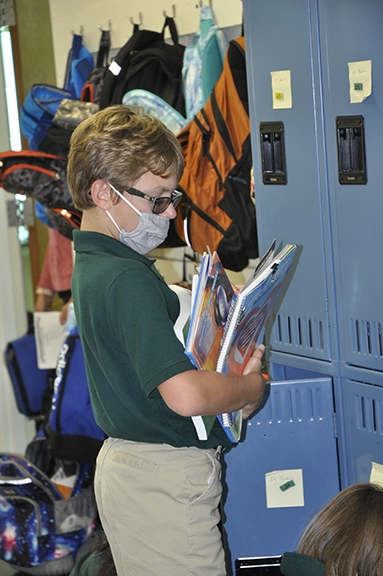 Joe Orozco Jr., a seventh grade student, was excited because his friend and fellow seventh-grader Benton McClanahan, whom he'd previously gone to school with at Waverly up until the fall of 2020, was coming to St. Patrick.
"He was already my friend and so are some others, so when I heard that they were going to come, I wanted to have them feel welcomed because they've been through some hard stuff," Orozco said. "I feel like this school, unlike other schools, there is a lot of hospitality here. People are kind.
"I felt really welcomed when I came last year, so now I get to return the favor," he said. "I just hope that they can find peace within themselves and not be scared of anything … because I know things are traumatic right now.
"I haven't had much stuff like this happen to me, so I don't really know what it feels like, but I really hope that they can get better from whatever their feelings might be right now."
McClanahan said he was happy to know there would be somewhere for him to go to school after flooding closed his previous school.
"When we drove through town that day, it was terrible. Everything was gone," McClanahan said. "I'm so happy I had somewhere to go.
"I love it a lot and have made a lot of friends," he said. "I just want even more new people to come so they can see how good it is. The people are so nice here."
The Cunningham sisters have also made friends with McClanahan.
"I know it's been very difficult for him having experienced the flooding, but I'm glad that we've been able to help him, and he's been able to stay calm and happy," Natalie Cunningham said. "We got really close really quickly."
A blessing at every corner
For the families who had students at Waverly, having the option of St. Patrick School to continue their child's education became a blessing.
One grateful family was Sarah and Drew Simpson, and Evan and McKenzie Buttrey, parents and stepparents of fourth-grade student Ryleigh Buttrey, who started at St. Patrick School on Wednesday, Sept. 8.
"St. Patrick being an option for Ryleigh during the uncertainty of things with Waverly, the short distance from our home and the consistency of a schedule that was certain was helpful as well as the best decision for us as a family," Sarah Simpson said. "The transition and experience have been nothing short of amazing.
"St. Patrick has been so welcoming and helpful in any and all questions we might have going from public school being all we have known to a private school," she said. "In the short month that Ryleigh has been at the school, she has grown as an individual. She is much happier with this transition and that as parents makes us extremely happy."
But Sister Veronica Marie said the students have been just as much a blessing to them.
"The new students that have come have really enlivened the classes," she said. "The children we have welcomed have been incredibly excited to be with us, and they've jumped right into the school life and a couple even have lead roles in our play."
Joining the family
Now, as the transition period begins to slow and the new students get settled, Sister Veronica Marie has even higher hopes than education for the new students.
"I want them to be part of the family and feel like they're one of us," she said. "I want them to become such a part of the fabric of the school that they feel like they've always been here and that this is home for them.
"Another hope is that they encounter God here in an exciting way and in a way that pulls them to want to have an encounter with Him personally."