Be sure to check out the photo gallery at the end of the article!
St. Philip the Apostle Church in Franklin was established 150 years ago as a small Catholic outpost along the Louisville and Nashville Railroad. Today, it is one of the Diocese of Nashville's largest and most vibrant parishes.
The parish was founded with 12 families, and became the first Catholic church in Williamson County. Today there are about 1,800 registered families and approximately 60 ministries. "It's a very vibrant parish," said Father Ed Steiner, who has been pastor of St. Philip since the summer of 2020. "Of all my assignments as a priest, this is far and away the busiest parish."
The parish celebrated its past, present and future on Saturday, Nov. 6, the 150th anniversary of the dedication of its original church, which still stands at Second Avenue South and Main Street in downtown Franklin and is used as a chapel.
To mark the anniversary, Bishop J. Mark Spalding celebrated Mass, which was followed by a banquet, during which a video of parishioners talking about St. Philip was shown. (To view the video, visit https://youtu.be/_wYqYgz1-tM.)
"It's truly a wonderful occasion to celebrate word and sacrament," Bishop Spalding said at the beginning of Mass. "But likewise, it's wonderful this night to celebrate all those who have gone before us, who have lived the faith, loved the faith, and passed it on here at St. Philip. …
"Most especially, we are mindful of this legacy of faith, hope and love that's been given to us, that sustains us," he added. "And we pray to God this night especially as we unite in the Communion of Saints, those who've gone before us, asking them to pray for us, to strengthen us in our faith, hope and love so we may pass it on to our children and our grandchildren."
Growing with Franklin
Mass was first celebrated in Franklin in 1821 by a traveling missionary priest in a private home for two Catholic families.
Over the years, other priests, including Bishop Richard Pius Miles, the first Bishop of Nashville, would travel to Franklin on horseback to celebrate Mass. After the railroad was built connecting Nashville and Franklin, priests would take the train to Franklin, celebrate Mass, and head back to Nashville, Father Steiner said.
The railroad brought several Irish Catholics and their families to Franklin, with names like Shea and Sheehan, Mulloy and Haggerty. In 1871, Bishop Patrick Feehan agreed to establish a parish in Franklin to serve them. On Nov. 6 of that year, Bishop Feehan and eight train car loads of Catholics from Nashville, including a band, made the trip to Franklin to dedicate the church.
For most of its history, St. Philip continued as a small congregation, sometimes considered a parish and other times a mission. "They almost lost it during the Depression," said Margie Thessin, a parishioner at St. Philip for more than 30 years and a historian of the parish. "But they managed to save the church."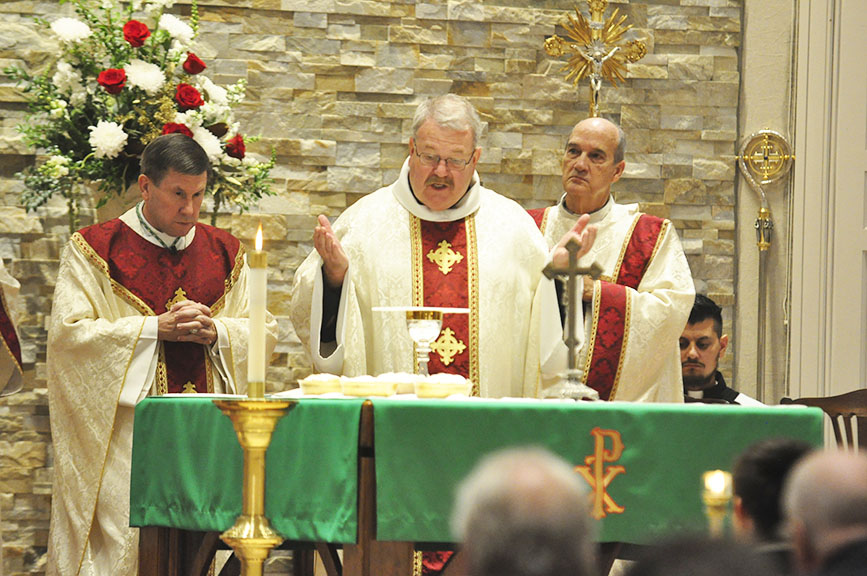 The parish began to change and grow in the 1960s as the City of Franklin and Williamson County also began to grow. "It really does reflect what's happened in Franklin," Thessin said.
Franklin's population has grown from 6,977 in 1960 to more than 83,400 today. Williamson County's population has seen a similar growth, from 25,267 in 1960 to 251,280 in 2021.
Among the thousands of people who have moved to Franklin and Williamson County in the last six decades have been a growing number of Catholics. That has not only fueled tremendous growth at St. Philip but led to the creation of four more parishes in Williamson County: St. Matthew, Holy Family in Brentwood, Church of the Nativity in Thompson's Station, and Mother Teresa in Nolensville.
It has also fueled several expansions in the facilities at St. Philip over the years. Father John Henrick, as pastor, oversaw the construction of the first "new" church. His successor as pastor, Father Ed Arnold, guided the parish through the construction of three new worship spaces, including the current church dedicated in 1997, and the parish's education building.
"Each addition corresponds to the growth of Franklin," Father Steiner said.
The original church covered a small corner of land, but today, the parish facility stretches for a whole city block.
'They need that connection'
The influx of Catholics into the area from around the country has shaped the character of the parish.
"The parish is 95 percent people who have moved to the area," Father Steiner said of St. Philip. And the parish became a home for many of the Catholic families relocating to the area.
"It first begins socially because everybody comes from someplace else. It's the one place a family can come and have an instant connection," Father Steiner said. "They can meet people with similar values and backgrounds."
Father Arnold, who was pastor at St. Philip from 1979 to 2007, started the Banquet Mass program to welcome the steady stream of newcomers to his parish. There would be a Mass followed by a dinner, recalled Thessin, whose own family was welcomed into the parish through the program.
For a parish made up mostly of people from someplace else, she said, the program was crucial in establishing a welcoming atmosphere.
Some of the people she met at the Banquet Mass remain friends today, Thessin said. "We were all young at the time with young children," and those circles of friends became like family, she said.
For parishioners moving to the area from other parts of the country, Father Steiner said, "what they've discovered is they need that connection."
'Such a welcoming place'
Like many of her fellow parishioners, Carole Guthrie and her husband Trip, who grew up in Kentucky, joined St. Philip in 1985 after moving to Franklin.
"I became a Catholic here at St. Philip," said Carole, who with Father Steiner co-chaired the committee that planned the 150th celebration. She received her First Communion and Confirmation and had her daughter baptized in the original church at St. Philip on the same day in 1988, Guthrie said.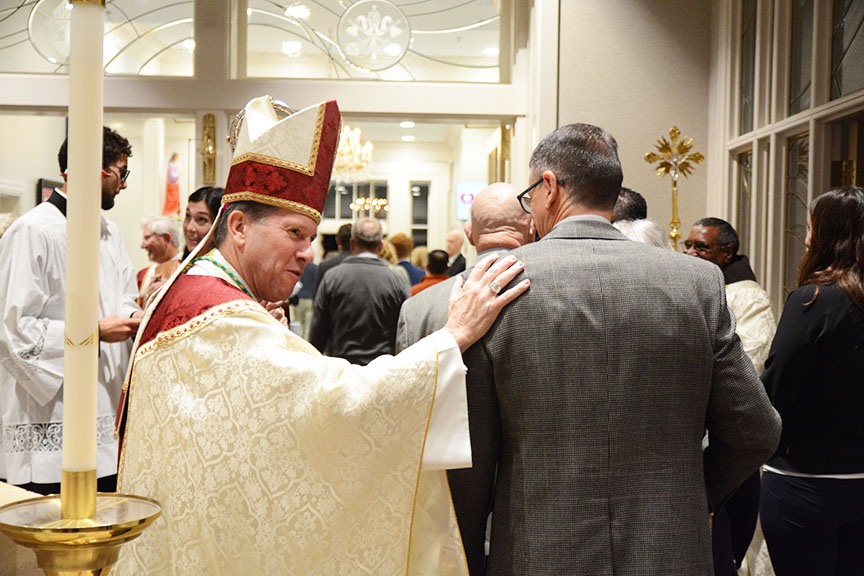 "That place means so much to me personally and to our family, too," Guthrie said of the original church.
"The hospitality of St. Philip has never changed," Guthrie said. "It has always been such a welcoming place for Catholics and non-Catholics. I know that has remained constant in this community."
That hospitality, in recent years, has been extended to a growing Hispanic community.
"Better than 20 percent of our households are Hispanic," and they make up an important part of the parish, Father Steiner said. "Forevermore, Franklin has to have a priest that is absolutely fluent in Spanish."
The Hispanic ministry is one of many ministries at the parish.
Former pastors Father Arnold and Father Bala Showraiah, OFM, placed an emphasis on community building activities and service, Father Steiner said. "The people bought into those messages, especially service."
"In Franklin, you cannot go to any community service activities and not see a St. Philip influence," Father Steiner said.
Among the community service organizations the parish supports are Mercy Community Healthcare, which provides affordable health care for all who need it, and GraceWorks Ministries, which provides a variety of assistance to those in need, including rent, utilities, food, clothing and furniture.
Mercy Community Healthcare "is the only place in Franklin, really, that people without any money can go for mental health care," Father Steiner said. St. Philip is one of its largest supporters, he added.
The parish is also heavily involved with GraceWorks. "We're very much hand in glove with them," Father Steiner said.
St. Philip sponsors its own help for the needy. The St. Anthony Pantry provides food to people in need. "It's a steady stream of people who come in," Father Steiner said.
The parish also sponsors the St. Anthony Closet, which provides clothes, household items, furniture, children's toys and other items. "They come in, take what they need, no questions asked," Father Steiner said.
For many years, St. Philip has been twinned with a sister parish in Haiti, like many parishes in the Diocese of Nashville. In recent years, the parish also has been supporting a parish and school in India.
"As COVID really hit India, the schools all shut down," Father Steiner said. "Most of the children we help provide food for, that was the only meal that they got. The parish really stepped up to help the children there in India."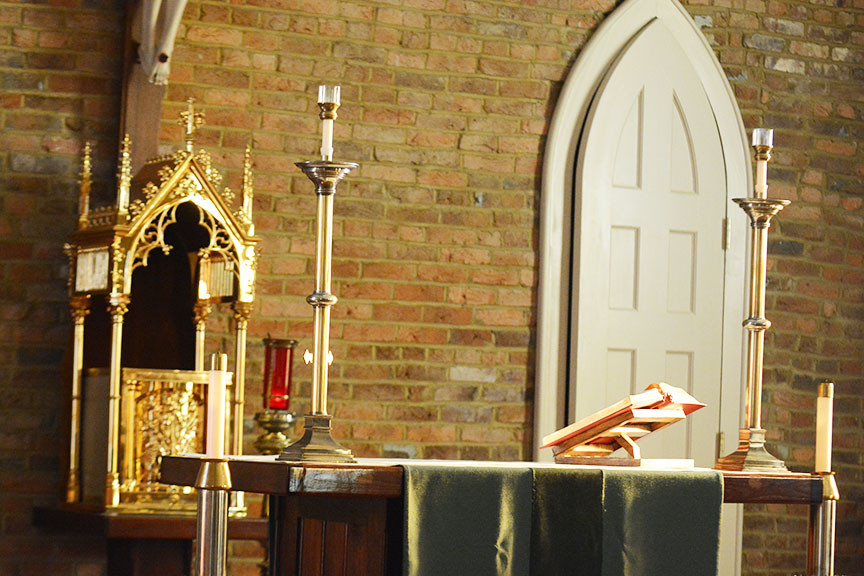 One of the parish's signature activities is the Christmas basket program the Men's Club organizes each year.
Parishioners donate Christmas gifts and food to be distributed to the area's needy. They all come together at the St. Philip activity center on the same night to wrap the gifts.
"Even during COVID, what an amazing project that turned out to be," Guthrie said of the program, which the parish was able to continue through the pandemic last year.
The event becomes a family activity for parishioners. "My children grew up through it," Guthrie said.
"They give upwards of a thousand Christmas baskets away," Father Steiner said. "That's the gravy. It's a community activity that brings everybody together for a common cause."
Father Steiner wants to use St. Philip's many efforts to reach out to the community as a tool for evangelization.
"One of the big things I've been pushing is being noticeably present in the community," he said. "Not blowing our own horn, but making it clear there are Catholics in this town, and we're incredibly involved in this town. It's an evangelization effort."
A yearlong celebration
The anniversary Mass and banquet was the start of a yearlong celebration. The parish is planning an event to mark the anniversary each month in the coming year, including a dinner next February for all the priests who have served at St. Philip.
At the conclusion of the year on Nov. 6, 2022, the parish will bury a time capsule with items from the parish's history and memorabilia of the year's events.
The anniversary celebration is important for the parish, Father Steiner said. "We all want to be part of something. An anniversary celebration reminds you of what you're part of."
The celebration is a way to remember the people who have helped build the parish's legacy, he said. "It gives the parish an opportunity to give that recognition to people who are still here."
"It's sort of like being part of a family," Father Steiner said. "Everybody knows their family history, and the more history you know the more it becomes a family."