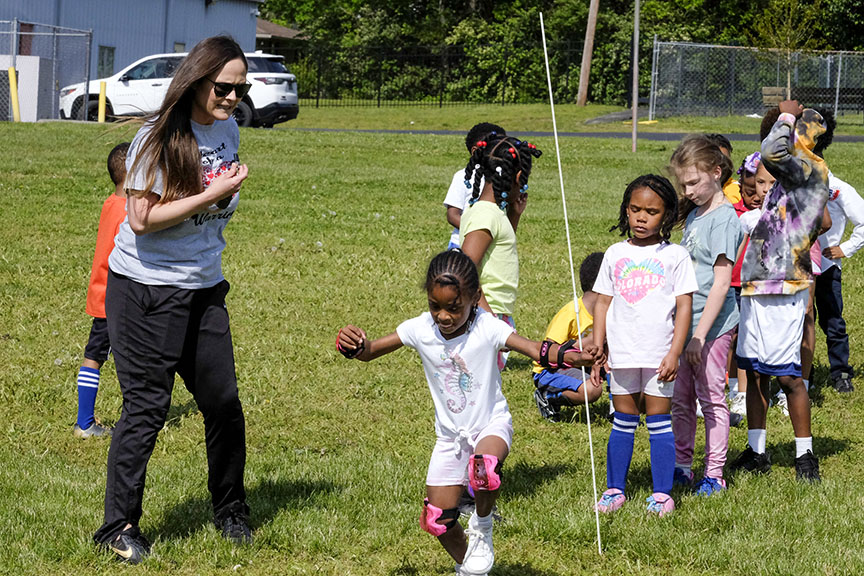 Samantha Kaufman fell in love with soccer as a young girl. The sport took her around the world as a college and professional player before she landed in Nashville as principal of St. Pius X Classical Academy.
Now, she's trying to stir the same passion for the sport she felt in her students.
Kaufman has organized an after-school program for her students in grades pre-kindergarten through eighth grade.
"I was shocked by the number of people who wanted to train and learn under me," Kaufman said. "We have dozens of kids that meet up once a week in the fall and spring. It gives them all a chance to experience soccer."
"In the Diocese of Nashville, we have an athletic committee and they offer sports for competition," Kaufman explained. "We try to get kids involved but it's only certain grades. St. Pius X school is small and only has 75 students so we don't have enough to build a team in every grade.
"Thinking about that, I still wanted to do the club and created it," she added.
Kaufman began her soccer program last year and it has expanded rapidly in the time since, growing from 20 students in her first session to 35 in the most recent. She personally leads training and practice sessions, and opens them up to current or former students who attend the church or school.
Each session is broken into development groups, with pre-kindergarten to second grade meeting Tuesdays and third through eighth grade meeting Wednesdays. Students are broken into teams, perform drills, and get a chance to close out the day playing each other.
"The families say they're happy their kids have this opportunity," Kaufman said. "The diocese doesn't have a lot of options for getting young kids involved in sports. We now have this athletic program building from pre-K and up. Parents are thrilled because normally diocesan sports don't start till third grade. The kids are so excited, always asking me, 'Do we have soccer today?'" 
It's the same kind of excitement Kaufman displayed as a young girl playing soccer with the boys in the neighborhood.
She quickly excelled, joining the Olympic Development Program and representing the U.S. in Ireland and England, receiving a soccer scholarship at the University of Arizona, and playing semi-professionally for the Guam Football Association for six years.
"I think with God's assistance and my devotion and dedication, it became a love for me," Kaufman said. "I played every single day – training and practicing.
"In a lot of ways, God used me to be a vessel in understanding that soccer would be my ticket," she added. "I was so blessed. I learned discipline, hard work, and how to pick myself up – so many things about life, that I wouldn't be the person I am today without these difficult challenges. It kept me going, and I was even blessed to meet my husband through soccer. Now my son plays for the club he manages."
Kaufman is only a recent arrival to Middle Tennessee. After retiring from professional soccer in 2018 due to repeated sports injuries, she refocused her life on her career in education and shifted gears to give her more time to foster her son's soccer career.
She chose to move her entire family from the West Coast to Nashville to live within driving distance of her immediate family in Maryland and Virginia, enjoying the slower pace and quiet of Southern life.
"It's just hard when you're a parent driving a kid in sports to Huntsville and St. Louis," Kaufman said. "My soccer career had to end because I needed to step up and be a mom. I always loved soccer and wanted to play professionally but I knew I had to set myself up for my future, figure out what I could do for myself career-wise long term.
"I also had soccer injuries – a broken leg, torn ACL, concussions, broken feet, all this stuff," Kaufman said. "I got to a place in my life where I was like 'I don't know if I'll make it after all these injuries.' So I retired after breaking my foot."
It was a sacrifice, but one she doesn't regret. Even when she still gets phone calls and opportunities to play professionally, she prefers to focus on her son and loves the passion she has found in teaching young people to enjoy soccer as much as she does.
Her family has found the same passion for the sport that she grew up with, and she is happy that St. Pius X's students are eager to share it too.