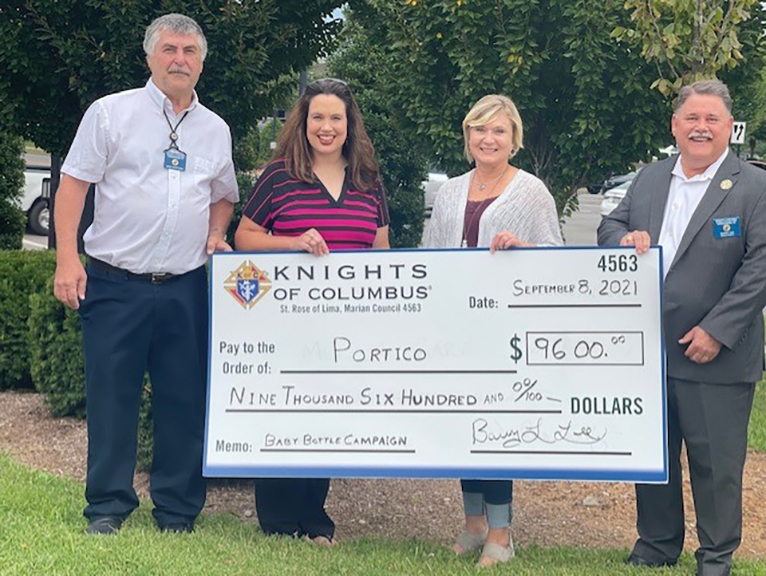 Knights of Columbus Council 4563 at St. Rose of Lima Church in Murfreesboro donated $9,600 to the Portico Pregnancy Center.
The money was raised through the council's annual fundraiser for Portico with support from St. Rose parishioners.
Michael Wortman, director of pro-life initiatives for Council 4563, coordinated a baby bottle drive in conjunction with Portico. Parishioners picked up empty baby bottles and returned the bottles filled with donations.
Over the 6-week campaign, $9,600 was raised to support Portico's pro-life efforts.
"Yes, many Knights opened their pocketbooks for this effort, yet really all the credit should be given to our parish at St. Rose of Lima," said Wortman. "Our parish supports so many of our events where we raise funds to help support other pro-life initiatives such as March for Life, and Ultrasound machines (donated to crisis pregnancy centers). It is such a giving parish, and we as Knights greatly appreciate their support."
"The Knights of Columbus support a culture of life," said Council 463 Grand Knight Barry Lee. "The right to life is unlike any other right. It is the most basic right and the condition of all other personal rights, constituting the foundation of every human community and the political community itself. We as Knights do whatever we can to support pro-life efforts."