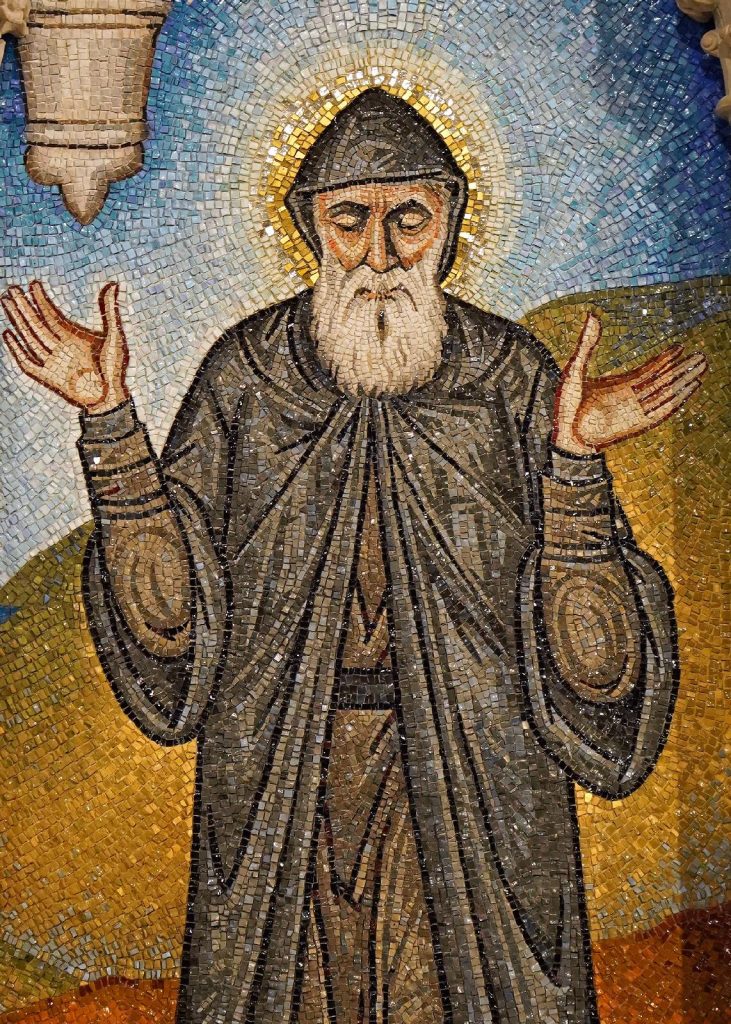 On Easter Sunday, the St. Sharbel Maronite Catholic Mission of Tennessee celebrated its fifth Mass as a community at the Catholic Church of Korean Martyrs on Lebanon Pike, with nearly 70 people from all over Tennessee in attendance.
And they're hoping to introduce even more to their church and its patron saint with a Healing Mass of St. Sharbel at 2 p.m. Sunday, May 29, at the Catholic Church of the Korean Martyrs, 2319 Lebanon Pike, in Nashville.
The Maronite Catholic Church dates back to the time of Jesus and the first Apostles and is known as Syriac Christianity in liturgy and heritage. It is most known in the regions of Lebanon, Israel and Syria, and it has spread around the world primarily through the Lebanese diaspora.
Its liturgy includes elements of the Aramaic language, which Jesus spoke, and while it includes the same elements of a Roman Catholic Mass it also includes other portions. The most important including the chanting of a portion of the Divine Mercy Chaplet: "Holy God, Holy Mighty One, Holy Immortal One, Have Mercy on us and on the whole world."
"It's included in the heart of our Mass before we start the Gospel," said Father Nabil Mouannes, the priest currently responsible for the St. Sharbel Maronite Catholic Mission of Tennessee. "Our liturgy captures the spirit of Jesus, the word of Jesus, the voice of Jesus."
The St. Sharbel Maronite Catholic Mission of Tennessee first kicked off in December, said Nadine Choufani, parish secretary. It came after she and Chadi Hayek, parish council member and treasurer, had a conversation about wanting to have the opportunity for a Maronite Mass.
"I've been in Nashville for a while now, and I've only known five or 10 Lebanese people, so when I started seeing all these people showing up, it was great," Hayek said. "Whenever you're outside your country, even if you have friends, you feel like you're in need of having people who are from the same community, the same beliefs, the same ideology, so that you can be a part of them."
With that in mind, Choufani reached out to her friend Father Nabil who previously had been her Maronite pastor in California, and he agreed to come and celebrate their first Mass. Just by word of mouth, 35 people were in attendance.
"We started thinking, 'there might be a need here,' and if this was just the first Mass and people are saying there are more people interested, this could really grow," Choufani said, which led to another Mass in January.
With the positive response, it was time to obtain official approval from Maronite Bishop Elias Zeidan, which came in February.
Then, when it came to picking their patron saint, St. Sharbel was chosen for several reasons.
"St. Sharbel is a very popular saint in Lebanon and his monastery is very visited by all Lebanese, not just Christians," Choufani explained. "Many Lebanese people identify with him and have prayed to him to help them."
St. Sharbel entered the order of Lebanese monks in 1851 and was ordained to the priesthood in 1859, following studies at several monasteries. For his first 16 years of priesthood, he served in the Monastery Saint Maroun Annaya in Annaya, Lebanon, where he completed his second year of seminarian studies. Then, he withdrew to the hermitage of Saints Peter and Paul where he spent 23 years in prayer, fasting, manual labor and penance. Since his death in 1898, several reports of healings have been obtained through his intercession. He was canonized a saint by Pope Paul VI in 1977.
"St. Sharbel, he is doing a lot of healing miracles around the world including here in the states, in Europe, in Africa, in Lebanon, in the Middle East and many other places," said Father Nabil. "Every day, there is some place in the world where they are observing a healing miracle from St. Sharbel, and that's why we decided that he is now the patron of our mission.
"There is a lot of suffering, physical suffering, emotional suffering, psychological suffering, mental suffering, economical suffering, anxiety suffering. There is a lot, a lot of suffering," he said. "The mission of Jesus and the mission of the Church is to bring the gift of Jesus to us and heal that suffering.
"The Church should be a hospital on the campsite of the world where people can come and be healed, and they can get care and attention. That's what we're trying to bring now for the first time through St. Sharbel in Nashville."
The Healing Mass of St. Sharbel on May 29 will include a traditional Maronite Mass, an anointing with the Oil of St. Sharbel to anyone who wants it, and a relic of St. Sharbel will be present.
For more information about the St. Sharbel Maronite Catholic Mission of Tennessee, email Choufani at stsharbeltn@gmail.com or visit the "St. Sharbel Maronite Mission, Nashville TN" Facebook page.