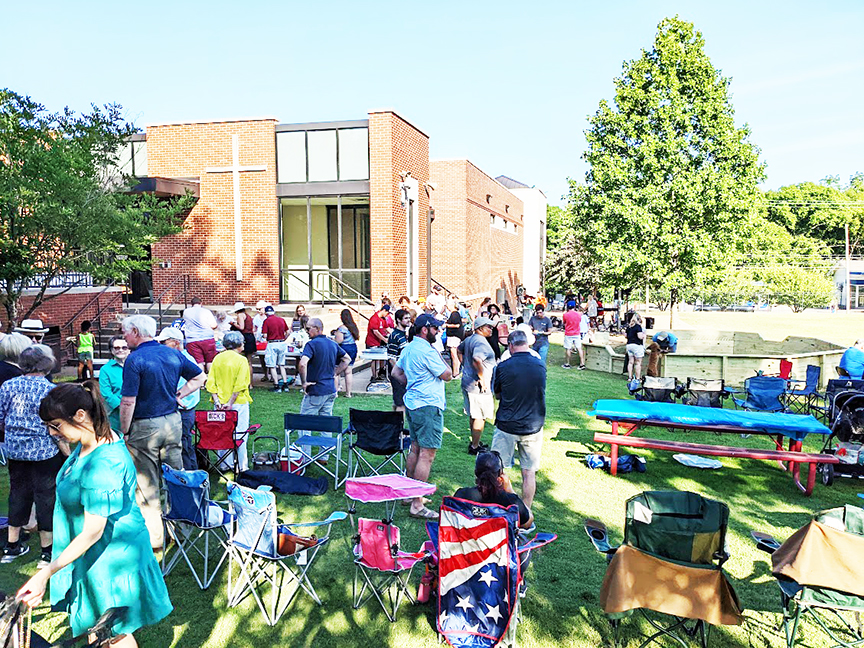 Parishioners from Christ the King Church and St. Vincent de Paul Church came together recently to celebrate the nation's newest federal holiday, Juneteenth.
"It turned out to be a big success," said Brittany Meriwether, a parishioner at Christ the King, a teacher at the parish school, and one of the organizers of the celebration.
About 200 people from both parishes attended the celebration, which was held in the field next to Christ the King School, on Monday, June 20. The crowd was much bigger than organizers were expecting, Meriwether said.
"It was beautiful to see everyone coming together to celebrate freedom for all people," she said.
Juneteenth celebrates the Emancipation Proclamation, which freed enslaved African Americans in the Confederate states. The proclamation was issued on Jan. 1, 1863, but enslaved people in Galveston, Texas, did not learn of it until Maj. Gen. Gordon Granger informed them on June 19, 1865.
African Americans have been celebrating on that date since 1866, and Congress voted in 2021 to make it a federal holiday.
Christ the King, whose parishioners are predominantly white, and St. Vincent, which was founded to serve the city's African-American Catholics, have established a working group to build relationships between the two and promote racial understanding, explained Deacon Harry Guess of St. Vincent.
The Juneteenth celebration was part of that effort, Deacon Guess said.
"I think it's important because it recognizes the long journey to get to where what we in the United States have said is what we're all about. … We're about freedom," Deacon Guess said. "As a retired veteran that is what I signed up to fight for. It is significant for each and every one of us."
Meriwether attended a Juneteenth celebration last year at the National Underground Railroad Museum when her family was visiting Cincinnati. It was important for her children who are bi-racial to see "black people celebrate freedom and white people supporting freedom for all," said Meriwether, a member of the working group. "I thought it would be super cool if we could do something like that in Nashville. … I thought it would be good for the community to show we support each other."
The event featured a live band, barbecue from Martin's Bar-B-Que Joint across the street from Christ the King, and side dishes and desserts that people brought. "We had so many people who brought food," Meriwether said.
"We had a pretty good turnout of kids from Christ the King and St. Vincent, so it was really cool to see the kids playing together," Meriwether said. For her own two children, "they saw everybody there as a family, people with different skin colors together and having a good time."
Celebrating Juneteenth and freedom for all people fits within Catholic teaching, Deacon Guess said. "Freedom and free will go hand in hand. What the Church instills in us is that God gave us this free will. It's a beautiful thing. It sets us apart," Deacon Guess said. "If you have free will and no freedom, that doesn't work at all."
Growing up in Christ the King parish, Meriwether was raised in a multi-racial family along with five younger siblings, three of whom were adopted. "Back in the early 90s, there were not a lot of families that looked like my family," she said. Meriwether wants families like hers "to feel welcomed and celebrated in churches and communities."