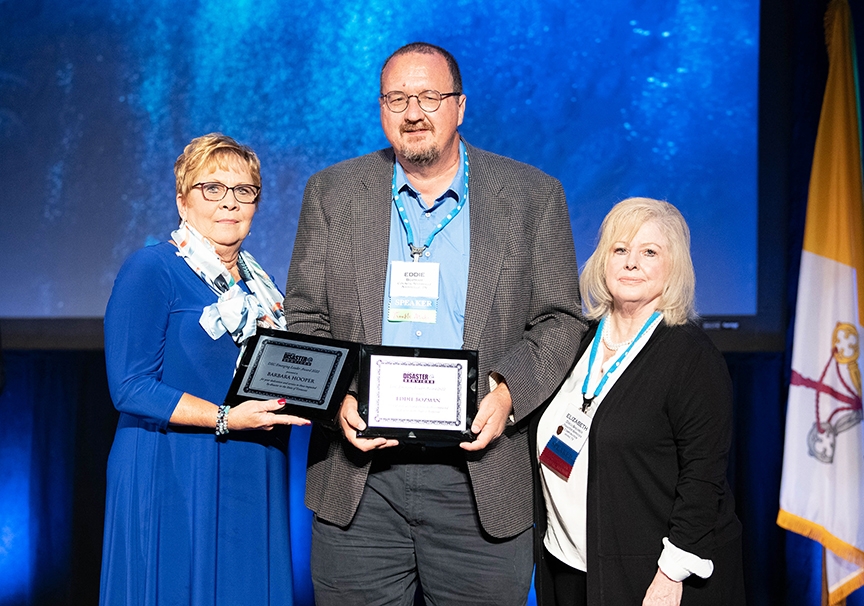 The work of the St. Vincent de Paul conference at St. Patrick Church in McEwen in providing disaster relief to those in Humphreys County following the August 2021 floods was on full display during the Society of St Vincent de Paul Annual Conference in Baltimore, Maryland.
During an awards ceremony on Friday, Sept. 2, the Disaster Services Corps, St. Vincent de Paul USA, recognized Barbara Hooper, St. Patrick conference vice president and flood relief coordinator, and Eddie Bozman, St. Patrick conference member and flood relief committee member, with the 2022 Emerging Leaders Award for their relief efforts.
The Emerging Leaders Award "recognizes Vincentians that are new in disaster recovery work and that have done amazing work in their community within the last year," explained Elizabeth Disco-Shearer, Chief Executive Officer of the Disaster Services Corp, a subsidiary corporation of the National Council of the United States, Society of St. Vincent de Paul, that is in its fifth year of providing support in disasters across the country. "It's important for people to see that we witness by our presence and that we do have people that are living their Vincentian spirituality and walking the walk."
Hooper and Bozman "were recognized by colleagues from across the nation who nominated them out of all the Vincentians doing disaster work from wildfires to floods to hurricane recovery to domestic terrorism," Disco-Shearer said. "It's very significant that these two new leaders would get this award."
Hooper and Bozman were among nine other nominees by the Disaster Operation Corps Management Team, whose names were submitted by several of the eight regions across the nation, Disco-Shearer said.
"Barbara and Eddie embody Vincentian charism," she said. "They do their work with humility and spirituality and gratefulness, and they serve the most vulnerable in the community."
The need for relief in Humphreys County came after more than 20 inches of rain fell in less than 24 hours, the most in the history of Tennessee, according to the National Weather Service. It displaced hundreds of families and killed 20. Of the hundreds of families who either completely lost their homes or whose homes were severely damaged, Hooper and Bozman assisted in more than 100, doing what they could to get people back into their homes whether it was through the House in a Box ™ program, which is a collection of household items to help furnish a home, buying various supplies for construction work or providing general support.
"I think what's unique about this is that the disaster was so catastrophic. It was the greatest amount of rainfall in the state's history and for a small community to come together and to mobilize and to learn all the aspects of disaster relief and recovery, which those of us who do it professionally is quite complex, is amazing," Disco-Shearer said. "We were very impressed with their ability to quickly mobilize and assist their community and be a part of the integrated response with the entire community.
"We just commemorated the one-year anniversary (of the floods), and they've come a long way for a small community on getting the debris removed, helping the families, getting people into stable housing and developing a recovery plan, looking at a new normal for families," she said, noting that she has visited four times over the past year. "Given that they didn't have any of this before, they didn't have any of the resources, they didn't have any of the technical expertise, I'd say they have made amazing progress."
Hooper and Bozman said they were humbled by the recognition they received for their efforts, noting that they couldn't have done it without the help of DSC, donations from St. Vincent de Paul Societies around the country, the Knights of Columbus, and other area churches and organizations that also helped with relief efforts.
"It's unbelievable," Hooper said of receiving the award. "For me, it was like, there are hundreds and hundreds of people that go out into the fields. There were others probably more deserving that worked just as hard as Eddie and I had.
"I feel like the Vincentians are all our family and friends, and it was just so overwhelming and exciting," she added. "We just did what we needed to do (when the floods came). It was not for any kind of recognition for sure.
"We just do what we do because that's where God put us," Hooper continued. "I think the love of people and what they've been through, it's beyond overwhelming, but I look at it as a gift of St. Patrick and St. Vincent de Paul."
Bozman said he was overwhelmed by the recognition.
"I'm still not convinced that I'm really worthy of it. I think I was put in a position where anybody would do what we did," Bozman said. "I'm honored, overwhelmed and almost embarrassed that I haven't done more.
"The good that has come to Humphreys County is not just St. Vincent de Paul or even predominantly St. Vincent de Paul," he added. "Lots of churches, lots of organizations opened up for the county, and you got a lot of synergy from those different organizations working together that got a lot more done than any of them individually could have done."
Hooper said working with Disco-Shearer and DSC was a pleasure.
"Disaster Services were just great to call. I had no problem calling them or other people they would refer us to in any given situation that arose," Hooper said. "I was amazed. We're a small community and for them to take their time to come and check out what's going on amazed me.
"They were great mentors," she added. "There was no time that we could not call them no matter what the question was or how we felt."
And both Hooper and Bozman agree that they couldn't have done it without the support of the other.
"Eddie has been a huge part of it. I would not do it without Eddie because Eddie keeps me grounded," Hooper said. "He has wonderful gifts that he brings to the efforts."
"Barbara is the heart of the organization," Bozman said. "She has the connections and that has been so very helpful.
"We make a really good team," he said. "I couldn't do it without her and there are things that I contribute, too."
Disco-Shearer said that the work Hooper and Bozeman did is an example for any community to follow.
"I feel so very blessed and honored that I can be among people like Barbara Hooper and Eddie Bozeman because it helps renew my faith," she said. "These two people, they embody Vincentian charism and they're so graceful and humble, and they're not braggadocious about their work. They just do it."
Hooper and Bozman were not the only ones from Humphreys County honored by St. Vincent de Paul. For his work in flood relief efforts, Humphreys County Sheriff Chris Davis was recognized with the 2022 Emergency Management Partner of the Year Award, something that came as a surprise to him, as he thought he was only at the conference to talk about the flood.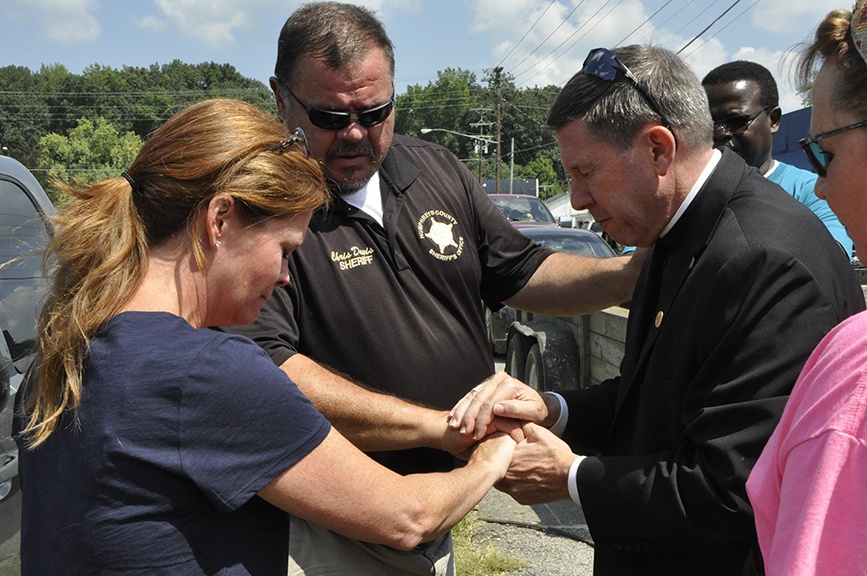 "What an amazing week, what an amazing award," Davis said. "I'm very, very, very thankful."
And he's thankful for his time working with St. Vincent de Paul, too, he said.
"Mrs. Barbara and I have worked with each other for several years. Building relationships and helping people in our community, it's fabulous what's allowed to be done through St. Vincent de Paul for our community," Davis said. "With the flood and what St. Vincent de Paul has done with the flood and with our community is truly fabulous. To be part of that and to be allowed to be part of that has been very meaningful to me and to our community.
"To watch the miracles that have come from that, to watch the things that are happening from that gives you faith, hope, trust and belief that there are people out there that truly care about others," he said. "With Barbara and Eddie, you got two people that truly have a servant's heart … and there couldn't be two better people to receive those awards."
Father Zack Kirangu, pastor of St. Patrick, was also in attendance to support Hooper, Bozman and Davis, who is a large supporter of St. Vincent de Paul and St. Patrick Church, he said.
"There were three of our people who were being awarded," Father Kirangu said. "For me, it was to be there as their pastor and let them know that what they do … is the mission of the Church – to go out and bring love and bring Christ to others in different forms.
"I do it from the pulpit, and they do it from the social work side of it, but it's all the Gospel," he said.
Hooper, Bozman and Davis receiving the awards "put the whole St. Vincent de Paul of St. Patrick on the national map," Father Kirangu said, who also provided the opening prayer and benediction for the awards ceremony. "I had never seen the St. Vincent de Paul mission on a national level. There were 700 of us, and there were people from everywhere around the whole country, and they were all together for one mission, and it's the mission of the Church. … St. Vincent de Paul just brings an aspect, which is just so unique and so fulfilling, especially the parishioners just living their Christian faith."