Pat Holzapfel Strobel was connected to Christ the King Church and School for her entire life. Her legacy will continue through a new grant at the school to honor families, like hers, who have made a long and deep commitment to the school and parish.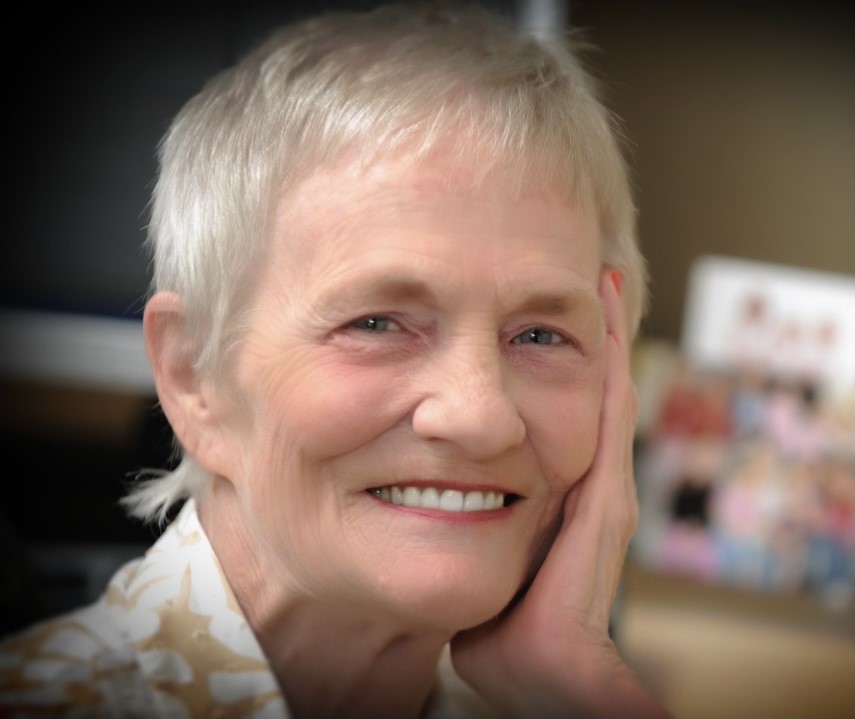 The Pat Holzapfel Strobel Legacy Grant, nicknamed "Pat's Payoff," will reimburse the last month's tuition payment for a family whose last child is graduating from Christ the King School.
"We all face changes and we all face struggles, and often times there's an easier path," said Martin Strobel, one of Pat Strobel's six children, who all graduated from Christ the King like she did. "But Catholic schools work because families give above and beyond what's asked of them. We wanted to honor those families that really make a parish tick, make a parish go."
The first grant was awarded Wednesday, May 26, to the Kim and Randy Hulse Family during the school's Graduation Ceremony. To be eligible, a family would have their last child graduating from Christ the King; the parents/student should be involved members of the parish; and a family would have paid tuition to Christ the King for a decade or more.
Mrs. Strobel, who died in April, grew up in Christ the King parish. She was one of 15 Holzapfel children who grew up on Brightwood Avenue, a block from the church. She was baptized there in 1942, made her First Communion there in 1949, graduated from the school in 1956, married Jerry Strobel there in 1965, and sent all six of their children to the school.
"The school was founded in 1937, and a sister, brother, child, grandchild, or cousin of Pat's has been enrolled nearly every year since," said her daughter, Merrill Strobel Bohren, a member of the Christ the King School Board. "Even today, there are half a dozen students related to Pat at CKS. From her first days at Christ the King throughout her life, she was a passionate supporter of this school."
"Our mom applauded more performances, celebrated more milestones, bought more Girl Scout cookies, coupon books, carnival tickets, and auction items and cheered more Raiders than just about anyone," Martin Strobel said. "She understood and made the sacrifices to send her children to Christ the King. And she wanted to celebrate the same sacrifices made by another family; to pay forward the many blessings she received from the school, church, and our community."
The seed for the grant was planted at last year's Graduation Ceremony, Strobel said. At the ceremony each year, families' whose last child is graduating from Christ the King are presented a blanket, he explained. When the Ruth and Philip Wehby Family received their blanket, "there was a long and extended applause for them," he said.
The crowd was showing their appreciation for the Wehbys who "had volunteered for everything," Strobel said. "They have five children. Everyone in the audience recognized the sacrifices they made to send all five children to Catholic school.
"That resonated with our family," Strobel said.
They were able to talk to their mother about the idea of the grant before she died, Strobel said. "She loved the idea" but didn't want it to take away from the tuition assistance fund her parents, Helen and Everett Holzapfel, one of the parish's founding families, had established at the school, he added.
"She was full of life. She really loved everybody around her," Strobel said of his mother.
The grant was established with a gift from Mrs. Strobel's family, including her husband Jerry and their six children, Martin Strobel, Merrill Bohren, Amelia Strobel, Daniel Strobel, Margaret Strobel Pyburn and Morgan Strobel, a teacher at the school.
Christ the King Principal Sherry Woodman expressed her gratitude for the grant.
"I have had the pleasure of teaching Pat Holzapfel Strobel's grandchildren and working with her children, and that meant I got to know Mrs. Strobel," she said. "She was a source of inspiration, advice, joy, and enthusiasm that reflected her deep love for her family and this school. I am humbled by this generous expression of that love and her family's gift. I know that it will provide a vivid and valuable reminder of Mrs. Strobel's dedication to and lifetime support of Christ the King and Catholic education."
Memorial contributions in Mrs. Strobel's honor may be made to The Pat Holzapfel Strobel Legacy Grant at Christ the King School. For more information about the school, visit www.cksraiders.org.