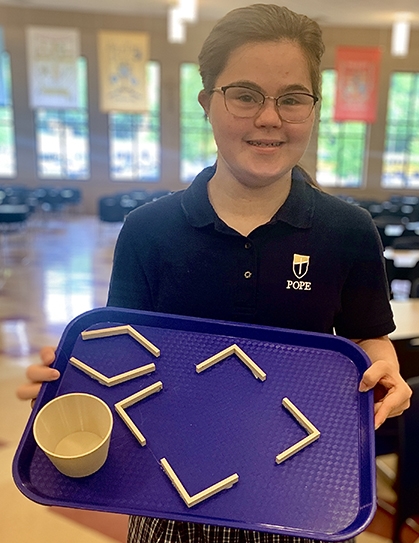 Adaline Hamlin, a rising sophomore at Pope John Paul II Preparatory School in the Hand in Hand Options program, wanted to help a friend whose lunch had slipped off her tray and crashed to the floor.
Her solution ended up winning the STEM for All Award in a statewide design competition sponsored by the Tennessee STEM and Innovation Network.
"It was 100 percent her idea," said Jennifer Dye, director of Innovation and Entrepreneurship at Pope Prep. "It's how design works. You see a problem and develop a solution."
Adaline is in the school's Hand In Hand Options program, which provides a Catholic school education for students with intellectual disabilities. A key aspect of the program is that its students are included in the school community through classes and extracurricular activities.
"The Catholic diocese does inclusion correctly," said Toni Richards, Adaline's mother. "The Catholic community has always been so inclusive and always super supportive. The Hand In Hand program at Pope Prep is just an extension of that."
Pope Prep's teachers "don't talk around her. They work with her," Richards said of her daughter's experience.
"Hand in Hand, they see the possible of every student … and help students step up to the challenge," Richards added. "You can just feel the love for every student. And the whole community is like that."
This school year, Dye started the Pope Prep Genius Hour Club that met after school once a week. Hamlin was a member of the club, which gives students the opportunity to develop solutions to problems using the Design Thinking Process that calls for understanding users and their needs, challenging assumptions, redefining problems, and creating solutions to prototype and test.
"The idea is to find solutions that maybe are outside the box," Dye said.
Dye decided to have the members of the Genius Hour Club, which is made up of mostly middle school students and freshmen, enter the Tennessee STEM and Innovation Network's design competition.
This year's competition challenged students to "consider how they can improve their school, community, or world by reimagining an existing physical space, system, product, or service so that it is more equitable, accessible, or efficient," according to the Tennessee STEM and Innovation Network website.
"We decided to walk around school and look for things the students saw as problems," Dye said. As the group walked by the lunchroom, Adaline said the school needs better lunch trays to keep the food and drinks from sliding off, Dye said.
"I said that's actually a really good idea," Dye added.
One of Adaline's friends and classmates in the Hand In Hand Options program at Pope Prep, Victoria, had lost her lunch when it had slipped off the tray, Richards explained. "Adaline was so upset that Victoria had lost her whole lunch. She felt bad for Victoria, so she wanted to do something to help."
Adaline started by going to the school's Maker Space to select some materials that she could use to build a prototype. Using a tray borrowed from the cafeteria, Adaline cut some bendable straws and glued them to the tray as rails to hold a plate in place and a cup to hold a drink, Dye explained.
"And it worked," Dye said. "Actually really, really well."
Adaline worked with the school's 3-D Printer Club to produce a more permanent prototype that could hold up to repeated uses and be easily cleaned, Dye said.
Adaline's motivation was to help her classmate, but her design could benefit anyone with stability issues, including the elderly, Dye said.
Using the school's 3-D printer, it cost less than $1 to produce the tray Adaline had designed, Dye said. "Once you have a 3-D printer file, you can share it with anybody," she added.
"What's great about her solution is it's very simple," Dye said. "And those are the very best solutions."
The key to developing Adaline's design, Dye said, was "just taking time for kids to wonder and problem solve, and for teachers to stop and listen."
For the design challenge, Adaline was required to make a video explaining her design. The designers of the top three entries were then interviewed before the winner was selected.
"Ms. Dye let me know she was in the top three," Richards said. "I was shocked and elated and even more proud of her for doing it and getting through the interviews. …
"She likes new challenges, so she was really excited about being able to do" the interview, Richards said of her daughter.
"I felt surprised to see my project win the award," Adaline said. "It made me feel happy because my whole family is so proud of me."
The Richards family lives in Robertson County and are parishioners at Our Lady of the Lake Church in Hendersonville. As a family, they have always encouraged Adaline to do as much as she can, and they found a similar attitude with Kim Shaver, the director of the Hand In Hand Options program at Pope Prep.
With Shaver, the discussion was never about what her daughter couldn't do, Richards said. Instead, it was always doing what they could to help Adaline reach her goals, which include someday attending the University of Tennessee.
After a year in the program, "we have seen a difference," Richards said. "We've really seen her become an advocate for herself. … She's really started to look at her role as a person with Down's syndrome showing others what is possible.
"She came home one day and said, 'I think I'm a role model,'" Richards said. "I said, 'Yes, you are."