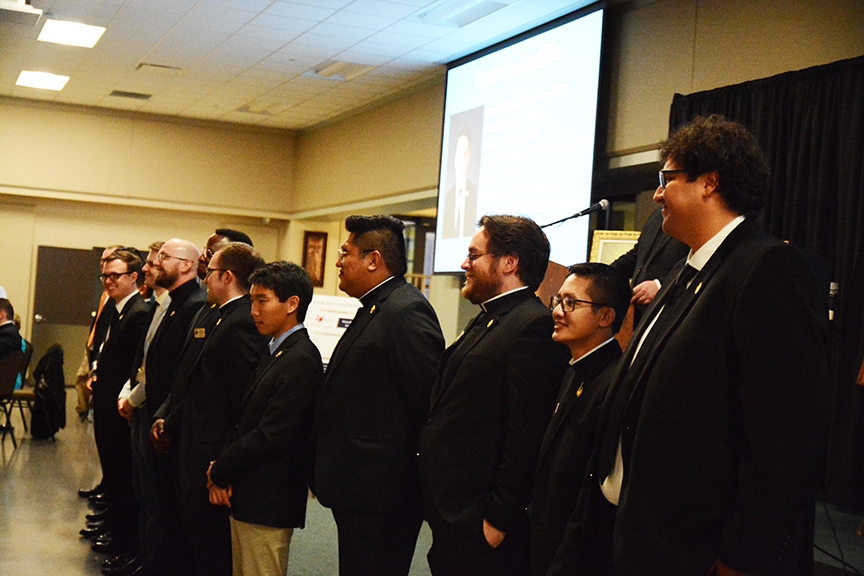 In supporting the seminarians of the Diocese of Nashville and the work of the Office of Vocations, people are doing "the work of God," Bishop J. Mark Spalding told the crowd of 500 people who attended the 13th annual Seminarian Education Dinner and Auction Tuesday, May 24, at Our Lady of the Lake Church in Hendersonville.
"We're on this earth with and for each other, and we've got to make things better," Bishop Spalding said in his opening remarks for the evening. "I truly believe as we invite men to look at seminary, support them along the way, and finally (see them) ordained as priests of this great diocese, we're doing the work of God.
"So, I ask you to participate fully and actively in every way that we help our seminarians," Bishop Spalding said. "Pray for them, pray for more vocations, support the diocese in its efforts to promote, sustain and finally bring to completion, in many ways, the discernment of young men for priesthood."
He asked people to pray for their priests, too. "But know we've got to continue to work to have men ordained to come and serve behind them as well," Bishop Spalding added. "Your presence here tonight makes sure that happens."
Money raised from the dinner and auction will be used to help pay for the education of the diocese's seminarians, which costs about $75,000 per man per year. The goal for this year's event is $225,000.
People can still donate to the Seminarian Education Fund online at dioceseofnashville.com/seda. 
"People want to support our seminarians, want to make sure we have good priests for the future," said Ashley Linville, the diocesan director of the Office of Stewardship and Development.
"It's so important to have excellent priests," Linville said. "That ensures each of our churches is strong and our diocese is strong."
With 20 seminarians, two who will be ordained at 10 a.m. Saturday, May 28, and five more men considering becoming seminarians for the next academic year, the success of the Office of Vocations "is because of your generosity," Director of Vocations Father Austin Gilstrap told the audience.
"Continue to pray, … continue to pray (young men) will hear God's call," said Father Gilstrap, who is also the pastor of Our Lady of the Lake Church.
"The world is full of noise, all kinds of noise," Father Gilstrap said. "It distracts children. It distracts young men. It distracts all of us from the things that are most important."
"In so many ways, we have a tough job," Father Luke Wilgenbusch, associate director of vocations, told the audience. "We're in the recruitment business, but we can't recruit." Only God can call someone to the priesthood, he said.
"One idea is the key for us," Father Wilgenbusch explained. "The culture of vocations is how we do that work."
The Vocations Office is working to create an environment where "every single young man can hear that call when it comes and say yes," he said.
"We want to make sure (the seminarians) will be taken care of … so they can be the priest God is calling them to be," Father Wilgenbusch said. "Thank you so much for your support."
In the audience was Julie Prickett, president of the Serra Club of Nashville. The Serra Clubs of Williamson County and Nashville are dedicated to supporting vocations to the priesthood and religious life and support the diocese's seminarians in other ways as well.
"They're the future of the diocese," Prickett, a parishioner at St. Edward Church in Nashville, said of the seminarians. "We just value the priesthood so much, and we just encourage our priests and seminarians, and we've been praying for them all along."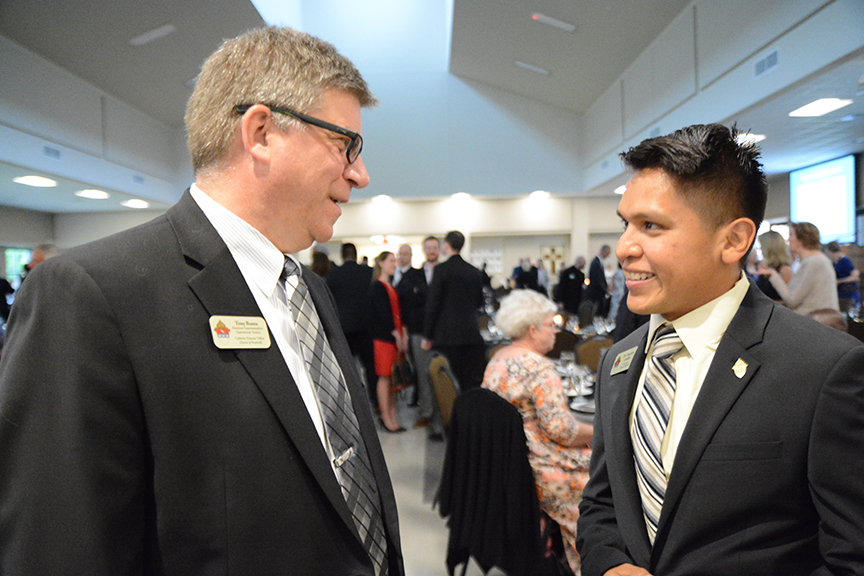 And the seminarians are grateful for the support from all the people in the diocese.
"A lot of the money that's used … for tuition for the seminary comes from tonight," said Deacon Nonso Ohanaka, who will be ordained as a priest for the diocese on Saturday, May 28. "And it's through the prayers and the support of people in our parishes that we're able to form good and holy men to be priests of our diocese."
"The Seminarian Education Dinner is a really great event," said Deacon Brent Thayer, who also will be ordained as a priest on Saturday, May 28. "Everybody in the diocese prays for seminarians all the time."
"When those two men kneel and lay prostrate and then stand up and have me lay hands upon them, and I will anoint their hands in ordination, just know that you are a part of that. … You made that happen," Bishop Spalding told the crowd.
"This really is a wonderful night that we look forward to every year," Father Gilstrap said. "It's good for the men. It's good for the men to see all the people that are supporting them, that are praying for them, that love them so much, that are looking forward to them becoming priests here in the Diocese of Nashville. And this is one of the best nights we have for that every year."
It was the first time in three years that the Seminarian Education Dinner has been an in-person event.
"It is good that we are here," Bishop Spalding told the audience. "The last two years we've not been able to do this. But now we're coming out of the fog of COVID and we're coming back together.
"One of the things that the last two years has taught us is something very Catholic," the bishop said. "We're on this earth to be with and for each other in the name of Jesus Christ. …
"My dear fellow pilgrims on the way to the kingdom, we need to make sure more people know of how good it is that we gathered here," Bishop Spalding said. "We need to make sure people hear the good news of the Diocese of Nashville. It is growing, it is prospering. And if there's any challenge that I have, it is the challenge of growth and prospering.
"So help me. Help me make sure what happens is the Lord's work more and more in our diocese and that more can be ordained into the priesthood in service of this great Church."
The Serra Clubs of Nashville and Williamson County and the Tennessee Knights of Columbus helped organize the event.
The Presenting Sponsors were Catholic Extension and Marina Manor East Apartments. Other sponsors included: Platinum Sponsors Mary, Queen of Angels Assisted Living Facility and Villa Maria Manor; Gold Sponsors Wood Personnel Service, Catholic Community Investment and Loan Inc., Athens Distributing Co.; Silver Sponsors Steier Group, Miracle Ford and Miracle Chrysler, Dodge, Jeep, Ram and Taylor, Pigue, Marchetti and Blair, PLLC; and Supporting Sponsors Father Ryan High School, Pope John Paul II Preparatory School, the Schachle Agency of Knights of Columbus Insurance, Copy Solutions Inc., State Farm Agent Mark LeClair and Vision Source of Hendersonville.
Watch videos from the Seminarian Education Dinner and Auction on the Tennessee Register's Facebook page.