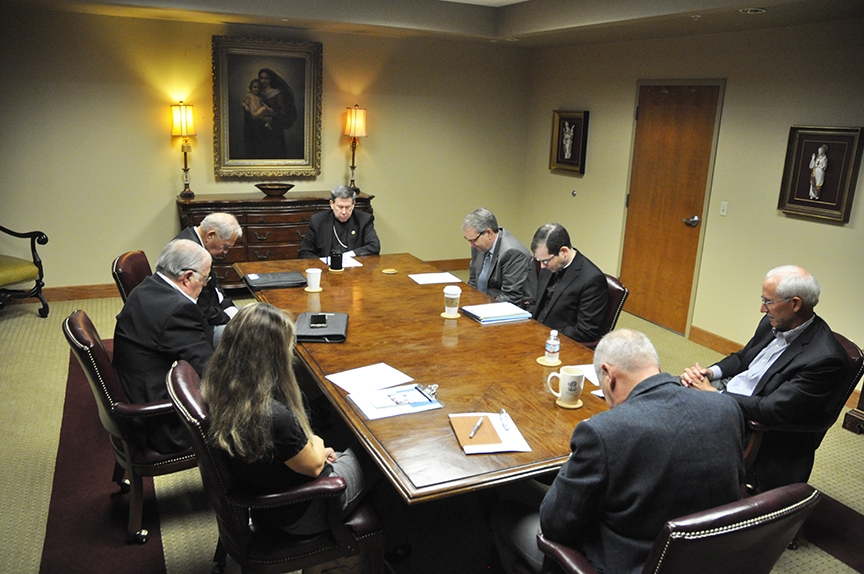 The Society of St. Vincent de Paul District Council of Nashville, Tennessee Inc., and Ascension Saint Thomas Health System are collaborating to provide prescriptions to those in need through the SVDP Prescription Services Program following approval received from Bishop J. Mark Spalding during a meeting Wednesday, Sept. 22, in the Bishop's Conference Room at the Catholic Pastoral Center.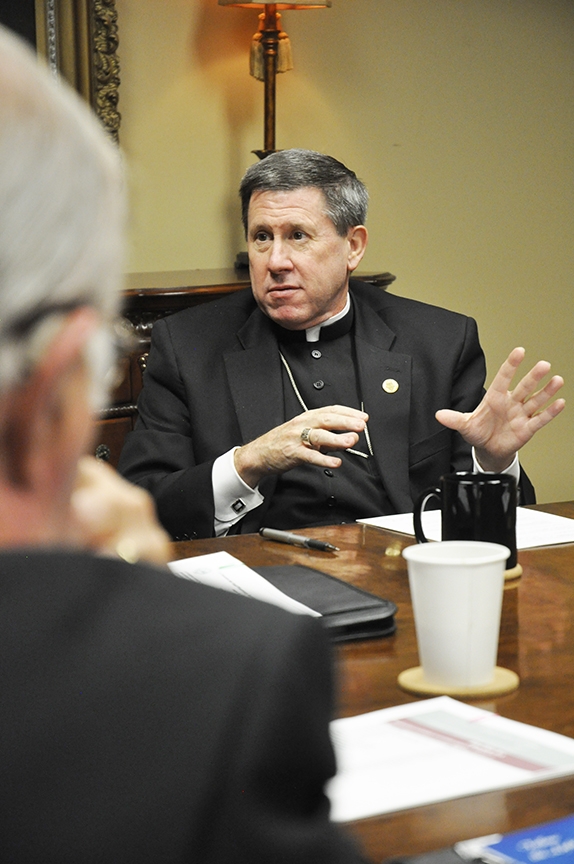 During the meeting, representatives of the St. Vincent de Paul District Council of Nashville, including President Ron Szejner, Treasurer Joseph Bibeau, and Council Member Mark Gunning, and representatives of Ascension including Chief Mission Officer Greg Pope and Pharmacy Manager Ashley Bennett, spoke with Bishop Spalding as well as Brian Cooper, chancellor and chief operating officer for the Diocese of Nashville, and Father John Hammond, judicial vicar and vicar general, and answered their questions.
"The important thing is for the people in our community, through our parishes and other organizations like Catholic Charities, Diocese of Nashville, to be aware that this exists as they encounter those in need," Szejner said. "Serving the poor. This is what St. Vincent de Paul is about. We're here to serve."
The program will help those who cannot afford their everyday prescriptions. Those who qualify, meaning those who are uninsured and are considered low income, will have their prescriptions covered by St. Vincent de Paul for one year. This will also include paying for delivery of the prescriptions to a person's home if they are unable to physically pick up the prescriptions. The service can be renewed every year as long as the applicant still qualifies.
St. Vincent de Paul has designated a single point of contact who will help with the applications and will determine if a person qualifies for the program.
The organizations' ask of the diocese was to help spread the word to the pastors and parishes of the diocese, which Bishop Spalding, Cooper and Father Hammond agreed to do.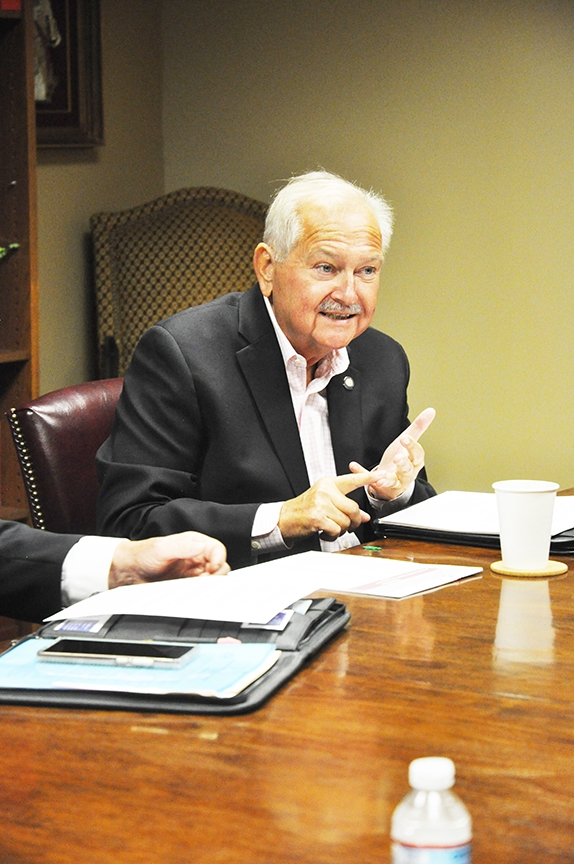 "It's a very worthwhile endeavor and please know our gratitude to both Ascension and to St. Vincent de Paul. This can prove to truly be something beyond what the initial expectations can be, especially in the rural areas," Cooper said. "This could be a lifeline to people truly in need."
"It has my blessing. You don't get in the way of something this good," Bishop Spalding added. "I appreciate all the good work around this table because it is so tied to our mission and please know of my full support for this.
"I always appreciate St. Vincent de Paul and the whole spirituality connected within it every time a contact is made," he continued. "Whenever I see these kinds of programs, it helps close the circle so that this person before me in need receives the help they need. I appreciate all that St. Vincent de Paul does in assisting the marginalized."
The pastors and parishes of the diocese are encouraged to refer those in need to the program if they believe them to be eligible. Parishes who don't have an established St. Vincent de Paul conference at their parish can refer potential applicants to any of the 10 established conferences in the diocese, which include St. Henry Church, St. Ann Church, and St. Edward Church in Nashville; Our Lady of the Lake Church in Hendersonville; St. Christopher Church in Dickson; St. John Vianney Church in Gallatin; St. Matthew Church in Franklin; St. Patrick Church in McEwen; Immaculate Conception Church in Clarksville; or Sacred Heart Church in Lawrenceburg.
For more information about the program or establishing a St. Vincent de Paul parish conference in Middle Tennessee, email Szejner at szejnerr@bellsouth.net.