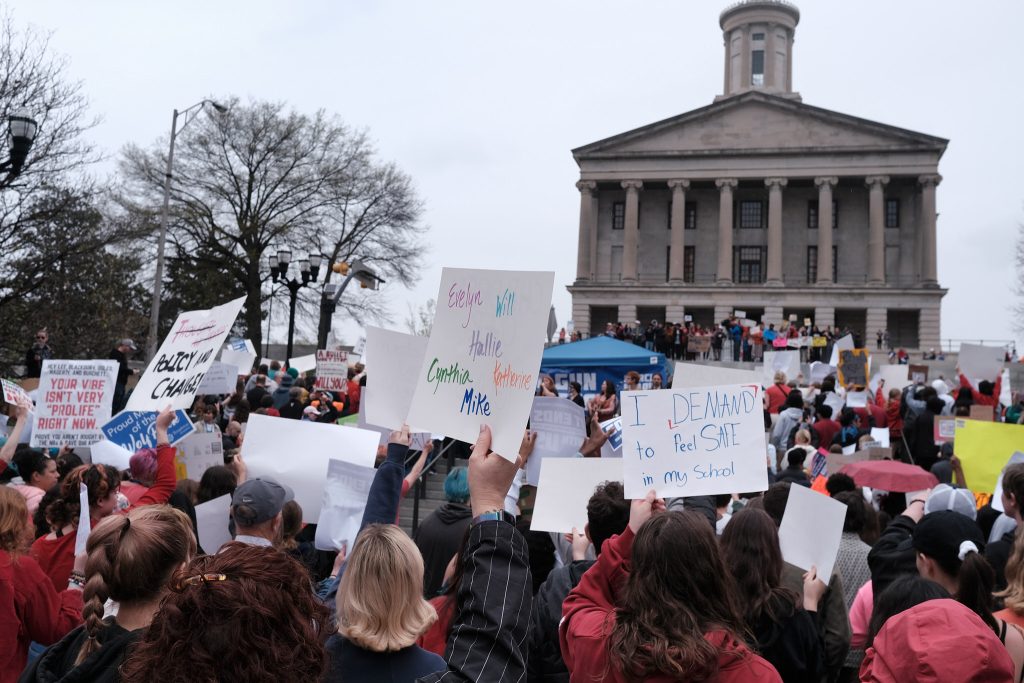 The three bishops of Tennessee – Bishop J. Mark Spalding of Nashville, Bishop David P. Talley of Memphis, and Bishop Richard F. Stika of Knoxville – and the Tennessee Catholic Conference have included their names on a letter to Gov. Bill Lee and the Tennessee General Assembly urging passage of gun safety measures.
The letter, signed by faith leaders from across the state, was drafted by Voices for a Safer Tennessee, a newly-formed, "nonpartisan statewide coalition dedicated to prioritizing gun safety and advocating for common sense gun laws to make communities across Tennessee safer for all of us," according to the Voices for a Safer Tennessee official website.
Written in response to the recent tragedy at The Covenant School on Monday, March 27, when an assailant shot and killed three students, all age 9, and three adults, the letter supports Gov. Lee's "investment in school safety and funding" and urges legislators to take the following steps:
• Allow authorities to temporarily remove guns from those who pose a risk to themselves or others by implementing Extreme Risk Laws.
• Keep guns away from dangerous people by requiring background checks on all purchases and closing the background check loophole.
• Stop firearms from falling into the wrong hands by requiring gun owners to provide safe storage and report lost and stolen guns.
"Together, we agree on much more than we disagree and can work together to build a safer Tennessee," the letter concludes. "Offering our collective public support will help us all do the next right thing as we heal together."
At the time of publication, several clergy had joined the bishops of Tennessee and the Tennessee Catholic Conference,  in signing the letter: Father Mark Beckman, pastor of St. Henry Church; Father Pat Kibby, senior priest at St. Henry; Father Joe McMahon, pastor of Holy Family Church in Brentwood; Father Dexter Brewer, pastor of Christ the King Church; and Msgr. Michael Johnston, a retired priest for the dicoese. A similar letter was written with the signatures of educational leaders, which has been signed by Leigh Toomey, head of school for St. Bernard Academy, and Paul Davis, president of Father Ryan High School.
To read the letters, visit tncatholic.org. Faith leaders and educational leaders can email safertennessee@gmail.com to have their name added to the list.
Along with the letter, Voices for a Safer Tennessee is hosting a "Linking Arms for Change" event in Nashville and Knoxville on Tuesday, April 18.
The Nashville event, which will be 5:15-5:45 p.m., will feature people linking arms along a three-mile route from Monroe Carell Jr. Children's Hospital at Vanderbilt University Medical Center, where the victims of the school shooting were brought, to the Tennessee State Capitol. The Knoxville event, which will be held simultaneously from 6:15-6:45 p.m. EST, will encircle Market Square in downtown Knoxville.
Supporters will form a "human chain expressing solidarity among the chorus of voices advocating for safer communities across the state through the adoption of common-sense gun safety policies," according to the event press release.
"Linking Arms for Change is an opportunity for Tennesseans on both sides of the political aisle to come together to honor the lives lost and impacted by The Covenant School shooting, as well as all lives lost to gun violence in our state," said Carlie Cruse, a founding member of Voices for a Safer Tennessee. "This is not a political issue. It's a public safety issue. By coming together as one, unified voice, we can channel our sorrow into action and advocacy for stronger gun safety measures."
To register for one of the two events, visit www.safertn.org/event. Upon registration, supporters will receive a link with parking instructions as well as instructions on where to stand. All supporters are asked to wear red in honor of The Covenant School victims.