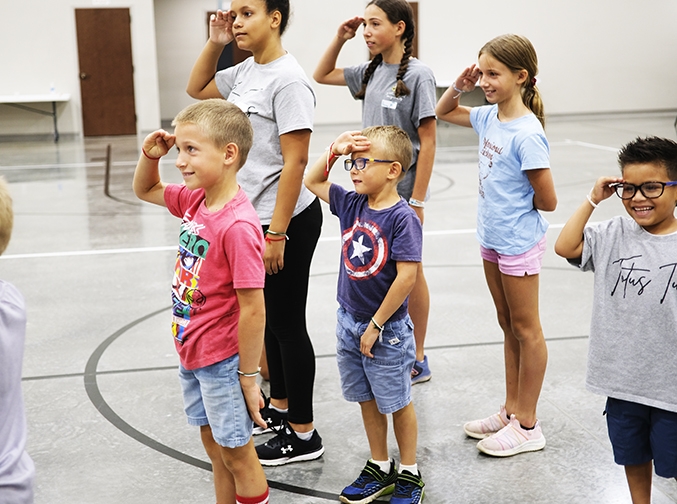 Nearly 1,000 youth in first through 12th-grade learned about salvation history and the Sorrowful Mysteries of the rosary this summer as Totus Tuus was brought to 14 different parishes throughout the Diocese of Nashville over the months of June and July.
Totus Tuus "is a beautiful opportunity for a personal encounter with the Lord while also learning more profoundly the depths of the faith of the Church," said Skylar Cummings, Totus Tuus coordinator and seminarian for the Diocese of Nashville. "There is already an initial evangelization through their attendance at church and in religious education, so the goal of Totus Tuus is to go deeper and teach them how to live out the spirituality of what we're learning in the faith."
"The whole goal of Totus Tuus is for the youth to know that they're called to holiness and to live it now, where they're at," Cummings continued. "The hope is that they walk away knowing that God loves them, that they've learned how to pray, and that they know of Our Lady's protection and her aid to teach us how to love Jesus."
Each new week at Totus Tuus, which was broken up into day sessions for those entering first- through sixth-grade and evening sessions for those entering seventh- through 12th-grade, the nine missionaries visited a new parish and led the youth through catechesis, prayer, and activities. Students also had the opportunity to attend Mass, adoration, and confession throughout the week as the sacramentally-based program seeks to teach them that the love of God for them is encountered in the Eucharist.
The evening groups had an extra opportunity to discern their futures as vocation panels were held so they could hear from and ask questions of religious, priests, and married couples.
Our Lady of Lourdes Church in Springfield held their vocations panel on Thursday, July 13, which featured Sister Rachel Marie, OP, and Sister Mary Martin, OP, of the Dominican Sisters of St. Cecilia Congregation, Father Anthony Lopez, pastor of Our Lady of Lourdes and St. Michael Church in Cedar Hill, and St. Michael parishioners David and Anna Tinkle.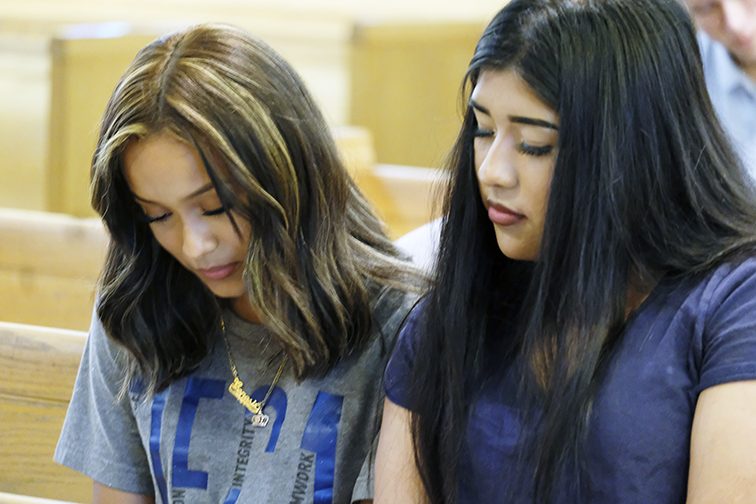 "I really liked listening to the sisters talk," said Rebecca Hostettler, an incoming freshman at Innovation Academy of Robertson County in Springfield, and a parishioner of Our Lady of Lourdes. "It's really cool to learn their different lifestyle and what they enjoy about it, and hearing their stories of how they became sisters."
"Adoration has been my favorite part of the week because it was a good time to talk to Jesus, and I liked that," she added. "The evening programs have helped me grow in my faith and make it deeper."
William Beard, an upcoming seventh-grade student at Liberty University Online Academy, and a parishioner of Our Lady of Lourdes, said he enjoyed hearing from Father Lopez.
"Before, when I thought of priests, I thought of the old times, like back in the 1400s," Beard said. "It's good to hear about how the modern-day priests live and how things have changed over the years."
As parish leaders reflected on their Totus Tuus weeks the words "inspiring" and "heart-warming" were some of the biggest that came to mind.
"The experience the kids have had this week with the team has been inspiring and heart-warming. This year's team (of missionaries), I really feel like God is working through them in a big way, and it's something our kids need to experience to counteract what they are so often surrounded by in today's world," said Amy Starr of St. Anthony of Padua Church in Fayetteville. "They need that excitement; they need that light and that energy and the fun and faith that flows from lives devoted to Christ and serving others.
"We try to provide that, but this team is really just sent from God to affirm our children and energize our kids here in their faith walk," she continued, noting that more than 40 children came for Totus Tuus the week of July 8-14. "Everyone is welcome to come and learn to love God and learn how to serve God."
Alina Miller, a nursing student at Austin Peay State University in Clarksville, Michael Falcone, a current seminarian applicant for the diocese, and Henry Brunton, a college senior, were the missionaries who led the students at St. Anthony for the week.
"It was God's providence that led me to volunteer for Totus Tuus," said Miller, who is a parishioner of Immaculate Conception Church in Clarksville. "As a nursing student, I wanted to get more hands-on experience but the plans never fell in place. That is until I came across Totus Tuus.
"I have been praying for holy friends who share the same faith and are on fire for Jesus. During my time at Totus Tuus, I have definitely found friends for a lifetime. They are caring, compassionate, and beautiful children of God," she continued. "I am beyond grateful to work beside them doing His will. It's been such a pleasure and joy seeing, teaching and getting to know these children. I know these children at St. Anthony as well as the other parishes we have been to will be powerhouses for God in the future. God is good and His word will prevail."
Falcone also said his involvement with Totus Tuus was God-lead, noting how as he looked into transferring his seminarian education from the Archdiocese of Washington to the Diocese of Nashville, he prayed to God to help him find something that would allow him to get to know the diocese while also teaching the youth.
"I brought this to the Lord in prayer, and then I called Father (Luke) Wilgenbusch, (director of Vocations), to see if there were any options for the summer to discern whether Nashville was the right place," Falcone explained. "He said 'Well, there's a parish assignment or there's Totus Tuus, which will be a great way to see the diocese, and you'll be able to teach and catechize to youth.
"Father Wilgenbusch didn't know that I'd prayed for that exact thing," he added, "but that's exactly what I wanted and brought to the Lord in prayer, and He answered my desire."
"I'm pretty amazed at how responsive the children are to the Gospel and how on fire they are, but, specifically for me, the children have taught me a lot," Falcone continued as he reflected on his time with Totus Tuus and with the different parishes. "Often, I think it's me teaching them, but they've taught me a lot about what it means to be a child of God. Jesus said, 'Unless you become like a child, you cannot enter the Kingdom of Heaven,' so they've taught me a lot about what it means to totally surrender to the Father's love and not have a lot of worry and anxiety.
"It's been really beautiful to see their trust in us as missionaries and their love for us and how the Lord desires to use us in that way," he added.
He said he sees this as an opportunity to prepare for his potential future as a priest.
"It's about spiritual fatherhood and learning what a life of self-giving really is because that's been this whole summer. For me, it's been very healing. It's forced me to surrender to God, and I really want to be a priest of the heart of Jesus," Falcone said. "I always pray each week that not one of these children will ever be lost and that they would be on fire for the Eucharist … and also just to know how much Jesus thirsts for their love and know how much God is in love with them. He's not just looking down on them. He truly is their Father who's looking out for them."
Starr said the passion and work of the Totus Tuus missionaries and the excitement it's brought to the kids only proves that Totus Tuus has to continue each year.
"With us being a small parish, we do our best, but this team just has that explosive, beautiful light energy that is straight from God and just pours out of them. We don't master that all the time, but it seems these people that God has put in place just come and they know exactly how to get these kids on fire for God," Starr said. "I just feel really grateful for the team and the beautiful melding of the excitement and fun and strong faith. … When you have such a dynamic team on fire for God, the kids feel that, and they're just so inspired, and strengthened in their faith formation.
"The impassioned Totus Tuus team, devoted Father George (Panthananickal, CMI, pastor of St. Anthony and Immaculate Conception Church in Pulaski), hard-working parish volunteers, and loving parents and grandparents all rolled up their sleeves to provide what we strongly believe is an essential yearly diocesan program for our youth."
Along with Our Lady of Lourdes and St. Anthony, Totus Tuus was brought to St. Philip the Apostle Church in Franklin June 10-16; Holy Rosary Church in Donelson and St. Rose of Lima Church in Murfreesboro June 16-23; St. Thomas Aquinas Church in Cookeville and St. Matthew Church in Franklin June 24-30; St. John the Evangelist Church in Lewisburg July 8-14; and Immaculate Conception Church in Clarksville, St. Martha Church in Ashland City, and St. Ann Church July 15-21. The final week, July 22-29, will be held at the Cathedral of the Incarnation, St. Christopher Church in Dickson, and Our Lady of the Lake Church in Hendersonville.