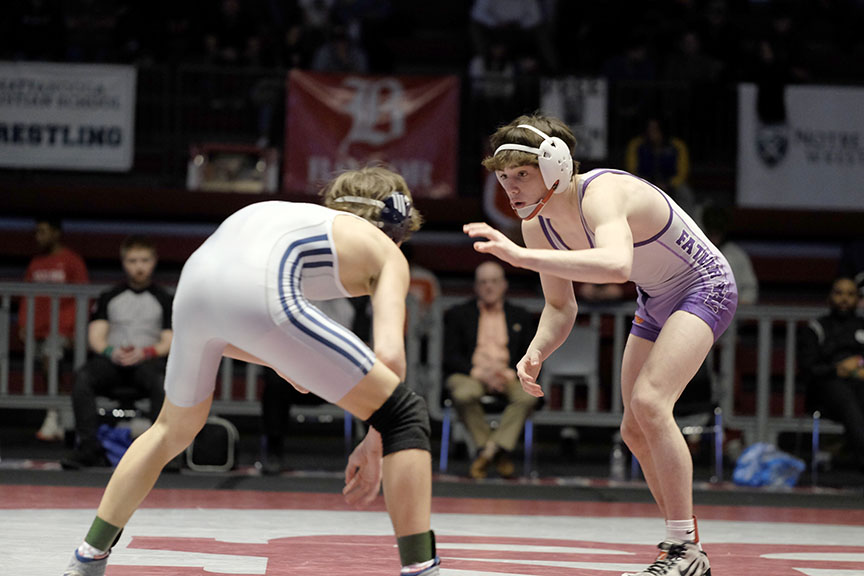 Three Father Ryan High School wrestlers claimed state championships leading the Irish to a second place finish in the team standings at the Division II Individual State Tournament held Feb. 17-18, at Montgomery Bell Academy in Nashville.
Father Ryan Coach Pat Simpson praised his three titlists, junior Joe Calvin at 120 pounds, sophomore Casen Roark at 132 pounds, and sophomore Chancery Deane at 145 pounds. "When you work hard, good things can happen," Simpson said.
"Casen Roark, as you know, blew out his knee in football and came back," Simpson said. "Thank God it didn't present him any problems. That was pretty special.
"Chancery Deane is the hardest worker in the wrestling room," Simpson added. "When you work hard you usually get rewarded, and he got rewarded today, so that was good.
"And Joe Calvin is Joe Calvin," Simpson said. "It's always going to be crazy. He did a great job."
Calvin won his first state championship with an 8-5 decision over Cole Gumlick of Lakeway Christian Academy, after finishing second at 106 pounds last year and third at 106 the year before. But the win nearly slipped away from Calvin before he could fight his way off his back late in the match.
"I was scared for sure," Calvin said. "I knew I had to get out. I knew I couldn't stay there. I was trying to go one way, but it didn't work. So I flipped the other way, and then I just kind of powered through."
From his experience in the finals last year, Calvin learned "to just calm your nerves," he said. "Last year, I was super nervous going out (on the mat), and then this year I just stayed calm and wrestled like I know how to wrestle."
"It felt amazing," to have his hands raised in victory, Calvin said.
Deane also had some scary moments on his way to a 4-3 win over Ryan Tisdale of Baylor, twice scrambling in the third period to avoid giving up a late takedown and the championship. "In that moment, I was a little scared," Deane said. "But I've been in those scrambles all the time in practice. Coach Simpson has us working on scrambling in practice all the time."
Deane had something to prove this season, he said. After finishing third at 132 pounds last year, "I wasn't ranked in the top six at the beginning of the year," he said. "They had kids that I had beat before in front of me. So, before the match I knew that I had to show everybody that I'm not just some trash sophomore."
"It feels really good," Deane said of his title. "Last year I didn't win it. … This year, it feels bad for the other guy."
Roark won his second straight championship after claiming the crown at 126 pounds as a freshman last year. He missed nearly the entire season recovering from his injury, but was able to return to the mat just in time for the post-season tournaments.
Although he couldn't wrestle during the regular season, he was still working on getting better. "Watching everybody else helped me see it from a different perspective," Roark said. "To be honest, it helped me learn as a wrestler."
Roark claimed the title with an 11-4 decision over Cameron Helton of Lakeway Christian Academy. "He's really good," Roark said. "He has a really good gas tank. I knew that going in, so, I'm going to have to either slow the pace or try to break him."
Winning his second state championship was "amazing," Roark said.
Also claiming the top spot on the podium were brothers Gabe and Max Fisher, parishioners at the Church of the Assumption, who won championships at 220 pounds and heavyweight, respectively, for Montgomery Bell Academy.
For Gabe Fisher, it was his third straight championship at 220 pounds. It came on a pin of Jaden Potts of Nashville Christian School with 1:20 left in the first period.
"I thank the Lord above," he said. "He blessed me with strength, agility, and everything. I just thank Him because He's the big man who does it all."
Max Fisher claimed his first state championship with a 3-0 decision over Devin Lively of Friendship Christian School.
"It stung not being able to wrestle last year" because of a concussion he suffered, Max Fisher said. "I knew this year it was going to be tough. I had a chip on my shoulder coming back, so it's special."
After winning his own state championship, Gabe Fisher joined the crowd to cheer on his brother. "It's so awesome," Gabe Fisher said. "I've been waiting for it. I knew it was going to come this year. It's just great. It's come full circle. We always talked about it as kids. … It was awesome to see him do it."
Eleven of Father Ryan's wrestlers medaled. Besides the three state champions, the medalists were: freshman Tanner Tran, second at 106; senior Matt Oberlander, second at 170; sophomore Ethan Lambert, third at 113; sophomore Brody Gobbell, third at 126; senior Tim Brunet, third at 195; sophomore Aron Tenpenny, fourth at 138; sophomore Sawyer Rutherford, fourth at 152; and senior Abraham Cromartie, fourth at heavyweight.
Andrew Connow, a sophomore at Pope John Paul II Preparatory School, finished fourth at 132 pounds.
Father Ryan's performance in the consolation rounds helped the Irish close the gap with Baylor in the team standings. Father Ryan started the day 18 points behind Baylor, but entered the finals ahead, Simpson said. But Baylor took back the lead and the state championship when five of their six wrestlers in the finals won titles.
MBA finished third in the team standings and Pope Prep finished tied for 17th.
In the Division I Class A state tournament, Gregory Gomez, senior at MLK Magnet school in Nashville and a parishioner at Christ the King Church, finished fifth in the 132- pound weight class. It was the fifth time he has medaled at the state tournament, including sixth at 106 pounds in 2019; second at 113 in 2020; third at 113 in 2021; and fifth at 126 in 2022. He finished this season with a 28-4 record.
In the girls state tournament, Kylie Reeves of Pope Prep, finished sixth in the 114-pound weight class. She finished the season with a 27-12 record.