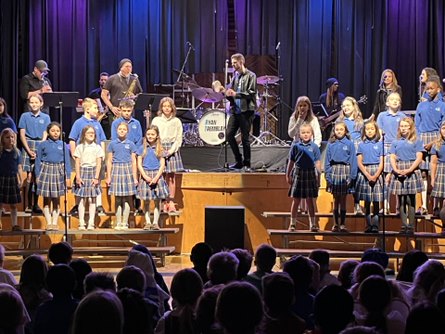 The Holy Rosary Academy Vikings enjoyed a musical performance featuring their musical director, the school's chorus, and nationally-recognized musicians at their Catholic Schools Week Concert Thursday, Feb. 2, in the school's gymnasium.
Ryan Tremblay, who joined the school this year as the music teacher and choral director, brought together a band composed of saxophonist Jeff Coffin from the Dave Matthews Band, Jim Riley from Rascal Flatts, and Nick Haynes, former tour member with The Temptations, to join him for the performance.
Tremblay, who plays the guitar and drums, was the featured vocalist, but the singing also showcased the talents of his wife, Elizabeth, and their triplets – Elliot, Nicholas, and Andrew. During the concert, Ryan shared the story of his and his wife's difficulty in starting a family, and the conception of the triplets coming just days after meeting and praying with Pope Francis before the pontiff came to the U.S. in 2015.
To finish out the show, Tremblay called upon the school's choir for a rousing finale that energized the students, faculty, and parents in attendance as they continue to celebrate Catholic Schools Week.