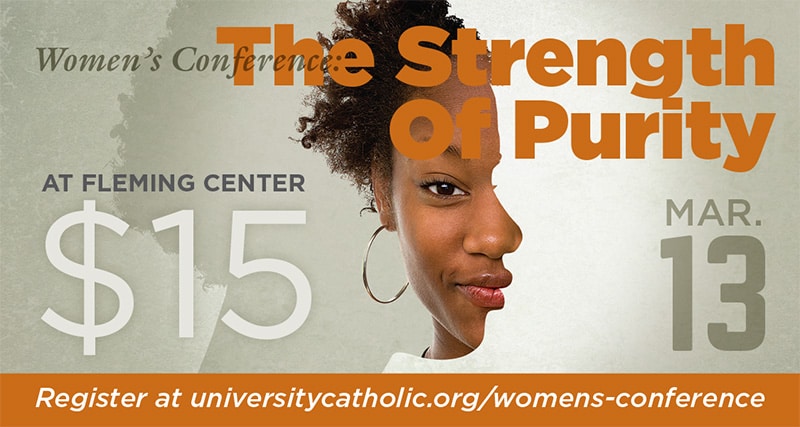 University Catholic will sponsor a women's conference, "The Strength of Purity," on Saturday, March 13, at the Cathedral of the Incarnation's Fleming Center.
The conference will feature three keynote addresses, breakout sessions on the Year of St. Joseph, panel discussions, the Divine Mercy Chaplet, a short film on Joseph and Mary, ice cream in the courtyard, Eucharistic adoration and Mass. 
The speakers will be:
Angela Curry, a Catholic convert, mother of three, and the chief legal officer of a faith-based organization. Curry offers a unique perspective on what it means to embrace the Church from the outside in.
Sister John Catherine Kennedy, O.P. A native of Mount Vision, New York, Sister John Catherine graduated from Catholic University of America with a bachelor's degree in history and secondary education in 1999. She entered the Dominican Sisters of St. Cecilia in 2000 and made her final profession of vows in 2007. She earned a licensure in education from Aquinas College and studied in the Catholic Studies Program at the University of St. Thomas. She earned a master's degree in history in 2010 and a doctorate in history in 2019, both from the University of Tennessee at Knoxville. She has taught at Knoxville Catholic High School, Aquinas College and St. Cecilia Academy.
Joan Watson, Director of Faith Formation for the Diocese of Nashville. She earned a bachelor's degree in history from Christendom College and a master's degree in theology from Franciscan University. She has worked for Dr. Scott Hahn at the St. Paul Center for Biblical Theology and for the Dominican Sisters of St. Cecilia at Aquinas College in Nashville. She is the associate editor of Integrated Catholic Life and the host of weekly series and cohost of the "The Catholic Traveler Podcast."
The conference will begin at 8 a.m. with registration and conclude at 5 p.m. with adoration.
The cost is $15. For more information about the conference or to register, visit https://universitycatholic.org/learn/womens-conference/.