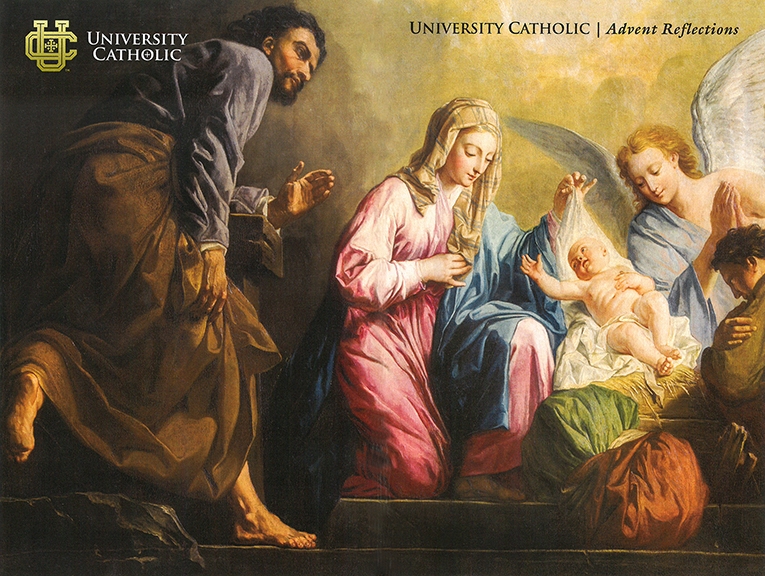 "There is no greater relief, no greater joy, than the realization that we are irrevocably broken and utterly powerless," wrote Emily Nelson, a music therapy student at Belmont University.
This opening sentence was part of her reflection on the Dec. 7 Gospel reading, which comes from the Gospel of Matthew 18:12-14 and was featured in University Catholic's first Advent Reflections booklet.
In the Gospel reading, Jesus tells the parable of the shepherd who leaves the 99 sheep, to look for the one that wanders off, just as God would do for each of his people.
"Hearing this parable as a child in Catholic school, I was indignant. I worked every day to remain among the 99. Would the loving God I had come to know leave me alone one day, to seek someone who had spent their life denying Him?" Nelson's reflection continues. "It wasn't until, embarrassingly, recently that I realized my disregard of Jesus' choice in metaphor. Sheep are not herded on merit. They're sheep. Those in the flock and those who stray remain equally dependent upon the Shepherd."
Nelson along with 43 fellow and former University Catholic students and former University Catholic chaplains and leaders, each chose a Gospel from the first Sunday of Advent, Nov. 28, through the Feast of the Baptism of the Lord, Jan. 9, 2022, and wrote their own personal reflection. Those reflections were compiled into an Advent Reflections booklet that University Catholic printed and sent out to its monthly donors as a gift.
"Normally, we buy those Magnificat booklets for donors," explained Father Gervan Menezes, University Catholic chaplain. "But it's so impressive how deep these students go into their prayer life, so the idea came for us to have Advent reflections from the students instead."
It was a way for University Catholic to more deeply connect with its donors, Father Menezes said.
"It says this is the fruit of your investing and giving through University Catholic," Father Menezes said. "These are the experiences students are having with the Gospel."
Students had free reign on their approach to their chosen reflection, Father Menezes said, which led Kate Murphy, a history and medicine, health and society major at Vanderbilt University, to open her reflection on Matthew 11:11-15 for Dec. 9, with a poem, entitled "If you are willing to accept it."
"Am I willing to accept what Jesus has to say/Am I willing to accept Him in the way that He comes to me/Am I willing to accept the Truth," the poem reads.
"It's been beautiful to read," Father Menezes said of the unique reflections.
Along with the booklets for the donors, the packages also included rosaries made by students at a leadership retreat last August.
Our donors "are the people who help us pay the bills, so it was a way for them to know that the students are praying for them, and they are part of something that is bigger, and that they are making a difference in the lives of so many people," Father Menezes said. "You don't know what that money is doing until you see something like this. But I don't want money. I want people to believe in what we do and help us achieve that mission to 'propose Jesus Christ and form his disciples.'"  
All the Advent reflections are available at universitycatholic.org/advent.