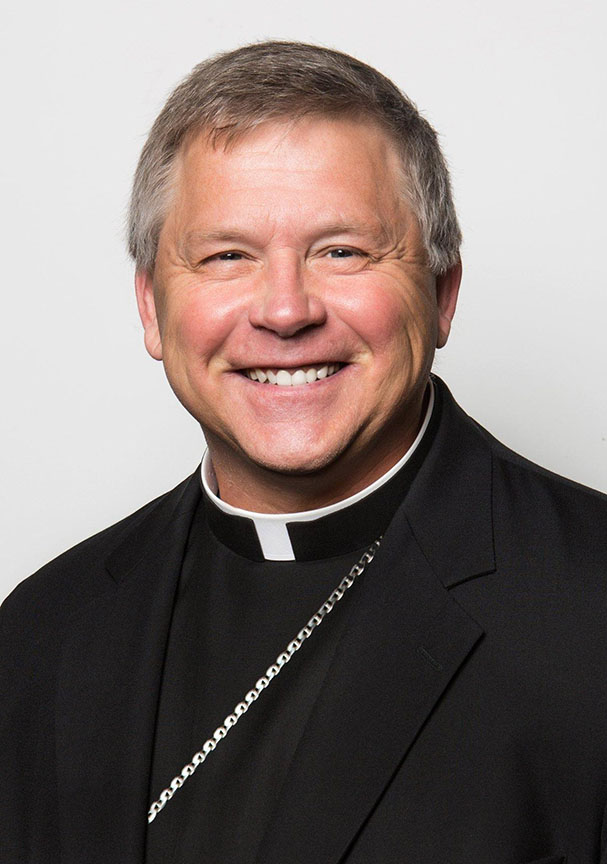 KNOXVILLE, Tenn. Bishop Richard F. Stika of Knoxville, 65, has resigned from pastoral governance of the diocese. Pope Francis accepted the resignation June 27 and also appointed Archbishop Shelton J. Fabre of Louisville, Kentucky, as apostolic administrator of Knoxville until a new bishop is appointed and installed.
The resignation and appointment were publicized in Washington by Archbishop Christophe Pierre, apostolic nuncio to the United States. At 65, Bishop Stika is resigning 10 years before reaching the age at which canon law requires bishops to submit their resignation to the pope.
The resignation of Bishop Stika was anticipated in a May 13 report by The Pillar in light of a Vatican-ordered investigation of sexual abuse cover-up and financial mismanagement. The article cited unnamed sources "close to the Vatican's Dicastery for Bishops," who indicated that Pope Francis came to a decision on the embattled Tennessee bishop in April.
In a statement sent to media, Bishop Stika, who was the longest serving bishop in Eastern Tennessee, said he has "been dealing with life-threatening health issues most of his adult life" including Type-1 diabetes since 1980. He said he made his decision in May, "during a time when our Scripture readings, found in Acts of the Apostles, focused on the turbulent growth of the Church."
"Reading Scripture is good," he said. "It reminds us that the Church isn't perfect – it's human, but it continues to grow in goodness, thanks be to God."
In a message to the faithful of his archdiocese, Archbishop Fabre offered his gratitude to Bishop Stika "for his 14 years of episcopal ministry," and extended his "best wishes and prayers as he assumes his new role" as bishop emeritus of Knoxville.
The archbishop said with his additional duties as Knoxville's apostolic administrator, he will now begin to split his time between Louisville and Knoxville. "It is my plan in the coming days to name a priest of the Diocese of Knoxville to assist me in caring for that diocese," he added.
"While this appointment will impact my presence at events and celebrations within the Archdiocese of Louisville for a time, I will strive nonetheless to accept every possible opportunity to be present with you," he said. "However, I ask for your understanding and patience as I may need to make some pastorally sensitive scheduling adjustments for the good of the faithful of Louisville and Knoxville."
"Nevertheless," he continued, "be assured of my firm resolve to provide ongoing spiritual support to you, the lay faithful, priests, deacons, seminarians, and consecrated men and women of the Archdiocese of Louisville. Let us continue to pray for each other as we pray for the People of God in East Tennessee."
Appointed by Pope Benedict XVI in 2009, Bishop Stika has been the diocese's longest-serving ordinary, but his tenure has been a troubled one.
The bishop has been accused of sheltering and financing former seminarian Wojciech Sobczuk, who allegedly raped a parish organist. In May 2021, Bishop Stika confirmed to The Pillar he had removed an investigator appointed to the case by the diocesan review board, saying the former law enforcement professional was "past his prime" and declaring Sobczuk's innocence. The organist has since filed a lawsuit against Bishop Stika and the diocese.
The bishop allegedly used diocesan funds to cover Sobczuk's tuition at St. Louis University, where the former seminarian enrolled following his dismissal from the seminary, according to a Knoxville News-Sentinel article cited by The Pillar.
A separate lawsuit filed in April 2022 accuses Bishop Stika of failing to discipline Father Antony Punnackal, a Carmelite of Mary Immaculate, who was arrested in January 2022 for sexually assaulting a grieving parishioner who had sought spiritual counseling two years earlier.
Along with claims of mishandling abuse investigations, the bishop has been dogged by multiple complaints of financial mismanagement, particularly with regard to the building of Knoxville's Cathedral of the Sacred Heart.
"I recognize that questions about my leadership have played out publicly in recent months," Bishop Stika, who will be 66 July 4, said in his statement. "I would be less than honest if I didn't admit that some of this has weighed on me physically and emotionally. For these reasons, I asked the Holy Father for relief from my responsibilities as a diocesan bishop."
According to The Pillar, 11 Knoxville diocesan priests appealed in September 2021 to Archbishop Christophe Pierre, apostolic nuncio to the U.S., for "merciful relief" from Bishop Stika's leadership, which they claimed had been "detrimental to priestly fraternity and even to (their) personal well-being."
In November 2021, Virginia Bishops Michael F. Burbidge of Arlington and Bishop Barry C. Knestout of Richmond led a Vatican-ordered apostolic visitation of the Knoxville Diocese to review concerns over Bishop Stika's administration, said The Pillar.
In a Feb. 1 "state of the diocese" report published by East Tennessee Catholic, the Knoxville diocesan newspaper, Bishop Stika pointed to the diocese's spiritual and financial growth, while acknowledging that the abuse-related civil lawsuits "on a number of levels have been difficult."
The bishop said that while he "respected" media interest in the cases, the claims "are accusations," and that he would "answer relevant questions in the proper way, under oath, and at the proper time, in a court of law, if it comes to that."
He also said it had been "difficult to endure some of the one-sidedness of the reporting" on the lawsuits, even stating that "there are some details being reported, based on allegations, that are just flat-out incorrect."
In his statement, Bishop Stika said he has "tried (his) best to be a good shepherd," citing the eight new churches he has dedicated, including a $30 million Cathedral of the Most Sacred Heart of Jesus, dedicated in 2018; improvement to schools; and expanded care for the sick and vulnerable.
Bishop Stika said his desire is "to remain in active ministry, but at a slower pace." He plans to return to his hometown of St. Louis along with retired Cardinal Justin Rigali, who has lived with Bishop Stika in Knoxville since the cardinal's own retirement as archbishop of Philadelphia in 2011.
"I have tremendous love for East Tennessee," Bishop Stika said. "It has been my home for almost 15 years, and I plan to return often as Bishop Emeritus to visit friends, celebrate Masses when asked, and take in UT games.
"I offer my genuine and heartfelt apology to anyone I have disappointed over the years," he continued. "I have tremendous respect for everyone, even my detractors. I ask that you pray for Archbishop Fabre as he oversees this diocese in the short term and for your new bishop when he is selected. Finally, I humbly ask that you please pray for me."