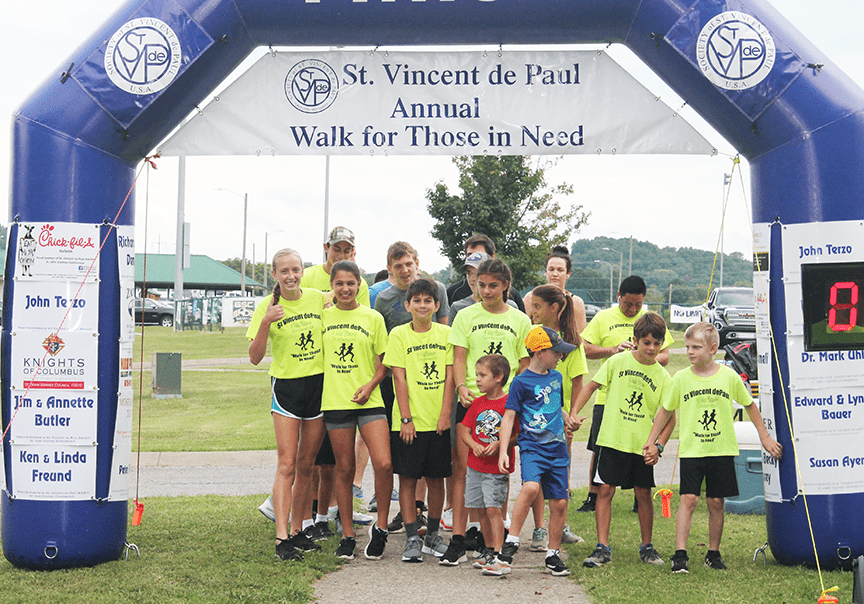 The 10th annual Walk for Those in Need, sponsored by the St. Vincent de Paul Society Conference at St. John Vianney Church in Gallatin, was another success, raising funds to help those in need in the community.
"The conference conducts this fundraiser once a year to collect funds to help ease the financial burden in our community," said Gail Payne, the conference's Spiritual Advisor. "The primary focus is within Gallatin and Castalian Springs.
"Throughout the year, we receive calls on our church hotline for rent, electric, water, gas, propane, food, car repair, medical bills and even cremation and burial expenses," she said. "Our needs have grown considerably due to the economy issues and numerous other sources of help being discontinued."
The walk on Sept. 10, held once again at Triple Creek Park in Gallatin, began with opening remarks from Conference President Clarence Payne, followed by a prayer by Gail Payne that was translated into Spanish by Yamileth Munoz, the conference's Hispanic Case Manager.
More than 50 volunteers helped get everything ready for the event, which had 136 walkers, runners and supporters participating.
"Due to the Hispanic community joining St. John Vianney Parish this past year with Father Rick Childress as their shepherd, many more Hispanic families responded to the Walk," Gail Payne said. "It was wonderful to see them sporting their Hispanic Walk t-shirts.
"With many volunteers to encourage those participating, cheering or greeting all through the timed finish line with goodie bags and lots of cold water, there was so much joy and excitement," she said. "We even drowned out the soccer game in the next field."
The funds raised from the Walk helps the conference keep the pipeline of assistance open throughout the year.
"With the weekly support from the St. John Vianney parishioners and concerned donors who reach out occasionally, which is truly in alignment with our just-in-time God, we manage to help a great deal of our neighbors in reducing their financial stress," Gail Payne said. "Throughout the year, we look for ways to interface with the low income neighbors in order to build trusting relationships.
"Right before school, we invited over 350 students to come pick out a backpack assisted by many caring parishioners and Vincentians," she said. "In November, we will give complete Thanksgiving dinners to over 50 families. In December, we will host a Christmas Gift program where the items are wrapped and delivered. All through the school year, SVDP will provide new shoes to any needy school child."
"At the close of this year's Walk, while we were disassembling all the tables and signs and huge arch, the drizzling rain began to fall," Payne said. "Our just-in-time God showed out one more time."