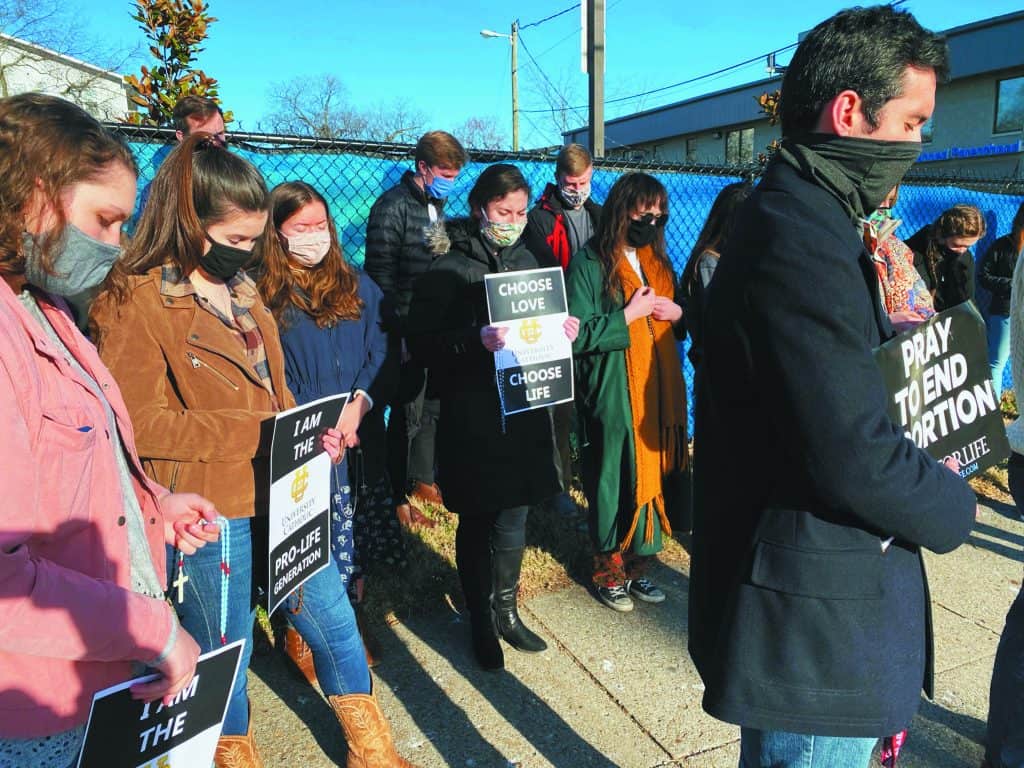 With the national March for Life going virtual in 2021, the Diocese of Nashville's Office of Youth and Young Adult Ministry quickly pivoted and planned a local event for high school students.
Since the youth of the diocese couldn't take to the streets of Washington, D.C., to stand up for life and pray for an end to abortion this year, they shifted their focus closer to home for the first-ever "48 Hours for Life: Nashville" event.
Julianne Staley, director of Faith Formation of the Young Church at St. Philip Church in Franklin, proposed and developed the idea for a local pro-life pilgrimage instead. She and her brother Bill Staley, the director of Youth, Young Adult, and New Evangelization Ministries for the Diocese of Nashville, along with his team, quickly reached out to their contacts to build the itinerary for the weekend.
"We pivoted in a new direction, and it was a really wonderful experience," said Bill Staley.
"When we go to D.C. it's usually go, go, go, and staying home we had an opportunity to offer way more speakers and instruction," Staley said.
Ella Saliba, a junior at Brentwood High School and a parishioner at Holy Family Church in Brentwood, was looking forward to attending the March for Life in Washington for the first time this year. When the trip was cancelled, she quickly joined "48 Hours for Life: Nashville."
"I loved that they still made it happen," she said of the local pilgrimage for life.
During her freshman year, Saliba learned in school about abortion methods used to terminate a pregnancy, and "I felt stabbed in my heart," she said. "I knew I had to stick up" for the pro-life cause.
Saliba was happy to have the opportunity to join about 50 other high school students from around the diocese to participate in the Jan. 29-31 event in downtown Nashville.
All planned activities were centered around the Catholic Church's "teaching on the sanctity of life from womb to tomb," said Libby Byrnes, the coordinator of high school youth ministry for the Diocese of Nashville.
Most of the weekend's talks and activities related to protecting the unborn and life at its earliest stages, but organizers also planned presentations on other aspects on the Church teaching on respect for life, from Room In The Inn and Tennesseans for Alternatives to the Death Penalty to share their work with some of the most vulnerable populations, including the homeless and men on death row. The group also made a stop by the offices of Alive Hospice and talked about end-of-life issues.
"We wanted to bring in all aspects of respecting human dignity," Staley said.
"I think everything we did was really positive," said Byrnes. Through the various activities and speakers, participants "could see what it means to be pro-life in the day to day."
The inspiring story of the Schachle family was a real-life example of a family who chose life when so many in their situation (receiving a fatal in-utero diagnosis) would have aborted.
Dan and Michelle Schachle of Dickson have 13 children, including 5-year-old Mikey, who was miraculously healed through the intercession of Blessed Father Michael McGivney, founder of the Knights of Columbus.
During the weekend "we had a special focus on adoption," Byrnes said, including a talk from Julie Bolles and Deasree Williams, of Catholic Charities' adoption services, and talks by Father Ed Steiner, pastor of St. Philip Church in Franklin, and Matt Davis, a parishioner at St. Henry Church in Nashville, who shared their stories of growing up in adoptive families. "It was really beneficial for the kids to learn about the process all the way through," Byrnes said.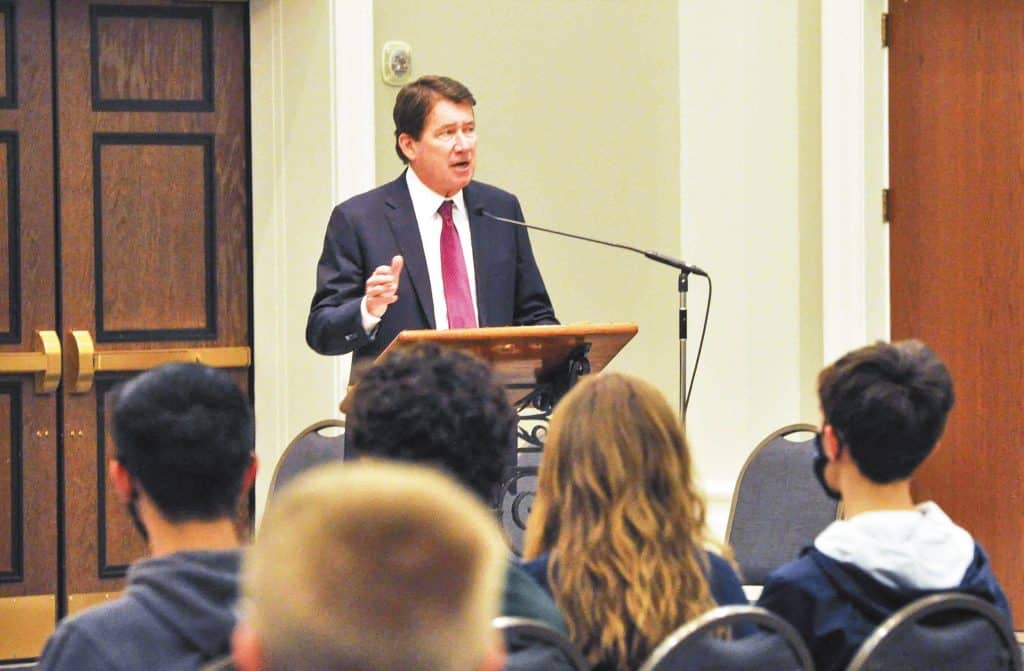 The adoption focus resonated with Stephen Strickland, a junior at Pope John Paul II High School. "Being pro-life, I've known and considered adoption as a viable alternative to abortion that would hopefully be part of the solution to saving lives, but I was unaware of the significance of the choice of adoption over abortion," he said. What especially hit home with Strickland was the speakers' message that "they would not be there in front of us … if their mother had not chosen life."
To kick off the 48 Hours for Life weekend, Bishop J. Mark Spalding celebrated Mass at the Cathedral of the Incarnation on Friday evening, Jan. 29.
After Mass, the students listened to a talk by Republican U.S. Sen. Bill Hagerty, which Staley arranged to help explain the government's role in impacting national abortion policies.
Hagerty spoke about efforts to protect the rights of the unborn. He also commended Gov. Bill Lee and the state of Tennessee for "putting forth some of the strongest pro-life legislation in the country."
Hagerty, a father of four, thanked the young people for their witness for life and for "standing for something you believe in."
"We need to fight for the unborn to make sure their rights are protected like any other human being," Hagerty said.
On Saturday morning, the high school students prayed outside of the Planned Parenthood clinic in Nashville. University Catholic students offered the same prayerful witness on Friday, which is something they will do again during Lent as part of the 40 Days for Life prayer vigil. Their effort is "to offer hope and support and re-affirm life," said University Catholic chaplain Father Gervan Menezes. "Abortion is not the solution for whatever crisis you are facing," he said.
On Friday night, the college students gathered separately for dinner and casual conversation. "A few in our group were adopted," Father Menezes said. "It really hits home when it's not something outside, it's our students."
One of the final activities of the weekend for the high school students was touring Mulier Care's Pregnancy Help Center mobile unit and learning about the organization's work to help women in crisis pregnancy situations.
The students were inspired to learn about their work, and "some of the kids signed up to volunteer," Byrnes said. "They immediately wanted to get involved."
"The most important thing for young people in the diocese to do in standing for life is to be the voice of the unheard, of the unborn, of those who cannot speak for themselves," said JPII student Strickland. "It is our turn to take up our cross and fight for what is true and what is right through both faith and action."