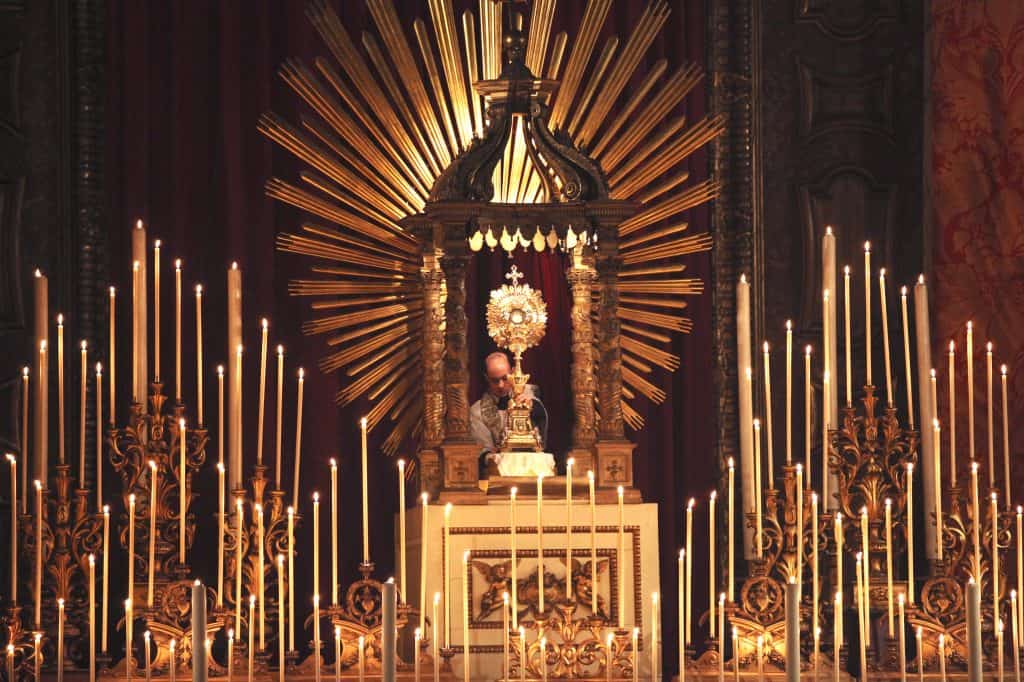 People are invited to offer prayers for the priests of the Diocese of Nashville during a 40-hour Adoration to be held March 12-14 at St. Ann Church in Nashville.
The parish is hosting the devotion to support priests as part of its centennial celebration, marking 100 years since its founding.
The 40-hour Adoration will be held in the side chapel of St. Ann. Because space is limited to five people at a time, organizers are asking people to sign up to spend an hour in adoration before the Blessed Sacrament.
"This is a safe way to come and worship and pray for our priests," said Meghan Guilfoil, one of the organizers.
To sign up, people can visit www.saintannparish.com/vac.
People are invited to write a letter expressing their gratitude and support for the priests, and the letters will be collected and delivered later, Guilfoil said.
Organizers of the event, which includes St. Ann's young adult group and the Nashville Chapter of Regnum Christi, which meets at St. Ann monthly, are reaching out to other groups in the parish and the diocese to invite them to participate. "It became a neat way to pull people together in the parish and from across the diocese," Guilfoil said.
The Hispanic community at St. Ann has offered to build a special altar for the monstrance holding the Blessed Sacrament during the 40-hour Adoration, called a machine, and other groups in the parish have agreed to provide guardians to stay with the Eucharist during the overnight hours, Guilfoil said.
The 40-hour adoration will open on Friday, March 12, after the Stations of the Cross, which are held each Friday at 5:30 p.m. There will be a Solemn Mass of Exposition at 6:30 p.m., which concludes with the exposition of the Blessed Sacrament and a procession. The adoration will close with a Mass of Reposition at 11 a.m. Sunday, concluding with a procession, benediction and final reposition of the Blessed Sacrament, Guilfoil said.
The organizers of the 40-hour Adoration will also provide take-out meals for priests on St. Patrick's Day, Wednesday, March 17, in appreciation for their service and vocation. The priests will be able to pick up a meal of corned beef brisket, cabbage, potatoes, rye bread, and homemade pie between 6 and 7:30 p.m. in Breen Hall at St. Ann.
If priests can't come to St. Ann, organizers will deliver a meal to them, Guilfoil said.