Edward J. "Ed" Johnston put his Catholic faith into action.
"What he believed, he lived," said Phil Mattingly, a former student of Mr. Johnston's and a longtime friend. "I have a lot of things to be grateful for. Knowing Ed Johnston has to be at the top."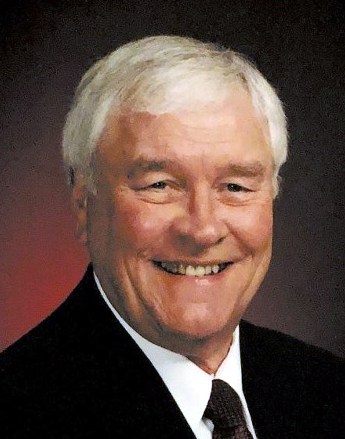 Mr. Johnston died on Feb. 22, 2021, one week shy of his 86th birthday.
A Celebration of Life will be held Saturday, March 6, 2021, at Holy Family Church in Brentwood. Visitation will take place in the church from 11 a.m. to 1 p.m., and a funeral Mass will begin at 1 p.m. Covid protocols will be in place.
For those unable to attend, the Mass can be viewed online at https://youtu.be/Pi_zA3zrI6o.
"Ed loved life and his love gave life to all he encountered," recalled his family. "His days were spent fighting injustice, welcoming the stranger, advocating for the marginalized, loving his neighbors, and giving all he could to make this world a better place."
"People suffering really bothered him," Mattingly said. "If he saw injustice, he was going to try to fix it."
"He would just be present to people in all sorts of situations," said his brother, Father Mike Johnston, a retired priest of the Diocese of Nashville and the former pastor of St. Henry Church. "He truly was a supportive person. … He was always thinking, what can we do and how can we help?"
"When he began to get dementia, when he realized what was happening, he said, 'Mike, I just can't help people anymore,'" Father Johnston remembered. "That was his whole focus."
Mr. Johnston was born on March 1, 1935, in Memphis, the second of Margaret and J.C. Johnston's four sons. His family moved to Nashville during his sophomore year of high school, and he attended Father Ryan High School for one year. Mr. Johnston returned to Memphis and graduated from Christian Brothers High School. His classmates at Father Ryan always considered Mr. Johnston to be a member of their Class of 1953, Father Johnston said.
After high school, he enrolled in St. Ambrose College in Davenport, Iowa, as a seminarian for the Diocese of Nashville. He later studied with the Sulpicians at St. Mary's Seminary in Baltimore before his ordination as a priest.
He returned to Nashville as a young priest to serve as a chaplain and teacher at Father Ryan, where he had a lasting impact on his many students.
"The students could identify with him and there was something about him that was different," said Mattingly, who was a student in Mr. Johnston's freshman religion class and later traveled with him to Haiti as part of student mission trips. "I think he knew intuitively the impact he was having" on the students, Mattingly added.
"I had 10 unbelievable years there," Mr. Johnston told the Tennessee Register in 2006. "The academics were strong. I thought the spiritual life was very strong. There was a great emphasis on social action."
As a teacher, Mr. Johnston encouraged his students at Father Ryan to live their faith. "Our Catholic faith, it ought to spill over into the community," he said. In the late 1960s, he helped Father Ryan students establish a relationship with a parish in Haiti, raising money for it and visiting the impoverished nation to help build a school there.
During his priesthood, Mr. Johnston also found deep joy working with the Daughters of Charity as a chaplain at St. Thomas Hospital, his family said.
Mr. Johnston left the ordained priesthood after 10 years. "He was one of the finest priests I knew," Father Johnston said of his brother. "Even though he left official ministry, his sense of service and commitment and dedication was still priestly."
Mr. Johnston fell in love and found a new vocation as husband and father. He and his wife Sarah were married 47 years.
Mr. Johnston worked for the State of Tennessee in a variety of roles, retiring as a Patient Advocate, "where he loved getting to know, and finding solutions for, families," his family said.
"Ed was the epitome of goodness and had a gift for bringing it out in others," his family said. "In his company, you felt welcomed, valued, and loved. In any interaction, you knew you could trust his character, his sincerity, and that he had the best of intentions. Helping others was his biggest desire, and he did so selflessly and tirelessly."
"I don't need anybody to tell me Ed Johnson is a saint," Mattingly said. "That I'm absolutely sure of."
Mr. Johnston was preceded in death by his parents and his brother, Christian Brother John Johnston, who served two terms as the superior general of the worldwide order.
Survivors include his wife, Sarah; his children, Amy (Greg) Eubanks and David (Carla) Johnston; grandchildren Emma, Hunter, and McKinley; brothers Joseph (Rowena) Johnston and Father Michael Johnston.
Honorary pallbearers are his former students, the Father Ryan class of 1953, his Cursillo groups, fellow seminarians and priests, and all the dear friends who surrounded him throughout his life.
Memorial contributions can be made Father Ryan High School Tuition Assistance, the Tennessee Justice Center, or the charity of one's choice.
Marshall Donnelly Combs Funeral Home is in charge of arrangements.