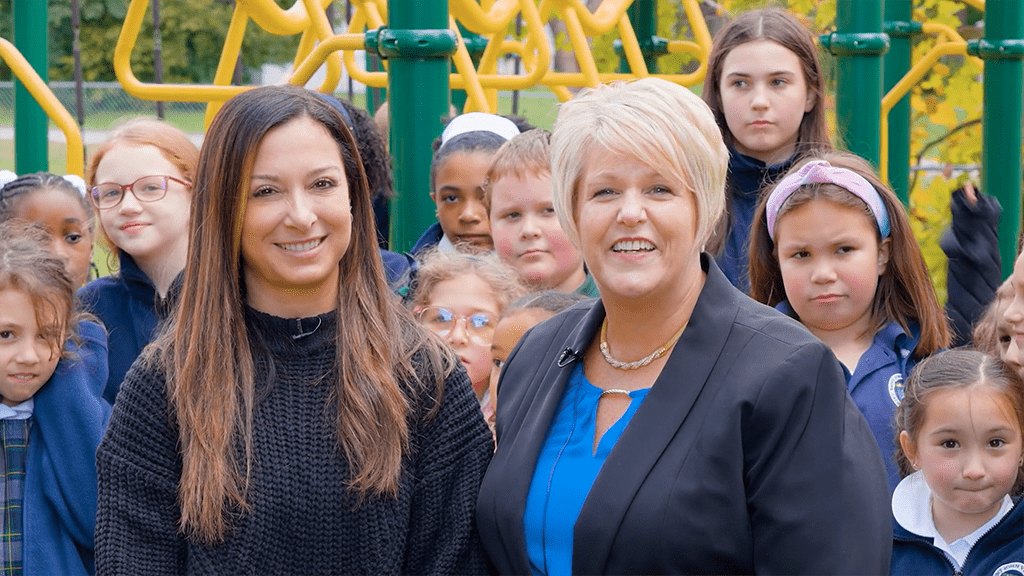 View virtual event at dioceseofnashville.com/ACE
The virtual Advancement of Catholic Education Awards Event on Tuesday, Nov. 30, exceeded its goal of raising $200,000.
The event has raised just over $204,000, said Ashley Linville, director of development for the Diocese of Nashville. And the diocese is still accepting donations to the ACE endowment online at dioceseofnashville.com/ACE. 
"It's just an amazing outpouring," Linville said. "It shows how important it is to the people of the diocese to support Catholic education and to support our students in need.
"Every day I am blown away by the support of the people of our diocese. So many people want to help," Linville said. "A lot of times it's easy to focus on things that are negative, but I keep hearing from donors who are excited about the ministries that are happening in our diocese, and they want to help."
Earnings from the ACE endowment are used to support the diocese's 16 Catholic schools, primarily through tuition assistance.
"Since 1992, ACE has provided tuition assistance to more than 300 local families, which has helped to make Catholic education a possibility for them," Betty Lou Burnett, the chair of the ACE board of directors, said in a recorded talk shown as part of the virtual event. "Catholic schools in Middle Tennessee are a true blessing to our community. They provide high quality education that emphasizes faith and moral values. Many of our graduates have gone on to become leaders in our community in areas of church, business, education, the medical field, engineering, and the list goes on."
Half of the money raised during the ACE Awards Event will be added to the endowment and the other half will be used for tuition assistance in the coming year, Linville explained, helping to meet the future and immediate needs.
The virtual event, which people can still watch online at dioceseofnashville.com/ACE, featured recorded talks by Bishop J. Mark Spalding, Superintendent of Schools Dr. Rebecca Hammel, Burnett and a past and present student. It also featured presentations of several awards to schools by Hammel.
"The ACE Awards Event is one of the largest annual fundraisers for the Advancement of Catholic Education and the Diocese of Nashville," Burnett said. "Our mission for this endowment is to enable all families who desire a Catholic education to be able to do so. Our kids and our community need our support. Thank you for those who have generously supported this year and in years past, and we pray for those who are considering our Catholic schools now." 
"We have so much to celebrate and be proud of in our Catholic schools in the Diocese of Nashville," Bishop Spalding said.
"We have incredible Catholic schools here in Middle Tennessee," Hammel said. "While many dioceses across the country face declining enrollment and even closing Catholic schools, we here in Nashville are experiencing something totally different. We sustained growth last school year, and this year we grew by an additional 9 percent. …
"We've got something special happening here in Nashville and we're attracting more students to be part of it," she added. "This is something for us to celebrate this evening."
Hammel noted that two schools in the diocese, Holy Rosary Academy in Nashville and St. Matthew School in Franklin, have been named National Blue Ribbon Schools of Excellence in recent years. 
"In addition, we are very focused on STEM or STREAM activities this year," Hammel said. "Several of our schools used this summer to refocus their efforts. And many of them had special building projects that transformed libraries into STEM labs or Maker Spaces where students are doing more with engineering concepts, mathematical concepts and technology concepts."
Among the awards Hammel presented during the event was the ACE Innovation in STREAM Award to St. Matthew School Principal Tim Forbes and St. Matthew Church Pastor Father Mark Sappenfield. STREAM stands for "Science, Technology, Religion, Engineering, the Arts and Mathematics."
St. Matthew was recently named an Apple Distinguished School for its use of technology in the classroom.
"Mr. Forbes has led the effort over the last several years to integrate science, technology, religion, engineering, the arts and mathematics," Hammel said. "And we're just so proud of all that this school has accomplished under his tenure."
"The dedication that our faculty has had, that our founders have had towards providing a great education for all our students has been laid since the outset of the school," Forbes said. "I think over the last couple of years we have emphasized not only how we integrate technology but how we innovate with technology and what that means for our students, whether it's a refurbished STEM lab or making sure that our faculty not only have the tools but the knowledge of how to use our technology. …
"I also am grateful for our faculty's leap in faith as we continue to move forward in the arts and in religion and what that means for our students," Forbes said.
Father Sappenfield praised the dedication and work of Forbes and the school's faculty and staff. "He's such a wonderful principal and has a great staff. And it's because of their hard work that that award is in his hands today."
Hammel also presented the ACE Award for Enrollment to Natalie Eskert, principal of St. John Vianney School in Gallatin, recognizing the school for achieving the largest percentage increase in enrollment.
Eskert is in her second year as principal at St. John Vianney. When she started, the school had an enrollment of 73 students, Hammel said. When school started this year, that number had increased to 98, and by the end of October it had reached 107, a 47 percent growth in enrollment.
"It's just such an honor to be part of the Diocese of Nashville," Eskert said in receiving the award. "Thank you so much for recognizing us and all the great things we're doing here in Gallatin."
Hammel presented the ACE Exemplary Leadership Award to Susan Blankenship, principal of St. Edward School, and Father Andrew Bulso, pastor of St. Edward Church.
"They've been partners now for two years and we've seen some really incredible things happening at St. Edward," Hammel said. "For instance, they instituted a new scholarship program, the Father Breen Scholarship Program," which is named in honor of Father Joseph P. Breen, a former pastor of St. Edward.
"Father Breen was a very loved pastor here at St. Edward for many, many years, and we wanted to honor him," Blankenship said. "He was a believer in Catholic education and that all students should be able to afford a Catholic education. He was our first donor to this scholarship and continues to be a donor and has rallied many people to also give to that fund. We're very excited to have that money to help support our students."
Hammel praised the efforts of Blankenship and Father Bulso. "They have been completely focused on improving the programs and culture at St. Edward School, focusing on accessibility and affordability of this fine, wonderful school," she said. "We are so grateful for all that they do together as a dynamic duo, and we look forward to all of the great things to come here at St. Edward School."
Among the highest honors presented by the diocese's Catholic Schools Office each year is the Christ the Teacher Award presented to an outstanding teacher. During the ACE Awards Event, Hammel presented the Christ the Teacher Award to Judy Graham of St. Ann School.
"Mrs. Graham is one of those really special teachers," Hammel said. "Not only has she been a teacher here, she's been the school librarian, she's been the assistant principal, interim principal, and is now returning as a teacher for students in fifth through eighth grade in literature."
In accepting the award, Graham spoke of St. Ann's Senior Friends program, which was started several years ago by St. Ann faculty member Sandy Bennett and is now overseen by Graham. The program partners the school's eighth grade students with elderly parishioners, spending time with them and helping with chores around the homes and yards.
"They get very attached, very attached to one another," Graham said of the program's participants.
"One of my favorite things about this program is all the Catholic social teachings that come with it," Hammel said. "Mrs. Graham we thank you so much for instilling that in our students and teaching them not only through the curriculum and instruction in this program but through your example."
The ACE Awards Event included recorded talks from Will McMillan, who was one of the original students in the Hand in Hand Options Program at Pope John Paul II Preparatory School. The program, which provides a Catholic education to students with intellectual and developmental delays, has expanded over the years and is now also in place at St. Ann, St. Matthew and St. Henry School.
After graduating from Pope Prep's Hand in Hand Options program, McMillan went on to the Next Steps Program at Vanderbilt University, is employed and lives on his own. "I just want to thank you for this opportunity," he said.
McMillan encouraged people to donate to the ACE endowment. "We want people to have the right to be part of any school," he said.
The program also included a talk by Father Ryan High School senior Luca Daniels, who talked about the importance of being able to learn about and talk about the Catholic faith in all his classes, not just theology. "Everything kind of connects, and I like that," he said.
After graduating from Father Ryan next spring, Daniels said, "I hope to bring the aspects of my faith that I learned here and all the discipline that I've learned here … to college."
He encouraged people to support the ACE endowment to make a Catholic education accessible to more people. "Think about the kids that you're helping out with Catholic education, because it means a lot more than people think."
At the end of the event, Bishop Spalding also talked about the ongoing Legacy of Faith, Hope and Love campaign, which hopes to raise $50 million to create or enhance endowments to support various ministries in the diocese, including Catholic schools.
"We have a big goal because we have big dreams," Bishop Spalding said. "The ministry that will benefit the most from this campaign is our Catholic schools. Forty percent of the campaign will go into Catholic education, helping to meet the needs of all the families who desire a Catholic education for their children."
To view the 24-minute ACE Awards Event or to make a donation, visit dioceseofnashville.com/ACE. To learn more about the Legacy of Faith, Hope and Love Campaign, visit dioceseofnashville.com/legacy.