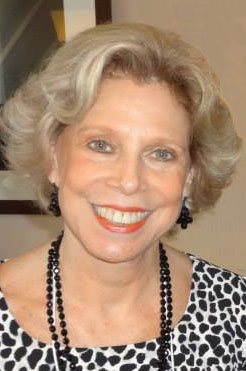 Theresa Patterson, who has spent the last 44 years providing care and aid to the people of Haiti and Latin America, and the Board of Directors of the Parish Twinning Program of the Americas, has announced she will retire as the organization's executive director.
"It has been a most humbling and rewarding gift to have spent so many years in nurturing and growing the work of the Program," said Patterson, a parishioner at St. Henry Church in Nashville. "Haiti will always be my passion and in my heart. I remain totally confident in the future and direction of PTPA with a very dedicated and committed Board of Directors."
"Theresa has received international acclaim for her work as a lifelong servant of the poorest and most marginalized," said Bishop J. Mark Spalding of the Diocese of Nashville. "As a true servant of those in great need, particularly in Haiti, she has formed bonds of Christian fraternity and friendship centered around corporal works of mercy. May God bless her richly in her retirement."
"Theresa is a living example of what one person of great faith can do to make a real difference in the world," said Diane Huggins, president of the Parish Twinning Program Board of Directors. "She is the spark that has ignited the hearts of thousands of missionaries who bring hope to the poor in Haiti and Latin America. Her quiet and gentle style masks the awesome power of her spirit and great leadership. The board is committed to continuing her remarkable legacy."
"Theresa is an inspiration to all U.S. Catholic missionaries," said Donald McCrabb, executive director of U.S. Catholic Mission Association. "Theresa's greatest legacy – and greatest gift to her successor – is the vast network of missionary communities she inspired to develop deep and lasting relationships with our sisters and brothers in Haiti and other countries in Latin America. Her successor will stand on the shoulders of a giant, a blessing beyond measure."
Patterson has agreed to continue to serve until a new executive director is hired. The Parish Twinning Program board has begun the search for a new executive director and hopes to have the position filled by July 1, Huggins said.
"We recognize that as Theresa retires, we are entering a new phase for PTPA as we transition from a founder-based organization to an organization overseen by the Board of Directors with recruited executive leadership," said board member Tom Gettelfinger, chair of the PTPA Succession Planning Committee. "In addition to this organizational transformation, we recognize the current state-of-affairs, particularly in Haiti, will present challenges to the new leader that PTPA has never faced before. The Board would like to assure interested candidates that we are committed to providing our full support and cooperation to build on the past success of PTPA, which has been the result of Theresa's labor of love and leadership."
Interested candidates can begin the application process by sending an email request to info@ptpausa.org.
The late Harry Hosey and Patterson started the Parish Twinning Program in 1978. In the decades since, the program has grown to include 293 congregations throughout the United States that are twinned with a parish in Haiti, 30 twinned with parishes in Mexico and Central America, and several in Peru and Ecuador. They provide a wide variety of support.
"We've had a tremendous impact," Patterson said.
"The main impact is in education," she said. Nearly every congregation in the program provides money to pay salaries for the teachers at the schools run by their twinned parish, Patterson said.
The churches in the program also regularly organize medical missions to provide needed health care to the people served by their twinned parish, Patterson said.
A third area of the program's impact is providing resources for the priests to provide pastoral services, Patterson said. "They have to be jacks of all trades," Patterson said of the Haitian pastors. "They have to be the ambulance. They have to be the psychologists. And of course they have to run the schools."
In Haiti, priests don't have a means of seeking support from outside their diocese, Patterson said, and the Parish Twinning Program meets that need.
Patterson is confident about the search for a new executive director. "I feel very, very positive about it because we have such a great board," she said. "Everybody on that board has been involved in Haiti and the Twining Program for a long time. They are all committed to the purpose of the program."
While Patterson is retiring from her role with the Parish Twinning Program, she will continue to serve as executive director of the Visitation Hospital Foundation, which operates Visitation Clinic in Petite Riviere de Nippes, Haiti, providing much needed medical care to a rural area of the country.