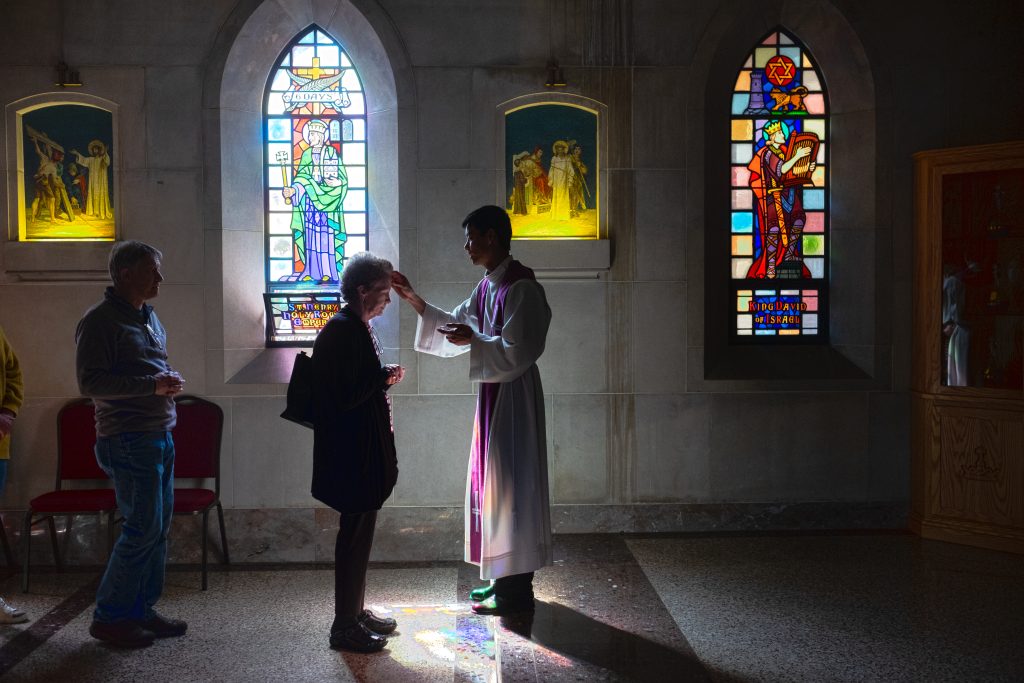 Repent and believe in the Gospel.
Remember you are dust, and to dust you shall return.
On Wednesday, March 2, Catholics all around the world heard these words as they received ashes on their foreheads, marking the start of the Lenten penitential season to prepare for the celebration of the passion, death and Resurrection of Christ.
The return of the observance of Ash Wednesday was made even more prominent following two years of COVID restrictions.
At the 12:10 p.m. Mass at the Cathedral of the Incarnation, the pews were filled with more than 700 people, who walked out with the ashes on their forehead as a visible symbol of penance. It was a similar scene at Christ the King Church, St. Mary of the Seven Sorrows Church, and St. Patrick Church in Nashville where large crowds received ashes.
"It's wonderful to see people coming back and we want to be a source of welcome and hospitality for all those who are returning to or visiting the Cathedral," said Father Eric Fowlkes, pastor of the Cathedral of the Incarnation.
"There is a very profound hunger in the human heart for everything that we celebrate at Ash Wednesday and just knowing that it's about going home," he said. "And this year, especially after being absent and the restrictions that we've all gone through, to feel that family coming back together again, to be able to receive ashes according to our tradition on the forehead, I think was a significant blessing to people this year."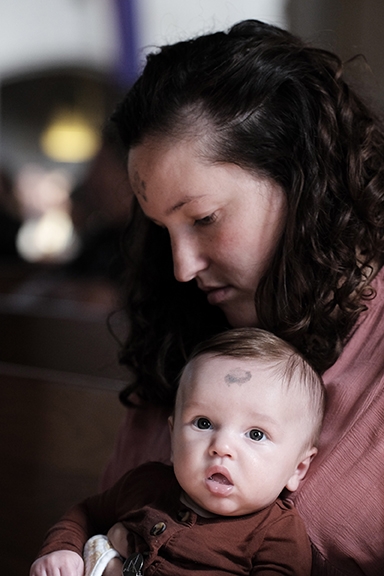 Every year, Ash Wednesday launches an important liturgical season.
"Ash Wednesday is a beautiful opportunity to enter into the beginning of the Lenten season, to have an act of humility, to pray, to fast, and to recognize humbly that we are sinners, but that our sins don't have the last word because of the triumph of the cross," said Father John Hammond, pastor of St. Patrick Church in South Nashville and Judicial Vicar and Vicar General for the Diocese of Nashville.
This year, as Russian troops are invading Ukraine, Pope Francis called for Ash Wednesday to be "a day of fasting for peace" for all, in parallel to its being a day of penance.
"I encourage believers in a special way to devote themselves intensely to prayer and fasting on that day," Pope Francis said. "May the Queen of Peace protect the world from the folly of war."
Its origins
While the season of Lent has been a regular practice in the Church since the first century, Ash Wednesday did not begin until centuries later.
"Ash Wednesday is only about 1,000 years old, so it's much newer than the season of Lent," Father Hammond said. "In the earlier centuries of the Church, Lent would often have just begun on that first Sunday of Lent, but about 1,000 years ago, there developed this practice of having this penitential day to start the Lenten season.
"While at first the ashes were just for a few people who needed to do public penance for something more serious," Father Hammond said, "it quickly became universal because it's such a powerful symbol."
The use of ashes as a symbol of penance dates back to the time of the Old Testament, Father Hammond added.
"In the Book of Job, Job sprinkles ashes on himself as an act of penance and self-effacement," he explained. "In the Psalms, King David talks about mixing ashes with his bread, so we see ashes used in the Old Testament as a symbol of penitence and humility."
Its popularity
Throughout the Church year, Catholics observe 10 special feasts deemed Holy Days of Obligation by the Canon Law of the Church. On those days, Catholics are required to attend Mass. Ironically, Ash Wednesday is not one of those days even though it is considered "one of the most popular and important holy days in the liturgical calendar," according to Catholic.org.
"People really resonate with Ash Wednesday. They like the sign, they like the outward visible symbol, they like the realism that comes with Ash Wednesday," Father Hammond said. "It's a very realistic feast day because we're saying, 'I acknowledge that I'm weak. I acknowledge that I'm a sinner.'
"It's a day to let your guard down and abandon your defenses," he continued. "It's very appropriate to begin this penitential season with a specific penitential day that has this outward visible sign associated with it."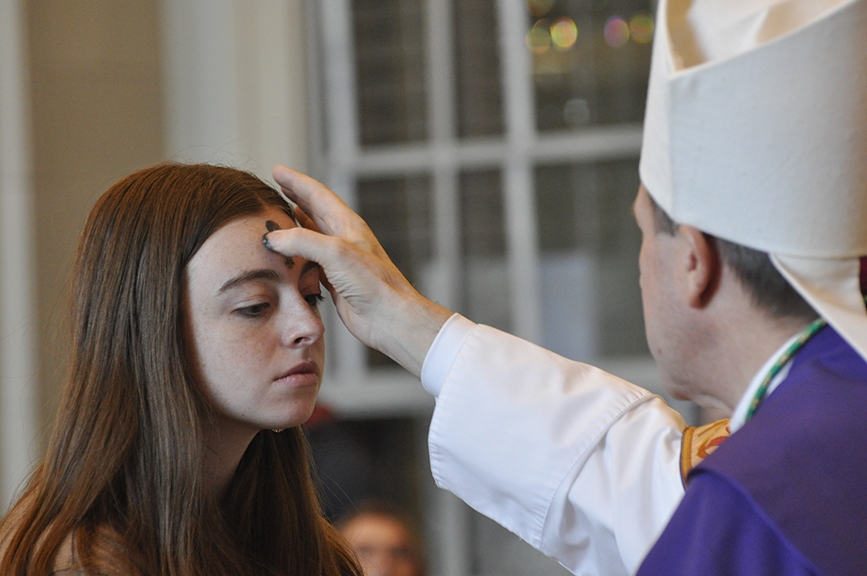 It's an acknowledgement that has spread beyond the Catholic Church, as many other Christian denominations have begun to incorporate it in their churches, too.
"I've experienced Ash Wednesday in other Christian denominations, and I think a lot of them have inherited it from us. … And I think that is just a sign of how powerful this particular observance is," Father Hammond said. No matter what the religion, "we are united by the fact that all men and women, except for Our Lord and Our Lady, are sinners."
This idea is something that has been implemented at Belmont University in Nashville since 2009, thanks to the late Bishop David Choby, and has continued with Bishop J. Mark Spalding.
"As an historically Baptist institution, we had never had an Ash Wednesday Service," said Dr. Todd Lake, vice president for Spiritual Development at Belmont. "We held our first such university-wide service with Bishop Choby. After his untimely passing, Bishop Spalding was kind enough to make this annual service a priority on his calendar.
"It is co-led by members of our thriving Belmont Catholic Community, which is one of 22 Christian Faith Development Organizations on Campus," Lake said.
"While many students, faculty, and staff are familiar with Ash Wednesday services and Lent, we have many who attend the service who come from denominations that do not have a tradition of Lenten observance," he continued. "This is one of the many ways that our Catholic community strengthens Belmont as a Christ-centered institution. And given the nature of the service, it is one of the few where our clergy on campus can co-officiate with the bishop, which makes it a valuable expression of Christian unity."
Its symbolism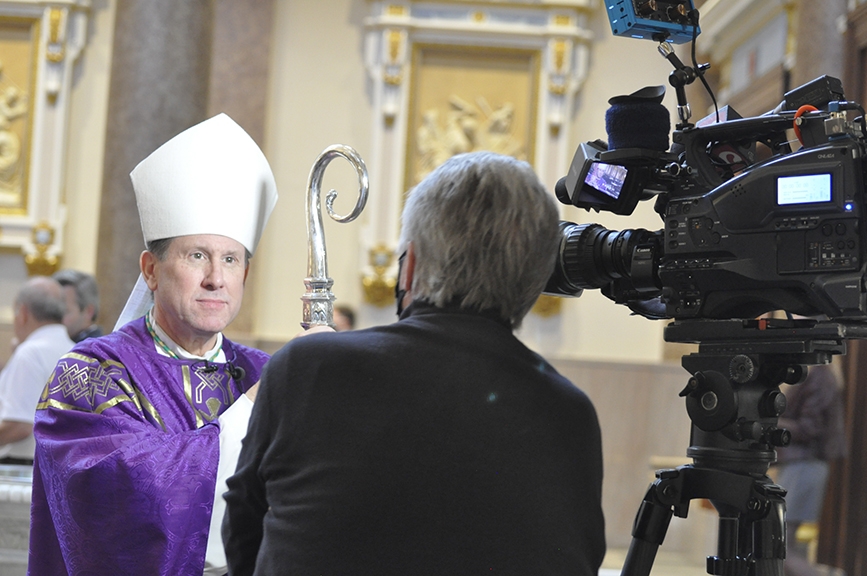 With the receiving of ashes, comes a plethora of symbolism. First, in how the ashes are made.
"There is a very common and praiseworthy custom of producing the ashes from last year's palms (distributed on Palm Sunday) … and I think it's a way of connecting everything together," Father Hammond said. "You connect the Lord's entrance into Jerusalem, you connect the events of the passion and death of the Lord. You connect those things to our own act of penitence."
Then, it's in the ashes themselves. Though not a sacrament, they are sacramental, Father Hammond said.
"Sacramentals are sacred signs by which effects, especially spiritual effects, are signified in some imitation of the sacraments and are obtained through the intercession of the Church," according to Canon 1166 in the Code of Canon Law.
"It's very important how the Church uses things such as ashes … for spiritual benefits," Father Hammond said.
Finally, although like Ash Wednesday itself, the tradition of tracing the sign of the cross on the forehead is a newer custom than the simple sprinkling of ashes on the top of the head, it also provides a symbol.
With the visible sign of the cross on the forehead, "I think people like the opportunity to say 'I am a Christian, and I am a sinner' because the ashes say both of those things," Father Hammond said. "It's also beautiful that we make the sign of the cross with the ashes.
"We're not just smearing dirt on our foreheads," he continued. "We're saying this can all be made right. My humility, my sinfulness is all made right through the cross."
Gallery photos by Rick Musacchio and Katie Peterson