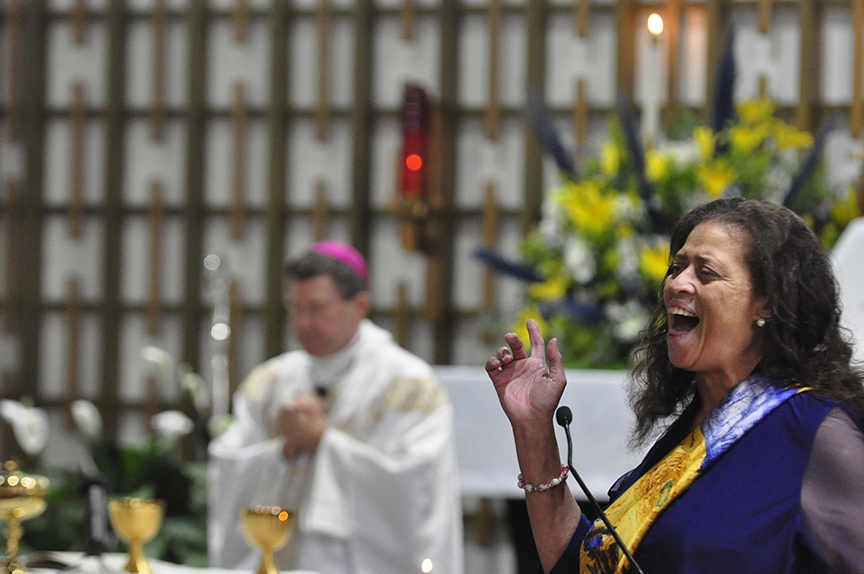 St. Vincent de Paul Church in Nashville is a special gift from God to the people of God, said Father Francis Appreh, the church's pastor.
Founded by St. Katharine Drexel in 1932 to serve the African-American community in North Nashville, the parish has followed her admonition of always inclusive, never exclusive for nearly a century.
"God had a word and a plan when St. Katharine Drexel persisted in establishing a school and a church here for this community," Father Appreh said in his remarks at the end of Mass on Sunday, Sept. 25, to celebrate the 90th anniversary of the parish's founding. "And she listened to him and never lost faith no matter the obstacles that she faced.
"God had a word and a plan for all of us too; those who received his sacraments here; those who were educated here; those who ministered to his people here … and those who continue to worship him here, in this church," Father Appreh added. "His plan for us continues as we go forth with unending joy, everlasting love, and eternal trust in him."
The Mass was celebrated by Bishop J. Mark Spalding and was followed by a luncheon, culminating the celebration of the parish's anniversary.
The Mass and celebration drew generations of parishioners, friends of St. Vincent, and former pastors Father Arthur Anderson, OFM, the first African-American pastor of the parish, and Father John Eaton, OFM.
"God has truly blessed this great community of St. Vincent de Paul," Bishop Spalding said. "You don't make it to 90 without a lot of help, especially from God."
St. Katharine was an heiress to a large fortune who established a religious order of women, the Sisters of the Blessed Sacrament, whose mission was to serve African-American and indigenous communities across the country. At a time when most public schools were segregated by race, St. Katharine saw a need to provide better educational opportunities for communities of color.
She used her fortune to establish parishes and schools, including Immaculate Mother Academy and Holy Family Church on what is now Drexel Street near downtown Nashville.
In 1932, she established St. Vincent Church and School, using her own money to buy the property on Heiman Street where St. Vincent is still located.
Determined to be always inclusive, never exclusive, St. Katharine and the Sisters of the Blessed Sacrament accepted both Catholics and non-Catholics at their schools, including St. Vincent, and in the process ended up bringing many into the Church.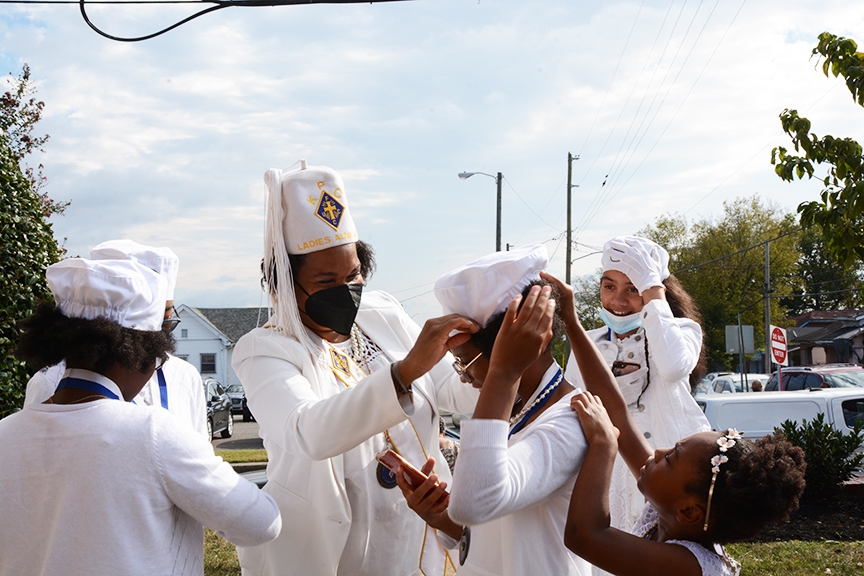 And the excellent education they provided helped set up their students for success throughout their lives.
Cheryl Mitchell Guess was baptized at St. Vincent in 1950 and attended St. Vincent School, which closed in 2009, from kindergarten through eighth grade, as did her husband Deacon Harry Guess. She graduated from Cathedral High School and Vanderbilt University before becoming a teacher.
"I became a teacher because of the teachers I had here," Guess said of the Sisters of the Blessed Sacrament.
She and her husband lived in San Diego after he retired from the U.S. Navy in 1998, and he was ordained a deacon there. They returned home to Nashville and St. Vincent in 2016.
"We quietly do what we do," Guess said of the St. Vincent congregation, reaching out to the community to share the Gospel in word and deed. In doing so, she said, they are following the example of St. Katharine and St. Vincent de Paul, who, Guess noted, were both unassuming.
At the end of the Mass marking the 90th anniversary, State Rep. Vincent Dixie and Metro Council Member Jennifer Gamble, both parishioners at St. Vincent, presented to the congregation a proclamation from the state and Metro governments extolling the history of the parish and contributions of many of the people who have been associated with St. Vincent through its history.
Among them are:
Earl Ledet, a St. Vincent alumnus who was among the first African-American undergraduate students admitted to Vanderbilt University in 1964.
Janie Greenwood Harris, a St. Vincent parishioner and the first African-American woman to graduate from Vanderbilt Law School.
Father Edward Dean, a St. Vincent alumnus who was the first African-American priest ordained for the Diocese of Nashville.
?? Sister Sandra Smithson of the School Sisters of St. Francis, who was among the first students at St. Vincent and later established Project Reflect and the Smithson Craighead Charter School.
Deacon John Mallette, the first African-American to be ordained as a deacon for the Diocese of Nashville.
Bishop Ferd Cheri, an auxiliary bishop for the Archdiocese of New Orleans, and a former pastor of St. Vincent, who with Sister Joanne Cozzi, DC, the principal of St. Vincent School, raised almost $4 million for the construction of a new school building.
Mary Louise Orr, now known as Sister Mary Joseph of the Infant Jesus, OP, a former parishioner at St. Vincent who has been a member of the community at the Dominican Monastery of St. Jude in Marbury, Alabama, for 75 years.
Lucille Brandon, who served as principal of St. Vincent School and was the first lay person to serve as principal of a diocesan school.
Dr. Jack Tarleton, who led a group of parishioners from St. Vincent that successfully advocated for the diocese to move more quickly to desegregate its institutions.
The celebration of St. Vincent's 90th anniversary and its history has helped the congregation "recognize what we have," said Pauline Wilson, the chair of the anniversary celebration. "It has caused everyone to be reflective."
The parish is rebounding from the COVID pandemic, said Wilson, who also chairs the parish finance council. St. Vincent's outreach program, established by Sister Arlene Welding, SSSF, in 1983 is still going strong, she said. "We have not stopped serving the community. … The parish loves to pull together."
Taking care of the poor is one of the essential activities of the Church, Bishop Spalding said in his homily. "We have to open our eyes and open our hearts to others. We should see with the eyes of Christ. We should love with the heart of Christ. We should use our hands and all the abilities we have to serve like Christ."
Bishop Spalding praised St. Vincent's legacy.
"This place is filled with all those who've gone before us," he said. "We believe in the communion of saints. We believe in the saints that we sing about in the litany, but we also understand there are far more in heaven than those.
"Our ancestors in the faith have gathered with us this morning, those who have gone before us and prayed around this table of the Lord … and wanted to pass on the faith to you," Bishop Spalding said. "They're all here with us, and they cry out, 'Remember to speak the good news of Jesus Christ to others. Remember, come and praise and give worship to God. And always remember the poor, the weak and the wounded and our calling to serve.' …
"God has blessed us, God is with us, and God will lead us in his way, this day and always."