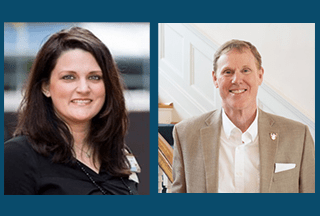 Aquinas College recently held an induction ceremony for two alumni who have been chosen for the Tennessee Independent Colleges and Universities Association (TICUA) Hall of Fame.
The late Rebekah Lemley, a 2005 graduate of Aquinas College, was named a 2020 Honoree in the TICUA Hall of Fame in October 2020. Due to Covid-19, a formal induction ceremony was postponed.
Steve Bachus, a 1980 graduate of Aquinas, was named a 2021 Honoree in the TICUA Hall of Fame. In October, both Lemley and Bachus were honored at an induction ceremony at Aquinas College. Dr. Claude Presnell, Jr., president of TICUA, joined Sister Cecilia Anne Wanner, O.P., president of Aquinas College, in the induction ceremony.
The TICUA Hall of Fame was instituted to honor the distinguished alumni of its 34 member institutions while highlighting their contributions to the state, nation and world.
"We launched the TICUA Hall of Fame last year to honor the accomplishments and impact of graduates and the institutions who helped to prepare them," said Pressnell. "We are proud to once again recognize an astounding group of alumni who have made significant contributions to their institutions, communities, and society. Their stories are worthy of recognition and accolade and, on behalf of our member institutions, we are proud to offer this small token of our appreciation for their achievements."
Rebekah Lemley, who died in 2019, was a graduate of the Aquinas College Associate of Science in Nursing program and worked as a registered nurse at Vanderbilt University Medical Center and as the Burn Program Manager. Her sisters Marissa, a 2001 Aquinas graduate, and Abigail, as well as her parents, were present to accept this honor on Rebekah's behalf.
"Rebekah wasn't exactly a blank slate when she arrived, but her disposition, formed so beautifully by her family, set the foundation that allowed her to flourish, exploring and developing explanations for the deeper matters of life," Sister Matthew Marie Cummings, O.P., an Aquinas professor, said in her tribute to Lemley. "The graces received from her Aquinas community of friends, faculty and staff enriched her spiritually and academically. …
"Rebekah served as an exemplary ambassador of the mission of Aquinas College through preaching the Gospel and serving others in truth and charity," Sister Matthew Marie added. "Rebekah's success in engaging culture with this mission, and encouraging others to do the same, designates her as a distinguished alumnae of Aquinas College. May we continue in this tradition, to be witnesses to the hope and love which marked Rebekah's life."  
Bacchus attended Aquinas College, then known as Aquinas Junior College, on a basketball scholarship. He played two seasons for the Cavaliers and graduated with honors in 1980. He studied accounting at Aquinas and completed his baccalaureate degree in accounting at Middle Tennessee State University two years later.
Deacon Mark Faulkner, a member of the Aquinas College Board of Directors, offered congratulations to Bacchus as part of the induction ceremony: "Your loyal service to the college, through years of history with it, has been an immeasurably valuable resource and asset to everyone who loves the college and holds it dear," Deacon Faulkner said. "Mother Anna Grace and the whole Congregation benefits from … the wise counsel that you provide for all of the fiscal activities of the college. Your expertise truly is appreciated. Your commitment is admired and valued. I join everyone in saying congratulations."
Bacchus was the first lay alumnus to serve on Aquinas College's Board of Directors. To read more about him, visit https://ticua.org/page/halloffame_2021.