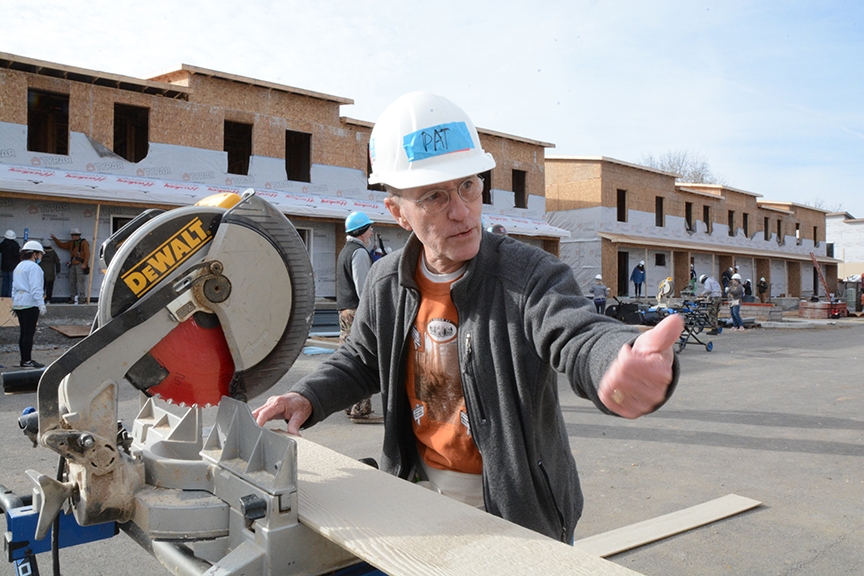 Volunteers from six Catholic churches in the Diocese of Nashville combined to help make home ownership a reality for clients of Habitat for Humanity of Greater Nashville.
The parishioners from the Cathedral of the Incarnation, Christ the King, Holy Rosary, St. Henry, St. Matthew and St. Stephen worked Nov. 19-21 at Habitat's Sherwood Commons developing, helping to build 26 townhouse units.
The six Catholic churches proved the financial sponsorship for a home and all of the volunteers for the weekend at the townhouse development, said Kevin Roberts, director of faith relations for Habitat for Humanity of Greater Nashville.
"They do it as an extension of what they believe," Roberts said of the churches' involvement with Habitat for Humanity. "It's an extension of their faith."
Habitat for Humanity builds new, quality, affordable homes for people. The homeowners receive an interest-free mortgage from Habitat to purchase their home. As they repay the loan, that money is reinvested in other homes, Roberts explained.
Churches, businesses, organizations and others can sponsor a home by donating money to help cover the cost of building and by providing volunteers to help with construction, he said.
Habitat homeowners must meet income qualifications, attend education classes and provide 100 hours of sweat equity helping to build their home and homes for others, Roberts said.
"They're not being given a home," Roberts said. "They're earning a home."
For Pat Watson, a parishioner at Christ the King Church, it was his fourth time to volunteer on a Habitat build. He volunteered with a build in February that was complicated by sloppy, muddy conditions. "When I left, I was totally exhausted, but it was the best feeling I've ever had," Watson said, knowing he had helped a family acquire a home.
The homeowner was so proud of their new home, Watson noted, "and I got to be just a little piece of that."
Typically, Habitat builds detached, single-family homes. Sherwood Commons, located at Ewing Lane and Gwynnwood Drive in Nashville, is Habitat's first townhouse community, Roberts said.
"This has opened us up to a new demographic of people," he said. Most of the homeowners in the townhouse community will be single adults and single-parent households.
The community has 26 two-bedroom and three-bedroom townhouses, Roberts said. The homes should be ready to be occupied next spring, he said.