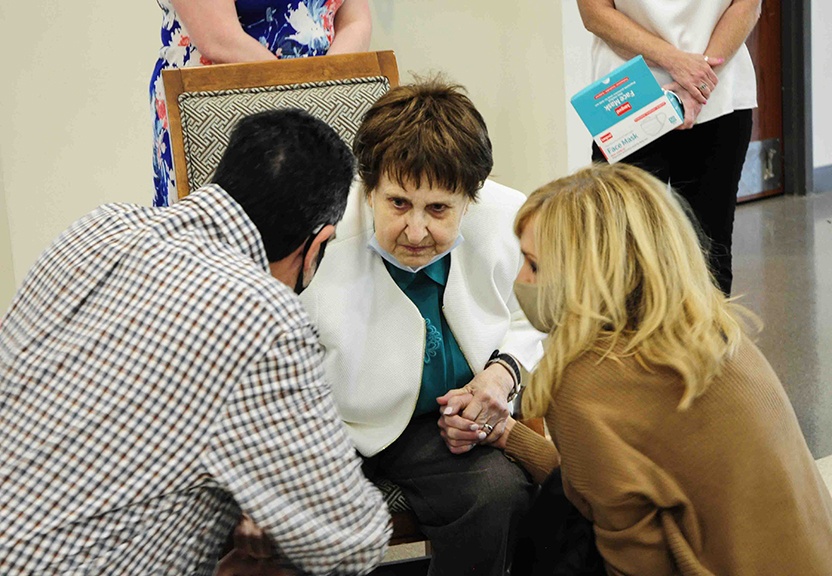 Sister Maria Edwards, RSM, a beloved pastoral associate at Our Lady of the Lake Parish in Hendersonville for more than 40 years, received a joyful sendoff into retirement on Sunday, May 2.
Parishioners and others who knew Sister Maria from her various ministries, including counseling and RCIA, lined up around Our Lady of the Lake's parish center for a chance to give her a hug and share a few words with her.
"It was wonderful the whole time," Sister Maria told those gathered for her retirement party. "This is the best parish I've ever been in," she said. "When I found it, I stopped looking," she added with a laugh, referring to her long tenure at Our Lady of the Lake, the one and only parish where she served as a pastoral associate.
Before coming to the Hendersonville parish in 1980, Sister Maria taught at several Catholic schools in Memphis and Nashville, including St. Bernard Academy and Cathedral High School, and worked in youth ministry for the Diocese of Nashville.
In fact, she wrote one of the first books ever published on the topic of youth ministry from a Roman Catholic perspective, "Total Youth Ministry," which was published in 1976 by St. Mary's Press. In addition to that book, she has published 50 articles on prayer, religion, spiritually and psychology.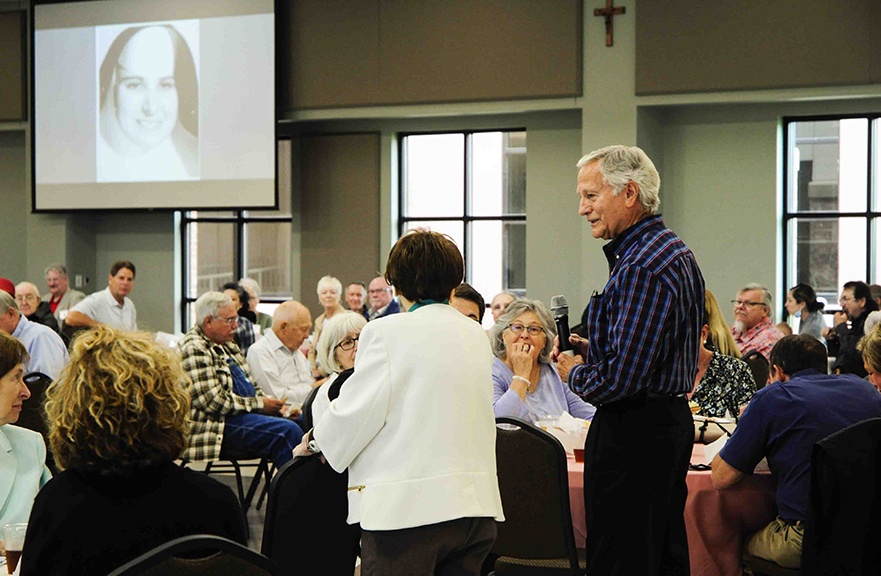 After her experience working in schools and youth ministry, Sister Maria knew she also wanted to work more closely with adults, and she wanted to work as a counselor. So she sent a letter to "every priest in the city," about offering parish-based counseling services, she recalled, and Father John Henrick, then the pastor of Our Lady of the Lake, responded and welcomed her.
And she stayed there ever since, offering counseling, spiritual direction, and running the Rite of Christian Initiation for Adults program, from 1985-2020. When she started that, "it was a whole new thing," she said. "There was no manual."
During her time building and overseeing the RCIA program, she estimates she helped welcome some 700 adults into the Catholic faith.
Sister Maria was born and raised in Memphis, and attended schools run by the Sisters of Mercy there for 12 years. "I fell in love with the Sisters," she said, and they encouraged her to join their religious community.
She entered the Sisters of Mercy in 1959, when convent life hewed more closely to a monastic model. By the time she took her final vows in 1967, after the Second Vatican Council, she was ready to minister out in the world.
"Our foundress Catherine McAuley wanted us to be people of the times," Sister Maria said, "educating, helping the poor, advising people who are hurting."
The change in the Church ushered in by Vatican II, "I was so happy about it," she said. "I think the Holy Spirit was really visibly operating at that time."
With more doors opening and more areas of ministry available, Sister Maria was able to move more freely between education, counseling and parish ministry.
She earned a master's degree in counseling and became a licensed professional counselor and psychological examiner.
At her retirement party on May 2, Sister Maria told attendees that in her counseling practice, she always tried to approach people through the eyes of Jesus. "How would Jesus react to this person? To this situation? He would always love them and never condemn them," she said.
"He would always give compassion and love," Sister Maria said. "I want to leave that legacy."