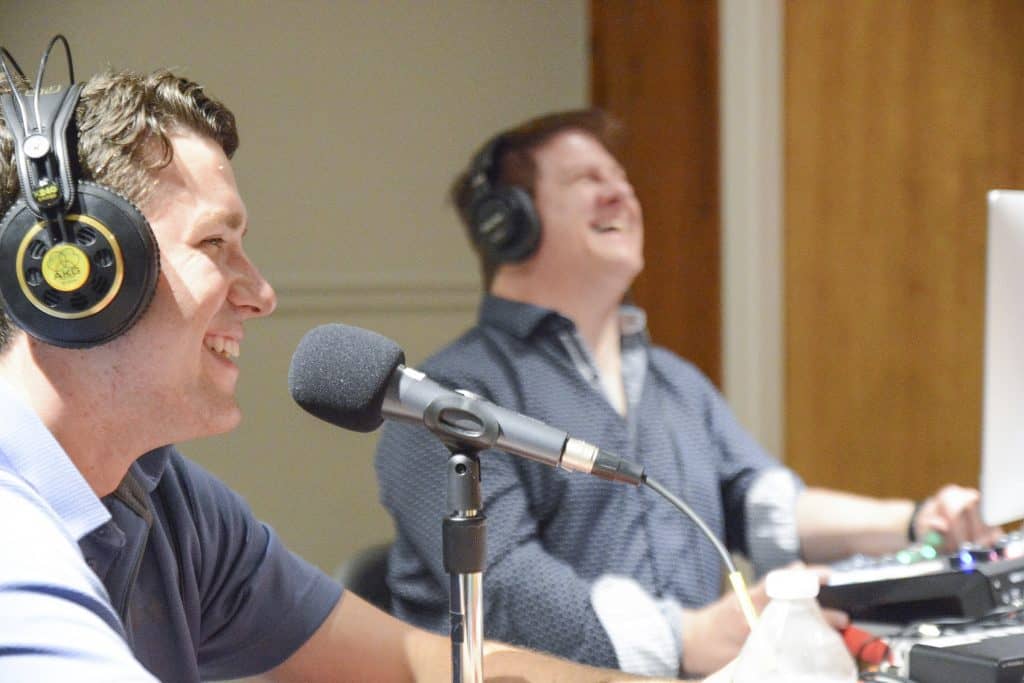 When Zach Janson, a 24-year-old aspiring musician, was asked if he would want to host a weekly show geared to young adults on WBOU 100.5-FM, Nashville's Catholic radio station, "It was the easiest yes ever," he said.
"The hardest part is being in your 20s and out of college, you almost don't know where to go," said Janson, a 2015 graduate of Pope John Paul II High School and a 2019 graduate of Belmont University with a degree in music. "It's important to find a place to belong, especially a church or a group of people you can relate to and find community with."
It was Janson's co-host on the show, Father Gervan Menezes, the chaplain at University Catholic, who suggested the name "Belonging."
"That is what young adults are looking for, to belong," Father Menezes said.
"We wanted to cover topics related to young adults in their 20s and 30s," Janson said. "Each week we interview different guests covering topics from relationships, to finance, to who we are as Catholics. Each week we dive deeper into what it means to belong."
"The question we are trying to answer is how can I be a young adult in the Church today in the Diocese of Nashville," Father Menezes said. "How much you put in, that's going to be how much you're going to get out of it."
Janson and Father Menezes, with the help of Jim Chandler of 107.5-FM the River acting as the sound engineer, started recording shows in March.
At first, they recorded the show on an online conference call, "which was very challenging," Janson said. Eventually, they started recording the shows in a studio at the Catholic Pastoral Center.
Among the guests so far have been an accountant talking about budgeting and finance, a young adult who was adopted, Catholic musician PJ Anderson, Joan Watson, the diocesan director of the Office of Faith Formation, who talked about her video series "3 Minute Theology," and Bishop J. Mark Spalding.
"One of our best ones was Bishop Spalding who was full of such insight and knowledge of the faith," Janson said. "He talked about our roles as Catholics, especially now with the virus. How we can grow in our faith."
"The guests that come in are often nervous, but we tell them it is just like having a casual conversation," Janson said. "For 30 minutes, you forget the microphones are even there."
Chandler, a long-time radio veteran, does a good job helping the guests feel at ease and tell their stories, Janson said.
"From day one, Jim would talk to the guests and say, 'Don't feel nervous. If you have a story to tell please go further into it. We love to hear what makes you who you are so other people can relate in that way.'"
Janson, who knew Father Menezes from his involvement with University Catholic when he was a student at Belmont, asked him to co-host the show.
"We knew we wanted to have a priest to provide any theological insight if we had any questions about the faith," Janson said.
The radio show is an extension of Father Menezes' work at University Catholic, which is the Catholic college ministry for students at Vanderbilt University, Belmont University and other Nashville colleges.
"Our mission at University Catholic is 'Proposing Jesus Christ and forming his disciples.' I love that mission statement. It can be for any ministry of the Catholic Church," Father Menezes said.
"I'm there to provide conversation, to learn more about the guest, and to help listeners learn more about themselves," Janson said.
"We have done 15 episodes," Janson said. "And each week we get better and better at hearing people's stories. That's the most important part, is letting someone tell their stories."
The audience reaction has been positive, Janson said. "They find the topics very relevant, that it speaks to their heart and it makes them think about themselves in ways they might not have thought of before. It pushes them to think about life."
The show airs at 11 a.m. Thursdays on WBOU 100.5 FM, online at wbou.org, or by using a smart speaker and saying "Play Nashville Catholic Radio." All the episodes of "Belonging" are also available online at wbou.org.
"With technology we are able to reach more people," Father Menezes said. "The message is the same but the means to spread the message is different. It's new."
Janson ended up on the radio after his family's business, The Nashville Nightlife Dinner Theatre, had to temporarily shut down because of the COVID-19 pandemic.
Now that the theater has reopened, Janson is back to performing nightly there. "I play guitar, piano and bass, and I sing," he said.
Besides the "Belonging" show and his music career, Janson also has been the choir co-director at St. Lawrence Church in Joelton for the past two years.
Janson is following in his parents' footsteps by pursuing a career in music. His father Kenny was the drummer for country music superstar Tammy Wynette for more than 10 years and his mother Diana is a professional singer. "Together, they run our family's dinner theater," Janson said. "We have a lot of fun working together."