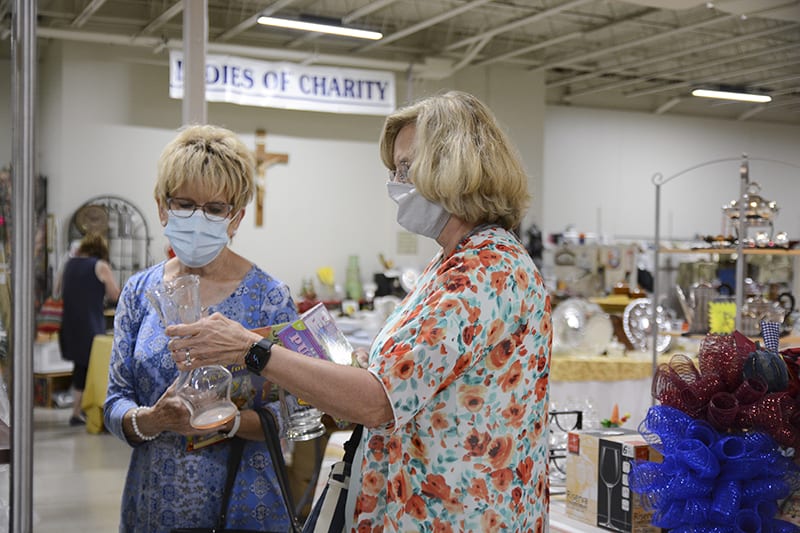 For 110 years, the Nashville association of the Ladies of Charity has been driven by the mission "to serve rather than be served."
Since their founding, the Ladies of Charity have served the poor in a variety of ways, helping meet people's basic needs of food and shelter. Their mission hasn't changed over the last 110 years, but "we're more innovative now," said Arlene Smith, president of the Ladies of Charity of Nashville and a parishioner at St. Matthew Church in Franklin.
During the coronavirus pandemic, the Ladies of Charity have been challenged to innovate like never before. The pandemic disrupted not only their planned anniversary celebration dinner, but also the spring and fall consignment sales, their biggest fundraisers and most popular events of the year. This year was perhaps the first time the semi-annual consignment sales had been cancelled since they started nearly 70 years ago, Smith said.
"People line up down the street" eager to enter the sale on opening day, said Smith, who has been a member of the Ladies of Charity for 25 years. She and her fellow volunteers have missed seeing their enthusiastic consignment shoppers this year. "We love our community," she said.
They have also missed the revenue that the consignment sales bring in, which the Ladies of Charity use to support their charitable work in the community. They've had less money to offer people who come to the Ladies of Charity's State Street office seeking assistance with rent and utility bills.
With national and local moratoriums on evictions in place due to the COVID-19 pandemic, "people aren't coming in as much for that," Smith said. That takes some pressure off for now, but she is concerned about will happen when those moratoriums expire "and everyone is going to be hit."
Food is currently the biggest need. The Ladies of Charity Emergency Assistance Department is distributing food boxes from its office and partnering with Catholic Charities of Tennessee's Loaves and Fishes program to do the same. This has been a new partnership "to help people most in need," Smith said.
If a person experiencing homelessness or otherwise in need comes by the Ladies of Charity office, they can usually count on a sack lunch and a bottle of water, no questions asked. When handing out food, "religion doesn't come into it, only need," Smith said.
The Ladies of Charity have also made recent donations to some smaller Catholic schools in the diocese outside of Nashville to help them with tuition assistance, school lunches or technology.
Additionally, the organization awards $8,000 in scholarships to four area high school students every year.
Stuff Galore
One innovative solution the Ladies of Charity had to offset the loss of the consignment sales was to expand the annual Stuff Galore sale from three days to six weeks.
The proceeds from the sale will be used by the Ladies of Charity Emergency Assistance Office, which provides help to the needy with food and other assistance.
So far, "we've had quite a bit of success" with the Stuff Galore sale, Smith said.
Organizers describe the Stuff Galore sale like an estate sale, with quality items including: dishes, home décor, furniture, lamps, rugs, holiday decorations, books, jewelry, tools, toys and more.
The sale will be held at the Ladies of Charity Thrift Store at 2216 State St. in Nashville now through Oct. 31. The sale will be open three days a week: 10 a.m. to 2 p.m. Thursdays and Fridays, and 9 a.m. to noon on Saturdays.
The Ladies of Charity will be following COVID-19 precautions by limiting the number of people in the store at once (shoppers can make advance reservations for a time slot); they will require masks, temperature checks at the door, and have hand sanitizer available.
'To serve rather than be served'
Despite all the disruptions this year, the Ladies of Charity do plan to pack and distribute around 700 Christmas food baskets this year. "We'll have to adjust, and it will take longer, but we're doing it," said Smith. "People really look forward to that."
The Ladies of Charity are looking forward to the time when they can safely all gather together for fellowship and service. "We miss seeing each other," Smith said.
With more than 400 members in the Diocese of Nashville, the local association of the Ladies of Charity helps connect Catholic women from across Middle Tennessee. "You meet so many other like-minded women," Smith said.
Members of the Ladies of Charity are also connected to the national organization, Ladies of Charity USA, part of the International Association of Charities, which traces its roots back 400 years to St. Vincent de Paul and St. Louise de Marillac. The first Ladies of Charity association in the United States was founded in St. Louis in 1857. Today, the worldwide membership of the Ladies of Charity totals more than 250,000.
"The ladies are lovely, and dedicated and so kind and charitable," Smith said. "A lot of members donated their own money" to make up for losses this year after the consignment sales were cancelled. Despite the uncertainty of the pandemic, "we're plugging ahead," Smith said, continuing to follow the mission, 'to serve rather than be served.'
For more information about the Ladies of Charity or about how to join, visit www.ladiesofcharitynashville.org or call 615-327-3430.