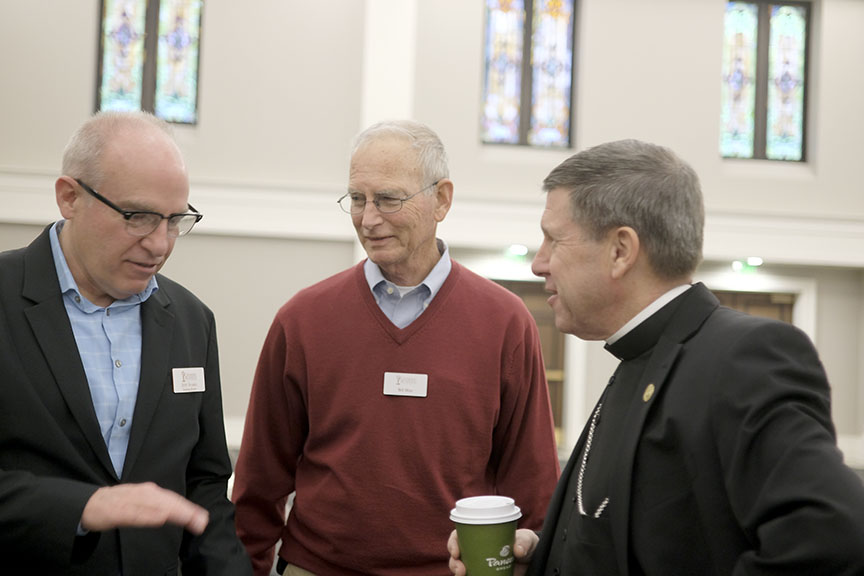 Bishop J. Mark Spalding tasked members of the Catholic Business League with spreading the good news throughout Middle Tennessee during his talk at the organization's monthly meeting Thursday, Feb. 9, in the Cathedral of the Incarnation's Fleming Center.
"Let's be clear. Each and every one of us in this room right now are disciples of good news," Bishop Spalding said. "There is a co-responsibility. … If we're going to do this, we've got to do it together.
"Not only do I wish not to lead alone, but I refuse to lead alone," the bishop continued. "If there is any gift that God has blessed me with, it's to understand this. Mark, you may not be the smartest person in the room, but I'll reveal to you the women and men who are, who have great wisdom and insight and energy and want to change things for the better."
"If you take anything away from this talk this morning, it's this," he continued. "I have a responsibility as a disciple of Jesus Christ to share the good news; the good news of Jesus himself and the good news that's in his Church."
On that point, Bishop Spalding told of some good news in the Diocese of Nashville, including the continued effort to recruit vocations, the success of Catholic Schools, the work of Catholic Charities, and the continued growth of the parishes. Then, he advised the group on how they could contribute to these successes.
"You're always working leadership," Bishop Spalding said. "How do we support that goal of leaders in our churches, parishes, in this diocese? First and foremost, what is key, because of our understanding of Church, is that we have to have vocations to the priesthood, to the diaconate, to the religious life. Overall, we must have vocations of leadership within each of our parishes.
"When you pick up your bulletin or you hear your priest say, 'We need help for,' now fill in the blank… know he's talking to you," the bishop continued. "Say 'Yes.' Yes, it's awkward the first time you get up there to read or be Eucharistic minister, but just say, 'Yes,' and ask God to give you the strength to be that person that supports the pastor because we need you, too.
"That's the kind of leadership I challenge you to as the Catholic Business League," he said. "That's what it means to step up, and there is no person in this room that shouldn't be stepping up."
They also can show leadership by inviting others to share in the faith, the bishop said.
"The way we go after them is constantly telling the good news of our parishes, of our diocese," he said. "We are all preachers of the good news."
The best news of all – Jesus Christ is Holy Communion, the bishop said.
"If you walk up that aisle and receive him, you're receiving the man of communion, body and blood, soul and divinity," Bishop Spalding said. "Are you working it? Are you a woman or man of communion because that's what it means to go up and receive.
"We are men and women of communion and of the good news of Jesus Christ."
Margaret Smith, president of the Catholic Business League, said she couldn't have been more pleased with Bishop's Spalding's words or the response of the members.
"We wanted the bishop here to engage with our membership and answer some questions of what we can do to spread the good news," Smith said. "He did an amazing job of delivering that, engaging our audience and giving us goals to spread out within the Middle Tennessee community."
To learn more about the Catholic Business League, visit catholicbusinessleague.org/home/.
Each month, the organization hosts a breakfast featuring a different speaker to talk about various topics with the league members as it works "to connect, develop, and inspire Catholic professionals to live their faith at work, at home, and in their community."