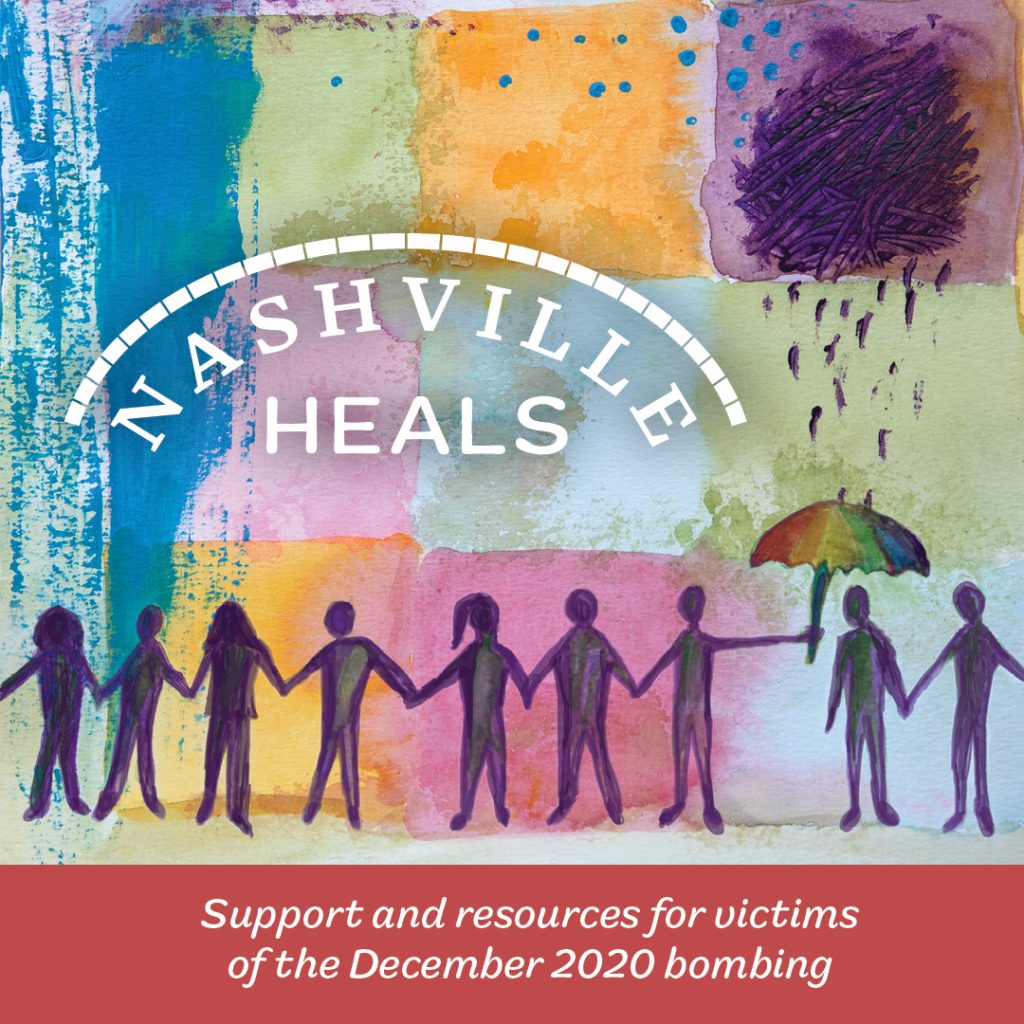 If it weren't for receiving mental health pamphlets highlighting Catholic Charities, Diocese of Nashville's counseling services in the days following the December 2020 bombing in downtown Nashville, survivor Noelle Rasmussen said she doesn't know what her family would've done.
Now, even more survivors of the mass casualty event will be able to seek help with Catholic Charities thanks to its newest program called Nashville Heals.
Catholic Charities received a grant from the Antiterrorism and Emergency Assistance Program (AEAP) to launch Nashville Heals. The grant will allow the non-profit to provide counseling services to survivors of the bombing as well as provide an educational platform to spread awareness about mental health struggles that can accompany trauma.
The Department of Justice is funding the $607,331 grant.
The grant is a complement to the original Victims of Crime Act (VOCA) funding Catholic Charities received as the lead agency to support bombing survivors.
"It's a very specific federal grant intended to serve affected individuals over the long term," Judy Orr, Catholic Charities executive director, said of the AEAP grant.
Catholic Charities was encouraged to apply for the grant by Metro police, the FBI, and the Tennessee Office of Criminal Justice Programs in April 2021, Orr explained. Catholic Charities had already been working with those offices because of the event's classification as a federal crime.
"They were impressed by our rapidity in creating and launching a relief program between Christmas and New Year's Eve 2020," Orr explained. "I'm proud of that."
Catholic Charities submitted the application in July 2021, and after many revisions and reviews, including with the U.S. Department of Justice's Office for Victims and Crime, the grant came through on Oct. 1, 2022. From there, Catholic Charities began working on the program as well as its accompanying website and promotions, and officially launched the program in December 2022, in remembrance of the two-year anniversary.
Why now?
Services and counseling are needed well after the event because survivors of trauma may not always realize that their physical symptoms are related to the emotional trauma they experienced, or the symptoms may take several months to even appear, Orr explained.
Such was the case for Rasmussen's family, particularly her 4-year-old son, Benjamin.
"We initially thought these kids emerged unscathed, which was amazing," Rasmussen said in a video produced by Jon Kent and featured on the Nashville Heals website. "Our 4-year-old saw the bomb explode just like us in the car and started thrashing side to side in his car seat saying, 'Oh no, my house, my Christmas.' So, we knew he understood and saw what was going on."
Fast forward a few months, "we were now in a new town, in a new community, with new schools and new churches and new neighbors, and it became very overwhelming for him," she continued. "As we would drive in the cul-de-sac to our new house, he would get out of the car and just run away. They were scary episodes of holding him tight until he could come back into himself. We couldn't even reach him during the episodes."
That's when she called Catholic Charities asking for help.
"We were gifted with the most lovely therapist for our son, and her gifts and talents completely changed the trajectory of our healing," Rasmussen said. "I attended each session with Benjamin for about eight to nine months weekly, and we sat in there and retold the story. We colored and drew pictures and played imaginative play until we had touched on all the topics and found all the hard things that were in his heart."
Educational resources
Along with the counseling services, the grant is also funding a public relations campaign to help spread awareness about the after effects of being exposed to a crime, Orr said.
The campaign includes postcards that have been sent out to the 1,800 individuals who are part of the survivor victim list as defined by the FBI as well as commercials spots that will be featured on several radio stations.
It also includes an educational presentation to further explain to various individuals and groups what trauma means, how people experience trauma, the physical and behavioral symptoms that can result from trauma, and more.
The Rev. Dr. Laurel Cassidy, resiliency coordinator for Catholic Charities' Refugee and Immigration Services Department, will lead the presentations at churches, nonprofits, schools, and any other organization that may have been impacted by the Christmas Day bombing or any other tragedy.
Cassidy is a chaplain and a certified nurse with experience working with traumatized individuals and communities both in the United States and globally with Doctors Without Borders. She has a doctorate in global disaster nursing with a focus on the mental health aspects related to crisis and disasters.
It's OK to ask for help
With the presentation, Cassidy wants to help survivors understand that what they're experiencing is normal.
"It's the event that's abnormal, not the reaction," Cassidy said. "I want to normalize it as much as possible," because seeking help for mental health, "that's a sign of strength."
"You have to hear the message over and over and over before you finally learn that mental health care is OK to get," Orr added. "That's the really important part of this whole thing."
Without Catholic Charities, "I don't know if we would've sought (mental health services). There were so many things that needed to be taken care of, and I doubt that it would've entered our minds," Rasmussen said. "The services that we received were an education that will last us a lifetime, and I now have what I think is a toolbox full of tools to help them just through the challenges of daily life.
"Every now and then, some trauma from the bombing does come up, but we feel so equipped to handle it," she concluded. "It is just a gift of knowing how to grow up and help our family."
For more information about Nashville Heals, visit nashvilleheals.org, email NashvilleHeals@cctenn.org, or call 615-352-3087.
To learn more about the Nashville Heals Educational Presentations with Cassidy, email Angela Evans, Catholic Charities community engagement manager, at aevans@cctenn.org.