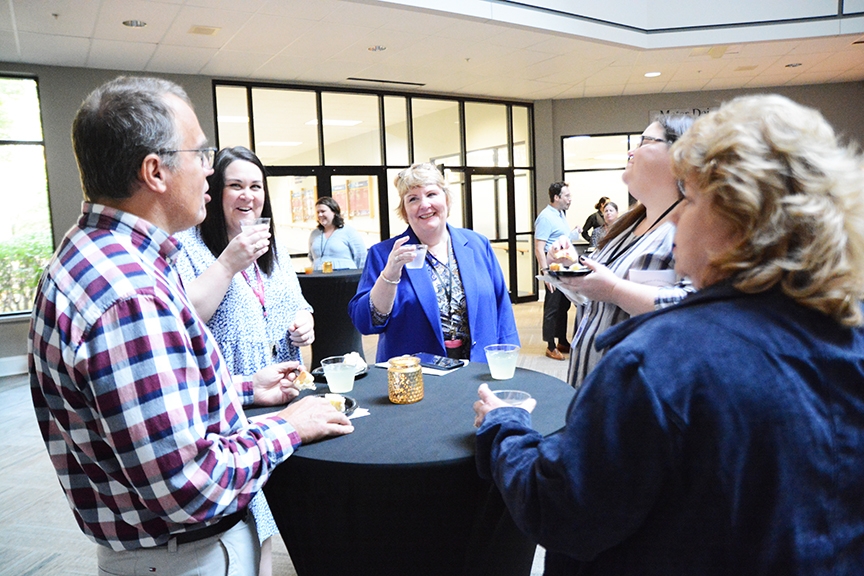 Catholic Charities, Diocese of Nashville continued its 60th anniversary celebration with Mass celebrated by Bishop J. Mark Spalding on Thursday, Sept. 22, in Sagrado Corazon Church at the Catholic Pastoral Center in Nashville.
During the homily, Bishop Spalding said celebrations such as this are a time to "remember our ancestors."
"As we gather here today for the 60th anniversary, we want to show the best sides of ourselves as Church, as people, as children of our great ancestors that have gone before us, men and women alike, and they wanted us to be for others an example of Christ," Bishop Spalding said. "Catholic Charities in all of its ways, it reaches out, it sees others, it goes to the boundaries, goes to the borders, goes to the margins and brings people in, in love, to a family.
"We have a whole year of pondering what Catholic Charities is about. Remember this. It's making sure we follow the great legacy that was set before us by our ancestors of faith, hope and love. Of being able to see others in the world and show them the way; the way of coming into Christ Jesus, the way of knowing him more and more each day," he continued.
"Our Catholic Charities reaches and touches people of other faiths and other philosophies of life, but we never stop telling them there is somebody who always walks with us. Jesus does. He's always with us. And whenever one gets lost along the way, we bring his story back up to others.
"You know there was this man on the earth, and he loved, and he cared beyond all our imagination, and to this day, we still remember his words, we remember his deeds, we remember his life, and we share that with others," Bishop Spalding said. "We never stop and the more that we know this person, the more we know all that he was about, the more Catholic Charities will grow and prosper."
The Mass was concelebrated by Father John Hammond, Judicial Vicar and Vicar General for the diocese and pastor of St. Patrick Church in South Nashville; Father Theophilus Ebulueme, pastor of Holy Name Church and Catholic Charities board member; Father Ed Steiner, pastor of St. Philip the Apostle Church in Brentwood, and Father Juan Carlos Garcia-Mendoza, associate pastor of St. Philip Church. Deacon Bill Hill of Holy Family Church in Brentwood, who is also a member of the Catholic Charities board, served as deacon of the Mass, proclaiming the Gospel according to Luke.
The Mass featured English and Spanish elements, both in scripture and song, to pay tribute to the earliest days of Catholic Charities when its first program, Operation Pedro Pan, helped with the temporary resettlement of Cuban children during political turmoil in 1962.
The music was led by Ana M. Zarraga, pastoral associate at St. Philip, with the help of the St. Philip Choir, and accompanied by John Angotti, director of music at St. Philip.
Gallery photos by Katie Peterson and Andy Telli