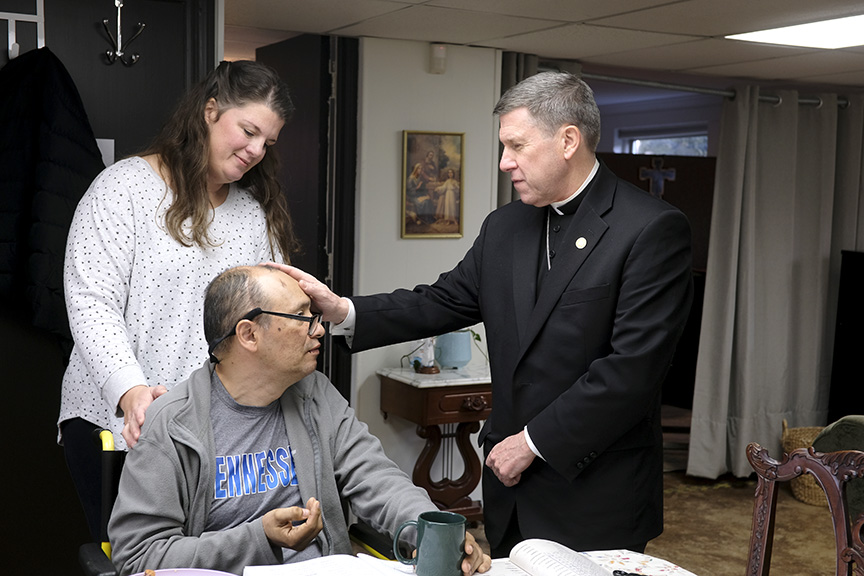 Bishop J. Mark Spalding visited the Heart of Mary House, where care for hospice patients is offered, on the campus of St. Edward Church on Tuesday, Jan. 17.
While there, Bishop Spalding offered blessings to its two current residents and heard all about how the ministry began from Kim Derrick, founder and director of ministry for Heart of Mary House, and its many volunteers.
Since its inception, Derrick said, nearly 50 volunteers have signed up, including multiple University Catholic students, and in the coming weeks, the seminarians of the Diocese of Nashville who are currently in their pastoral year will be volunteering as well.
Since Heart of Mary House opened, eight hospice patients have come through including one from Chattanooga, and one who became a death-bed convert to the Catholic faith.
Heart of Mary House is a 501 (3)c funded through the generosity of donors, and care is provided by volunteers from the community. Residents do not pay to stay in the home nor is insurance charged.
For more information about Heart of Mary House, email Derrick at stedwardhomh@gmail.com or visit heartofmaryhouse.org to learn how to donate or be a volunteer.